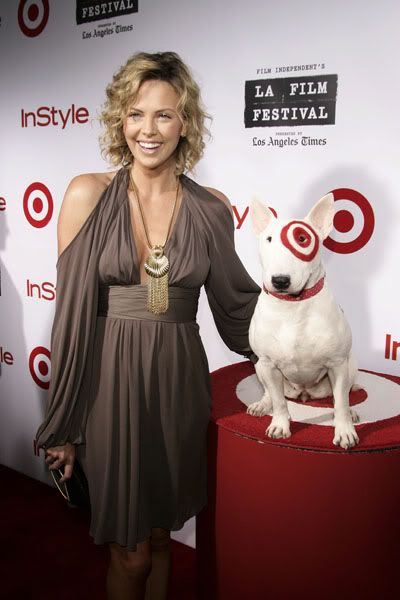 Charlize Theron was given the "Spirit of Independence" award at the LA film festival yesterday. Theron says that it's a misconception that you're typecast once you do indie films and can't make the transition to blockbuster movies. That's probably true if you're a statuesque blonde with great talent, but not if you're a short fat character actor:
The prize, given to George Clooney last year, was set up in 2005 to "recognise an individual for his or her commitment to artistic independence in film".
"What we love about her is she's made interesting choices," Dawn Hudson of Film Independent, the non-profit body behind the annual festival…
Her next role is as a heroin-addicted single mother in The Ice at the Bottom of the World, to be directed by British film-maker Sir Alan Parker.
"I think the biggest misconception about independent film-making is that if you do those movies you'll always be thought of as that kind of actor," Theron said.
"It's not true. If anything, I hope to have that kind of career, where you can go back and forth and do different things."
With an academy award and a new serious role in the works, Theron doesn't have to worry much about her career.
The Spirit of Independence Awards were presented by Virginia Madsen and Jimmy Smits and also honored directors Steve Collins and Amy Berg.
Here is Charlize at the Spirit of Independence awards with the Target dog, and her boyfriend, actor Stuart Townsend. Her left hand is not visible in these pictures, so we can't see if she's wearing that wedding ring again.