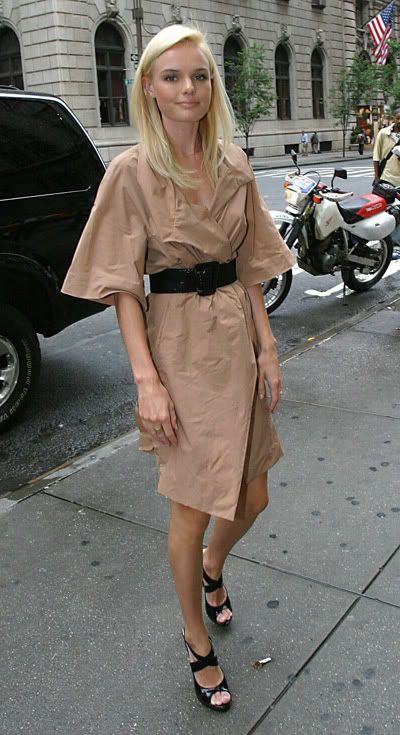 Kate Bosworth, 23, has a starring role in "Superman Returns," but she still seems to be uncertain about her star status. She says she was waiting to be replaced as Lois Lane, and that it's easy to be insecure in Hollywood.
She got the role of Lois Lane in "Superman Returns" on the recommendation of Kevin Spacey, who directed her in "Beyond the Sea." Director Bryan Singer saw a screening of the film and asked Spacey how she was to work with. Spacey had nothing but praise for the young actress, and Singer cast her in the role of Lane shortly afterwards. Bosworth was insecure about the big production, though, and was waiting for the axe to drop well into her work on the film:
She tried to convince Singer not to cast her, was "astounded" by the size of the production and says that even when she was on set in Sydney she was waiting for another actress to show up and take her place.
"Up until I had two months in the can, I was waiting to be replaced," she insists. (Bosworth wasn't necessarily Singer's one and only choice. The director also reportedly considered Claire Danes, Keri Russell and Lost's Evangeline Lilly.)
Bosworth started her career in a role of a friend of the young girl in "The Horse Whisperer" at the age of 14. She was an accomplished rider and went to the audition on a lark. She had her big break in the surfing film "Blue Crush" in 2002 and went on to play in "Wonderland" and "Win a Date with Tad Hamilton."
She says she's turned down roles that required nudity, but she leaves the option open by saying that she's not sure how she'll feel about it in a few years.
Now that Bosworth is in a blockbuster film, the buzz is that she's about to hit it big in Hollywood.
She doesn't see the lack of privacy and stalkerazzi as a problem yet, and is more concerned about her status in Hollywood:
Question: What are the negative sides of the business? The paparazzi? The lack of privacy?
"It is not so much that, I think — it's you're hot one second and cold another. It is a business where insecurities can be generated really easily. To make connections with people who are on your side, it begins to feel more like you are part of the community."
Bosworth says she's not engaged to Orlando Bloom and won't elaborate other than to say she's "very happy."
She was recently voted the sexiest Lois Lane over Teri Hatcher and Erica Durance.
One of Kate's eyes is half hazel and half blue, and she has been asked to wear contact lenses to hide it in every movie she's appeared in – except for "Superman Returns." Director Bryan Singer liked Kate's eyes the way they were and now the Lois Lane dolls have eyes that are two colors, just like the actress.
"Superman Returns" is doing well at the box office, with $21 million on its first opening day.
Here is Kate shopping at Gucci in NY on 6/27. I don't like her smock dress with the black belt and think she looks like one of the women who works at the cosmetics counter at a department store. Otherwise she's gorgeous. [via]