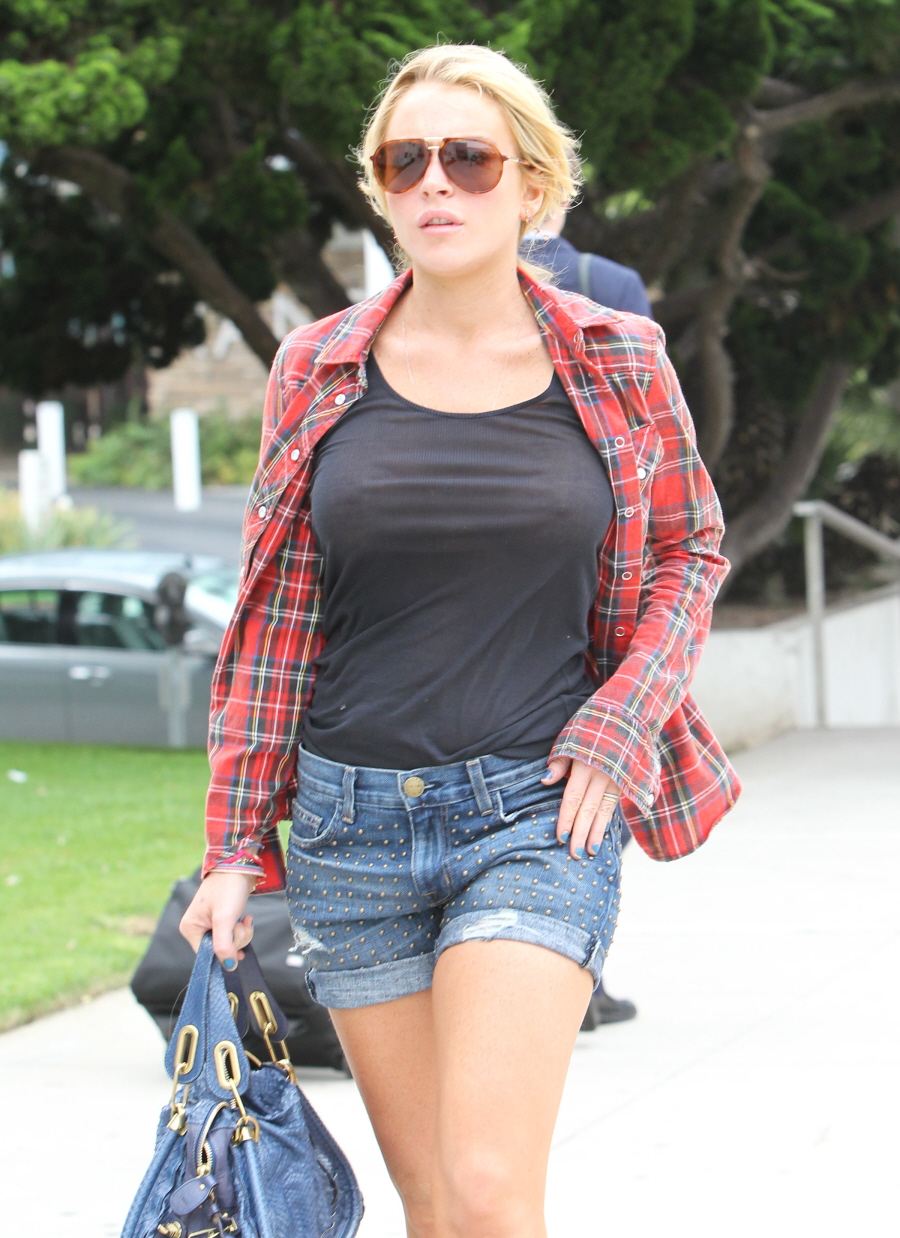 The above photo is of Lindsay Lohan leaving court on Friday. Yes, this is what she wears for a court appearance. Jean cut-offs, flannel, transparent t-shirt and no bra. That's our Lindsay! Seriously, though, what is going on with her boobs? They are out of control. Anyway, I'm stuck talking about Lindsay's reoccurring nightmare of bras and courthouses because she didn't do anything bad this weekend! Can you believe it? No cracked out shenanigans that I can find for Lindsay's first weekend out of the joint. Maybe she kept her crack shenanigans at home, in private? I don't know. We'll see.
Anyway, if the tabloids had their way, they'd make Lindsay's rehabilitation into the next "Britney Spears". According to Page Six, Lindsay is even using Britney's recovery as some kind of ideal. Except that people actually had sympathy for Britney, because she had (and has) a very real mental illness, where Lohan just has a f-cked up personality disorder involving narcissism and being an entitled a–hole. Oh, and Britney was actually wildly successful for years and years and Lindsay made Herbie: Fully Loaded.
Lindsay Lohan is ready to undergo a Britney Spears-style life transformation to get her career back on track. The troubled starlet has handed the reins of her messy finances to Lou Taylor, the savvy, no-nonsense Nashville businesswoman who guided Spears back from the brink. Spears' manager, Larry Rudolph, is also believed to be interested in getting involved in Lohan's music career.

Lohan is currently lying low at home in LA, where just two days out of rehab, she's already turning down offers of up to $150,000 to host parties at clubs and casinos.

One source told us, "It doesn't seem right — Lindsay just got out of rehab and prison, and certain casino owners are offering a ton of money for her to host a party and be around alcohol when she has specifically been told not to."

Another source said, "Lindsay knows she has to stay home and behave, she knows one wrong move could land her back in jail. She has support from her mom, Dina, and Lou Taylor, who is a strong influence and a deeply religious and principled woman. Lou has been working on fashion deals for Lindsay including the Marc Ecko ads and a deal with a Russian fashion company. Larry Rudolph was like a father figure to Britney, and Lou is referring some business to him."

Taylor, who runs Tri Star Sports and Entertainment, quietly came on board with Lohan earlier this year and wired her a $10,000 bail bond after she returned from her ill-fated Cannes trip in May. Lohan was released from rehab Tuesday, just 22 days into treatment and after serving only 13 days of her 90-day sentence for violating probation.

But Judge Elden Fox has forbidden her to drink alcohol or do drugs, and required her to attend AA meetings and undergo mental health counseling. Any slip-ups could result in a 30-day return to jail.

Lohan must live in California until Nov. 1. A source said, "She really wants to be with her family on Long Island, but she knows she has to do everything the judge says."
[From Page Six]
From what I know of Larry Rudolph, he does seem like a really smart manager who actually has standards and actually cares about Britney's well-being. And Lindsay should be so lucky. Honestly, the comparison to Britney helps Lindsay and does nothing for Britney. Lindsay wishes she had Britney's record of success and the massive amount of goodwill people have for Britney's recovery. I think people want Lindsay to do well, but at the this point Lindsay is more famous for being a f-ck up then she ever was for her "career".
Speaking of Lindsay's "career" – you know how she's still a "leggings designer" right? Her line of budget, hooker-wear leggings 6126 is actually one of the few successes of Lindsay's cracked-out "empire". Anyway, Lindsay wrote (!) a mission statement-thingy for Blackbook to describe her goals for 6126. It's really, really funny… if you don't mind the unintentional mocking of a dead celebrity (hint: Marilyn!):
My fashion line, 6126, salutes modern women who understand that sophistication is always in vogue. Inspired by the iconic Marilyn Monroe and the timeless, confident glamour her memory represents, 6126 is named after her birth date. The confidence and sophistication Monroe exuded is something we don't see today. It has been a dream come true to be so involved and hands-on in creating something I am so passionate about. When I designed the 6126 collection, I wanted to make pieces that any woman can mix and match to create her own sense of style–for example, mixing our sequin shorts with combat boots.
[From Lindsay Lohan's statement via HuffPo]
Remember that time when Marilyn wore sequined hot pants with heart-shaped pasties and combat boots? That was iconic.
One last piece of Lohan news: so, she's got a small part in Machete, the new Robert Rodriguez film. Guess what she plays? Oh, it's too gross. Here's a SPOILER, courtesy of one of Celebuzz's spies:
"I saw Machete. It's really well-executed exploitation… but Lindsay is barely in it. She's nude almost the whole time (except for the "nun with a gun" scene), and she has a videotaped ménage à trois with her mother (not Dina) and Danny Trejo in a pool. Her father pulls her out of a drug den type situation and confesses (to priest Cheech Marin) to lustful thoughts about his daughter. "I just wish she'd look at me as more of a man." I don't know if the small role was tailored to her… But. Yeah."
[From Celebuzz]
Jesus. I like Robert Rodriguez (the writer/director) but seriously? Maybe it's one of those things that sounds worse on the page. Right? UGH.
UPDATE: I seriously spoke too soon. According to Fame Pictures:
Actress Lindsay Lohan made her way late last night out for dinner at Chateau Marmont in Hollywood, California on August 28, 2010. Lindsay arrived at her favorite restaurant with a friend around 11pm where she stayed for a few hours leaving at around 1am in the morning on a wild and crazy car ride. The "Machete" actress took on the roll of designated driver but was not a safe DD according to photographers who followed her outrageous drive from sunset blvd to the Pacific Palisades. Lindsay was reportedly drive at high speeds in her Maserati going about 120, blowing through stop signs and red lights. Finally the cops caught up to her but let her go with out a ticket, the photographers where not so lucky. Lohan was recently released from a court-ordered stint in jail and rehab last week following a violation of her probation stemming from a 2007 DUI conviction.
The Chateau Marmont? 120 mph? And her lips are reinflated (below)? Oh, crackhead.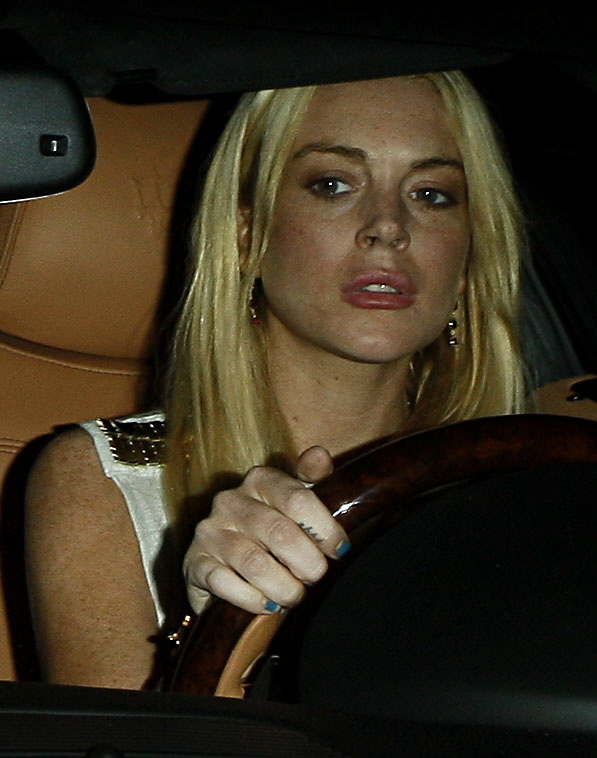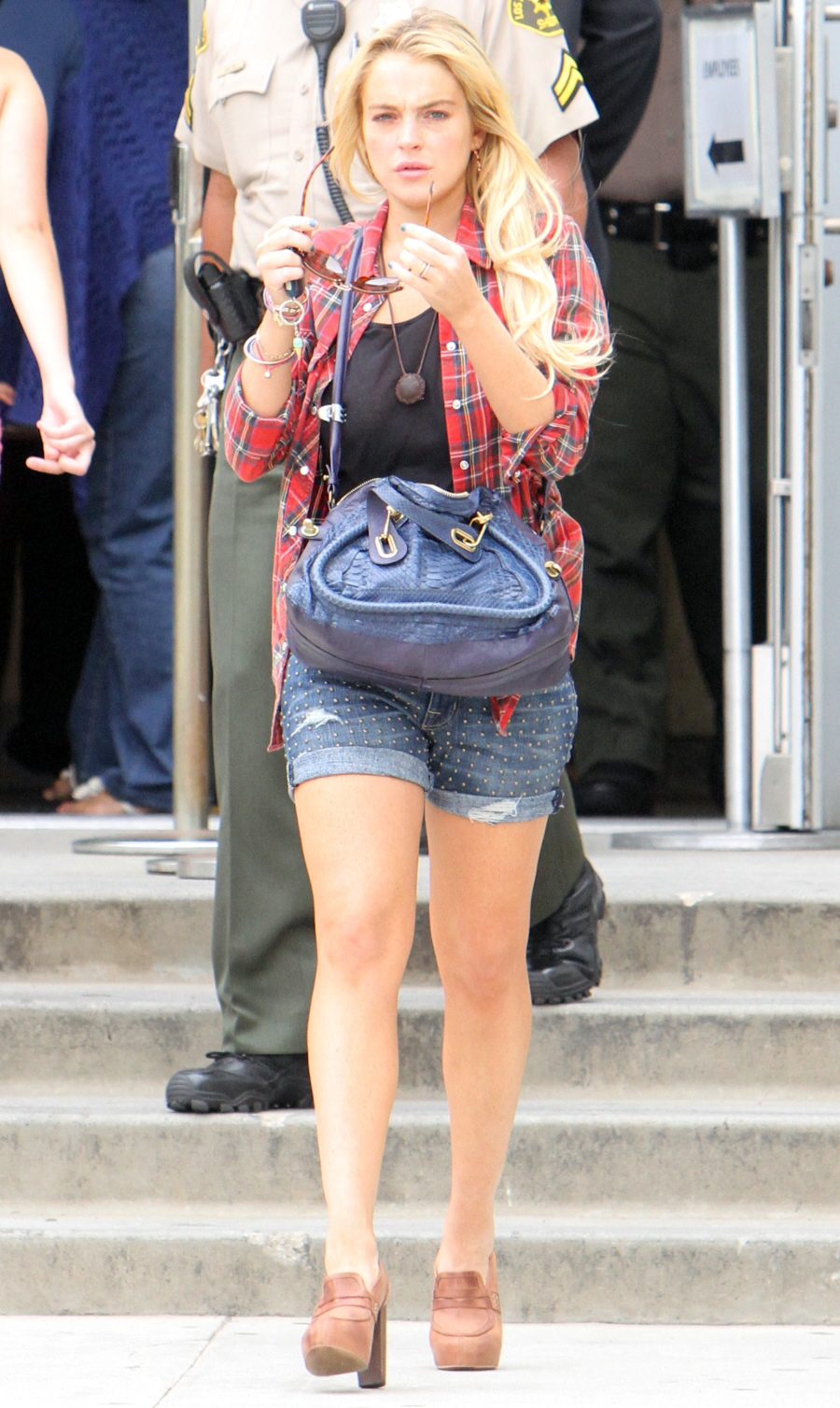 Header: Lindsay Lohan leaving court on August 26, 2010. Credit: Fame.