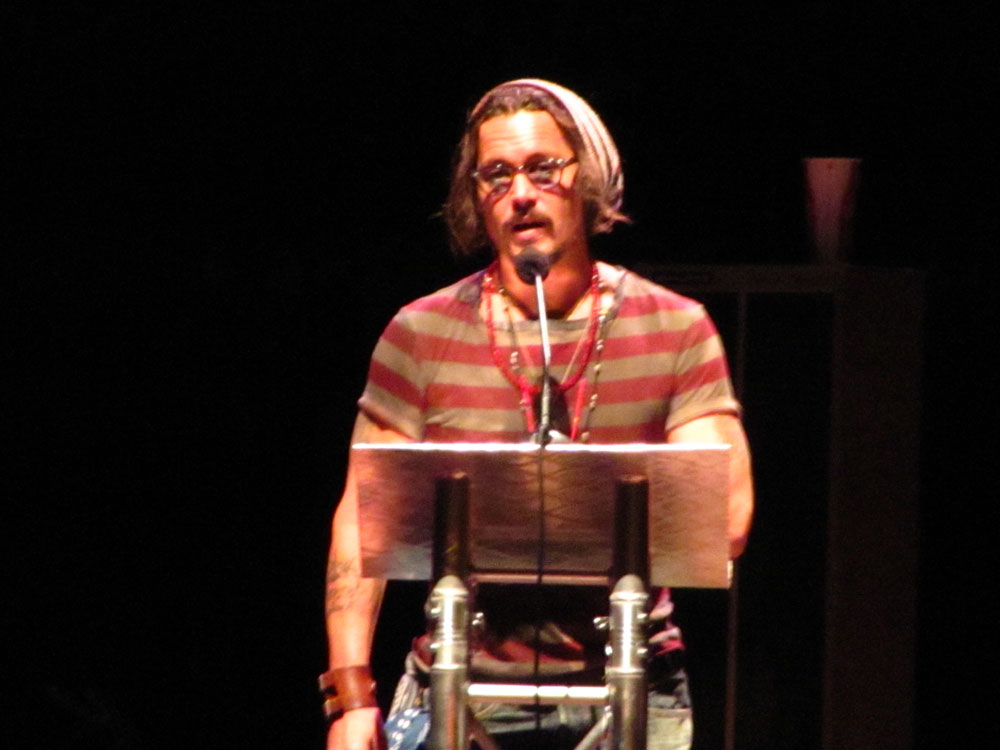 Johnny Depp took part in a benefit concert and poetry reading in Little Rock, Arkansas over the weekend to help pay the legal fees of the "West Memphis Three," a group of then-teenagers who were convicted in 1993 of the murder of three eight year-old boys. There is recently uncovered DNA evidence at the crime scene that points to another suspect, the stepfather of one of the murdered boys, and many believe that the teenagers were wrongfully convicted. I don't know much about this case, but it's been the subject of two different documentaries and several books. There's a huge movement to free these men. (You can learn more about it on Wikipedia, this Salon article and on some of the many websites for their defense.) Retrials have been denied and the case is scheduled to go before the Arkansas Supreme Court on September 30th. During the performance Depp read from the diary of one of the convicted men now on death row, Damien Echols, and performed guitar while Eddie Vedder and Patti Smith sang. Some videos are below.
Johnny Depp, along with Eddie Vedder of Pearl Jam and Dixie Chicks' Natalie Maines, held a music and poetry session Saturday to help raise money to pay legal fees for the West Memphis Three, RadarOnline.com has learned.

The West Memphis Three are Jason Baldwin, Damien Echols and Jessie Misskelley, Jr., three men convicted in the 1993 murders of three West Memphis 8-year-old boys. Depp has gone on record saying he believes the three men wrongfully accused of the crimes and vowed to help raise legal fees to help with their defense.

More than 2,000 people packed Little Rock's Robinson Center Music Hall to support the West Memphis Three. Many in Arkansas say the West Memphis Three were wrongfully tried and convicted.

Depp and other celebrities are not the only ones asking for the release of the three men. Some of the parents of the three children killed now back the convicted getting new trials and hope celebrities like Depp and others will bring national attention.

Depp grew up Owensboro, Kentucky, about 200 miles outside Arkansas.
[From Radar Online]
I didn't know Depp grew up in Kentucky! This isn't the first time he's been involved with this cause, as Depp spoke out on behalf of these men earlier this year on a 48 Hours special on the case. It was good of him to lend his celebrity, and I hope that these three men are finally granted fair and complete trials after 17 years behind bars, especially in light of all the evidence that points to another murderer.
Johnny Depp reads from Damien Echols' journal. Echols is currently on death row, and you can read an interview with him here.

Depp performs with Eddie Vedder

Patti Smith sings "Dancing Barefoot" while Eddie Vetter and Johnny Depp perform