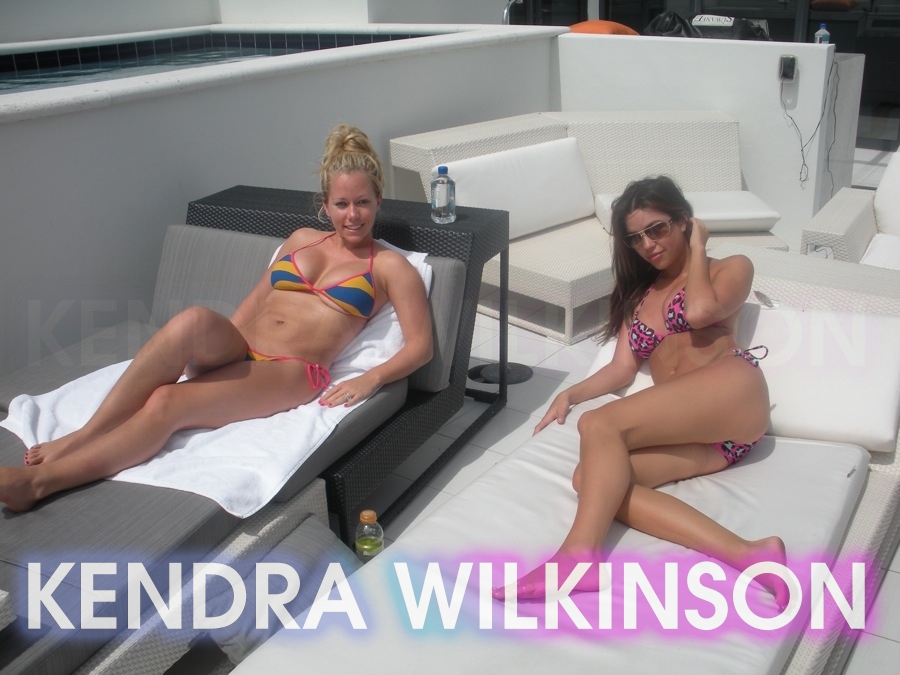 Kendra Wilkinson has lost those pesky few baby weight pounds that she's talked incessantly about for months, and she'll tell you all about that too. The last time we reported on Kendra she was saying she would "100% have liposuction" after having a second baby she's planning for with her husband, Hank Baskett. She also said "being fit and sexy is definitely important to me, and it's what makes me happy" Kendra should be overjoyed, because she looks great. She blogged a photo of herself in a bikini lounging on the deck of her rooftop suite at the W Hotel in Miami with a friend. Her husband sent her there for a vacation before their reality show starts filming again.
On her website Friday, Kendra Wilkinson shows off photos from her recent trip to Miami.

She writes that her "amazing" husband Hank Baskett sent her down south for a few days.

"I definitely needed it!!!!" she writes. "We had the best time. We did a lot of wining and dining lolol."

On Sunday night, she and her friends, Eddie and Brittany, dined at Hakkasan, a fancy Chinese restaurant at the Fontainebleau Miami Beach before hitting the hotel's LIV nightclub.

"So much fun!" she said.

On Monday, the 25-year-old reality star — who's dropped most of the 50-plus pounds she gained last year while pregnant — slipped into a bikini and relaxed while her pals went parasailing.

The trio then enjoyed "another great night out on the town!"
"It was a busy yet relaxing trip!!" said the mother of 8-month-old son Hank IV. "No matter how much fun I have, I'm always happy to go home to my family."

To learn how Kendra shed those last few pesky pregnancy pounds, pick up the new Us Weekly (on newsstands now) and check out her workout DVD, Be a Knockout With Kendra.
[From US Weekly]
In our last story on Kendra, I said it was naive and depressing to try and derive happiness from a "sexy" body, but it's not like Kendra is a very deep person. We had a great comment on that story from SarahS, who wrote "She has gotten rich and famous from her body, and been rewarded with attention and money solely for how it looks. For her to equate her physical appearance to her happiness makes sense to me. Its sad." That's true, and now that she's shed that last bit of weight she can show it off, get pregnant with another baby, rinse and repeat. (To borrow one of Kaiser's phrases.) I don't dislike Kendra exactly, I just find her disingenuous and predictable. She's fooling herself in a way too, especially when you consider how she "told all" about her troubled past but didn't seem to be affected by it at all. As long as Kendra is "fit and sexy," she's happy, so maybe I'm imposing my standards on someone who's kind of oblivious to the things that would bother the rest of us. She's famous for being one of three women to live with Hugh Hefner at the same time, posing nude and putting out a sex tape so it's not like she's ashamed of much. She's a nice person, though, and she deserves to be happy. She obviously is.
Photo credit: kendrawilkinson.celebuzz.com