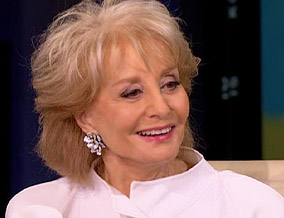 Star Jones and Barbara Walters didn't part company on The View on amicable terms and they're still not willing to bury the hatchet and move on. Barbara talks about Star candidly in her new upcoming memoir, and includes details about how she used The View to promote wedding sponsors and lied about her gastric bypass surgery.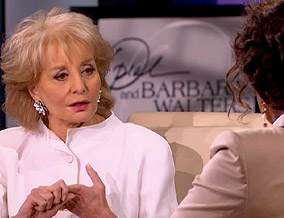 Barbara Walters said Star was dishonest, greedy on "The View"
Walters gave details of her book in an interview on Oprah yesterday, saying "We had to lie on the set every day because [Star] said it was portion control and Pilates. Well, we knew it wasn't portion control and Pilates. And the whole point of the program is honesty." Barbara also said that the viewers didn't relate to Star anymore after that big obvious lie and that they turned on her.
She dished candidly on Star's freebie wedding and the way she took advantage of sponsors, saying "The audience, instead of seeing her as this lovely, romantic bride, began to see her as a greedy bride." Barbara also made it clear that Star manipulated her by giving an interview to People announcing she was leaving The View before it was covered on the show. [via Oprah.com]
Star already admitted to gastric bypass and to first telling View co-hosts
That's rude of Barbara and all, but it's not like she's telling us anything we didn't know. Star herself eventually admitted she had gastric bypass surgery, as if it wasn't painfully obvious to everyone following her super rapid weight loss. She told Glamour, in an article published last August, that she kept it quiet because "I didn't know if the surgery would work. I had never stuck to a diet or committed to exercise for more than a month."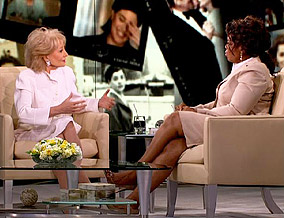 Star also admitted to Glamour that she told her View co-hosts firsts, so it's not like Walters is giving us new or private information about Ms. "Wedding for Sale" Jones, she's just saying she didn't like the way she handled herself.
Star issues scathing response to Barbara
The newly-separated unemployed Star is showing us all why she's persona non grata on television now – she really is nasty and can't wait to attack back. She issued a statement laying into Barbara and personally insulting her, saying Barbara's other revelations in her memoir about having an affair with a senator 20 years ago humiliated an innocent family "for the sake of selling a book":
"It is a sad day when an icon like Barbara Walters, in the sunset of her life, is reduced to publicly branding herself as an adulterer, humiliating an innocent family with accounts of her illicit affair and speaking negatively against me all for the sake of selling a book," Jones told Us. "It speaks to her true character."
[From US Magazine]
Star should have stewed in her juices for a while before she barked back at Barbara. Now she has even less chance at getting some kind of entertainment career. She's a lawyer, so maybe she can go work insane hours at a law firm or something. She seems like she'd be really good at scaring people on her clients' behalf.
Update: Here's the video. The part where Barbara dishes about Star starts at about 3 minutes in: