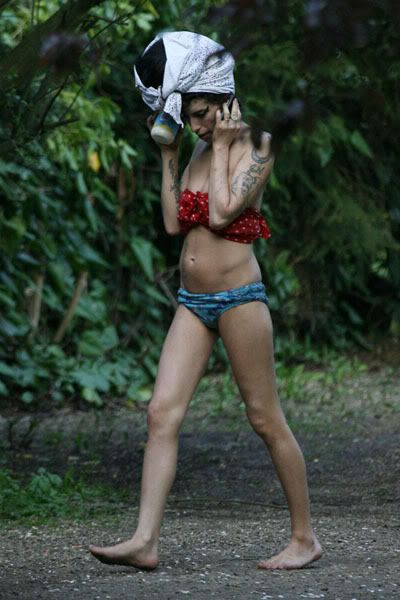 Amy Winehouse is getting to be like Pete Doherty. It's really difficult, if not impossible, to keep up with what she's accused of and what she's being arrested for. I saw the latest story that she's been arrested, and thought that it must be mistaken, because wasn't she just arrested like last week? It was a week and a half ago, I see, and she was arrested (or went in voluntarily, depending on who you believe) for an incident in which witnesses claim she hauled off and headbutted a guy outside a bar. She was also said to have smoked drugs on the sidewalk and to have deliberately knocked over tables and drinks in the pub. Police let her off with a caution for assault, which means it goes on her record or something but is not an official charge.
Now she's finally been arrested for the video of her smoking crack that was published on The Sun's website back on January 22. The next day reports came out that the video was turned over to police, so why did it take them over three months to finally call her in?
Just like the last time she was arrested, her rep is trying to spin it like it was "voluntary":
"Amy Winehouse voluntarily attended a London police station today by appointment," her rep said in a statement. "She was arrested in order to be interviewed and is co-operating fully with inquiries. The interview relates to a video handed to police earlier this year."
[From US Weekly]
It's doubtful that the police will do much to Amy for the drug-taking video as it's hard to prove what exactly she was smoking. Amy's music career is already in jeopardy, with her producer Mark Ronson saying "I'm not sure Amy is ready to work on music yet" and admitting that they weren't able to finish the lead track for the new James Bond film. What will it take to get her to clean up?
She has a lot of demons to distract her. The Sun reported this weekend that her jailed husband, Blake, was plotting with his new girlfriend to try and extort money from Amy. He is said to be demanding a $6 million divorce settlement.
Thanks to Splash for these photos of Amy supposedly waiting for a pizza outside a recording studio yesterday. She's an exhibitionist, or maybe her skin was so itchy she wanted to strip down for better scratching access. Why is she holding a jar of mayonnaise up to her face?