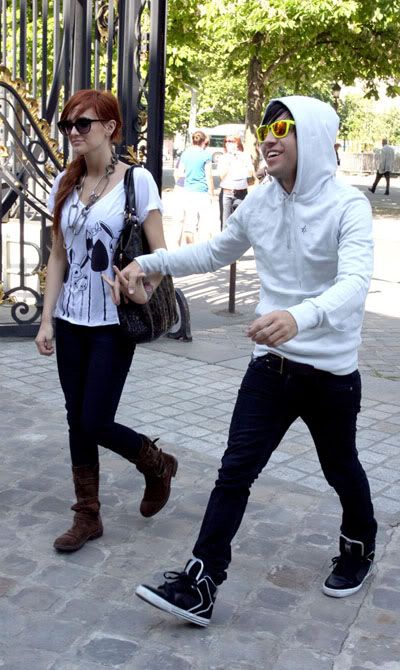 Hollyscoop has an exclusive that Ashlee Simpson and Pete Wentz have sent out invitations announcing their shotgun wedding this weekend at an undisclosed location an hour's drive outside of LA:
A source close to the couple has told Hollyscoop exclusively, "The wedding invitations have been sent out, its taking place the weekend of May 16. The location will not be revealed until the day of the wedding but guests are told it will be an hour drive from Los Angeles."

Our source also confirmed that Ashlee is 100% pregnant. Papa Joe is probably busy selling off the wedding info and pictures as we speak so expect to see it in the tabloids Memorial weekend.
[From Hollyscoop]
Ashlee Simpson still does not look pregnant to me, but it's possible. It's also possible she's keeping the rumors going in order to generate buzz for her new album, Bittersweet World. Ashlee's third CD release debuted at number 4 on the U.S. Billboard 200, and sold 47,000 copies the first week it was out. Her last two albums, Autobiography and I Am Me sold 398,000 and 220,000 copies in the first week of their respective releases. [Details from Wikipedia]
It's safe to say Ashlee's popularity is waning since intro sales of her latest release are less than a quarter of the sales of her last album. If her dad is already brokering the photos for her wedding you can bet he's banking on increased interest in her music. All this advance publicity didn't help her, it's not likely that a wedding will do much either.
Do you think People and/or OK! will eventually stop paying astronomical rates for celebrity wedding and baby photos after they realize they're not big sellers and that the long term increase in circulation is not worth it? Ashlee has a potential gold mine on her hands with a wedding and a maybe-pregnancy, but you can't help but think she's going to milk it for all the publicity and the cash her grubby dad can get his mitts on.
Pete Wentz and Ashlee Simpson were photographed in Paris yesterday. Maybe they're scouting for wedding stuff. Doesn't Pete look special? Thanks to Splash for these photos.