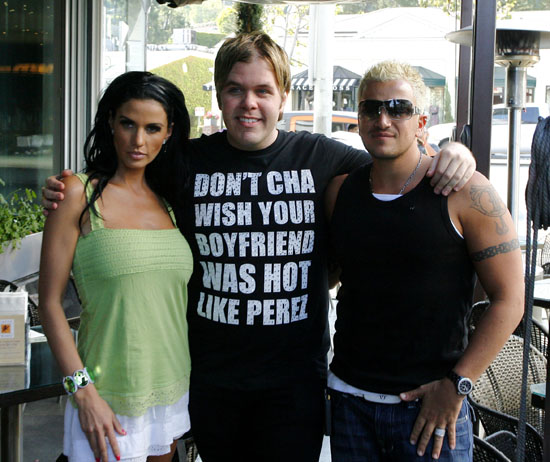 The world's most obnoxious gossip blogger/celeb wannabe, Perez Hilton, doesn't need anymore encouragement, what with his website, his own VH1 show and numerous red carpet commentaries, but he's getting it anyway. This time, it's in the form of his own fashion line at that Emo mall staple, Hot Topic.
Notorious blogger and "Queen of All Media," Perez Hilton, can now also call himself a "designer."

On Tuesday, Perez announced plans to introduce a clothing and accessories line, to be sold exclusively at Hottopic.com and in all Hot Topic stores nationwide.

Perez Hilton for Hot Topic will feature women's t-shirts, hoodies, accessories and footwear. Hilton, who's real name is Mario Lavandeira, said the decision to put his name behind a line of clothing and accessories seemed like a natural next step.

"2008 is all about expanding the Perez Brand," the blogger explained. "I talk about clothes all the time on my website. I have a good eye for what's hot and what's not."

Hilton says the success of his website encouraged him to look beyond the boundaries of cyberspace.

"It seems natural to make products that my readers will love and hopefully some guys will rock it too," he said. "Some people might even call me a perfectionist, well that person would be me! I'm very passionate about my brand. I have extremely high standards and I like to get my hands dirty!"

The line, which debuts on June 6, will range in price from $1.75 to $46, and will include products like Gossip Gangster Flip Flops, Perezcious Pink and Purple Lip Gloss and P-Nasty Shades–just to name a few.

The celebrity blogger also plans to sell tote bags, socks and earrings, and says fans will even be able to buy their own Perez Hilton journal, so they can be as nasty as P-Nasty himself.

"I'm most excited to finally see on the shelves products that are good and affordable for my readers," Hilton said. "I actively sought out Hot Topic for that reason."
I really don't understand this. Stop encouraging him, people! And furthermore, who the hell thinks this man knows anything about fashion- he can't even dress himself! While he has a point about the ghastly clothing lines by B- and C-list celebs that are crawling out of the woodwork, this is a man who dressed like an ice cream man for his big birthday bash, and on his best day is a poster boy for the unwashed hipster slob movement. Well, now that I think about it, I guess that's why Hot Topic wanted him so bad.
Perez Hilton is shown on 4/25/08 with Jordan and Peter Andre, thanks to Splash.