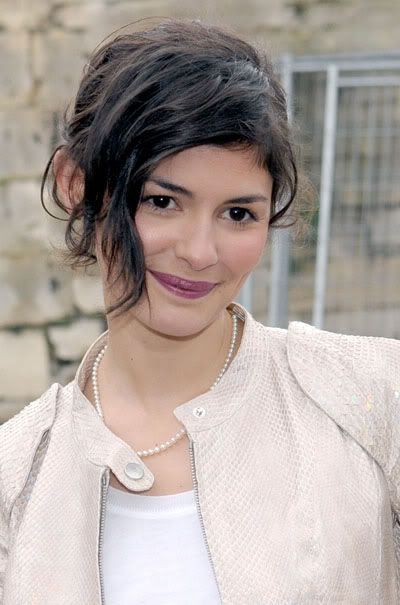 40 year-old pregnant actress Nicole Kidman will no longer be representing the iconic rich old ladies' fragrance Chanel No. 5. She's been replaced by cutesy French actress Audrey Tautou, 29, who played the wide-eyed childlike role in Amelie:
[Nicole Kidman] has been replaced as the face of Chanel No.5 by French beauty Audrey Tatou…

It is not known exactly how much the lucrative deal was worth, but sources say it is at least £4.3 million.

Kidman has been associated with the fragrance since 2004, when she appeared in a $60million advertisement directed by fellow Australian and Moulin Rouge director Baz Luhrmann.

Meanwhile things are smelling Rosy for 29-year-old Tatou who will be reunited with Amelie director Jean-Pierre Jeunet calling the shots for the advertisment campaign.
[From The Daily Mail]
We had some Chanel No. 5 in the house at one point that my husband probably inherited from an ex and I remember smelling it and wondering what the big deal was. It didn't appeal to me and I certainly wouldn't use it. I wore Angel at the time, (which is incidentally now repped by Naomi Watts) but it's become way too popular and you don't want to smell like everyone else.
Wikipedia notes that Coco Chanel created her signature fragrance in 1921 with the intent to make it smell nasty and artificial. That's not exactly how they phrase it, but that's what I got out of it:
"I want to give women an artificial perfume," said Chanel. "Yes, I really do mean artificial, like a dress, something that has been made. I don't want any rose or lily of the valley, I want a perfume that is a composition." [1] No. 5 is famous for being the first perfume to heavily rely on synthetic floral aldehydes as a top note. Before synthetics, perfume either had to be applied heavily or frequently so that the fragrance would last.

Chanel applied the French aesthetic theory that "ugly" placed next to "beautiful"[citation needed], by contrast, makes the beautiful object appear more so. In this era almost all perfumes were floral and "pretty" – designed to enhance a woman's beauty with more beauty. Instead of the scent of flowers, Coco wanted a perfume that "reflects my personality, something abstract and unique". She believed that a perfume should serve to spotlight a woman's natural beauty using contrast – i.e. the artificial perfume would make the woman's natural beauty more evident.[citation needed]
[From Wikipedia]
So somehow an expensive perfume that was purposely made to smell artificial using the less scientifically advanced chemicals available 85 years ago is still selling well.
Losing out on an $8.5 million contract has got to hurt. I wonder if Kidman knew that she was about to replaced or if it came as a surprise to her. She's pregnant so it doesn't seem quite fair that she would be canned at this point.
Audrey Tautou used to annoy me, because she's such a sweet little pixie that I used to think it was a put on. She genuinely seems like a decent person though. She hasn't become half as successful as she should have after Amelie, and only had one big Hollywood film, The Da Vinci Code, since. Maybe this Chanel campaign will help bring her more name recognition and International success.
Audrey Tautou is shown on 2/28/08 at Paris Fashion Week, thanks to WENN.