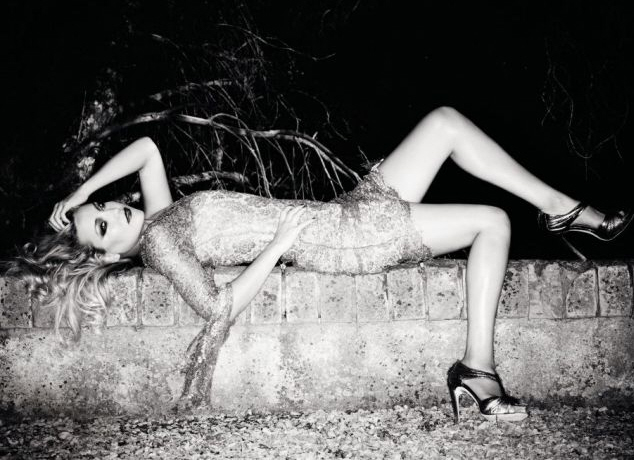 God, can I just complain about my job for a second? How f-cking difficult is it for a magazine to release excerpts from their cover interview with a nice image of their cover, and perhaps one additional photo, all on the same day? I swear, trying to find the images for Kate Hudson's October Elle UK cover was like pulling teeth. Nevermind that Elle UK's site is not very user-friendly (everything is on the wrong side of the road!), but apparently none of my favorite fashion sites have any good working images or scans. It sucks. Why do I even bother? It's not like Kate is even popular with you girls. I guess I did it because I like Kate, and I wanted to see some photos of her total drag queen styles for this Elle shoot. And trust me, the makeup is totally drag queen. Purple eyeshadow from here to eternity. Anyway, some excerpts from the interview:
Kate Hudson covers the October issue of British Elle, out September 1, and in the interview she talks about her new relationship, staying in touch with her ex for their son's sake and her workout, music and reading habits. Here are a few excerpts from Elle's press release:

On her new boyfriend, Muse frontman Matt Bellamy: 'When I was with Chris, music was my life – I spent seven years on the road,' she tells Elle magazine. 'Would I do it again? I wouldn't shy away from a tour bus, it's wonderful.' Despite failed romances with Matthew McConaughey and Lance Armstrong, she hasn't given up on love. Describing Bellamy as 'lovely', Hudson, 31, admits her ideas on marriage are changing.

On marriage plans: "It's definitely not something I'm looking for. But the divorce doesn't put me off. I'll just see what happens. I think a lot of times people are terrified of love and stop themselves from experiencing it. I don't ever want to get that jaded. I do believe in love. I believe that when you really open yourself up to love, it's the most beautiful thing."

On her ex-husband, Chris Robinson: "Chris is a wellspring of information. He knows more about music than anyone I've ever met. I still feel close to him. When you're divorced and raising a child together, the communication has to stay alive. It's hard sometimes. If you have kids with someone, make sure you really, really like the father because, for your child's sake, you have to be on the same page forever. Chris has moved on, he's remarried and had a baby and when you both have new people in your life, you have to really stay on it. I think Chris and I both have that priority checked. My favourite Muse song? Ha ha ha! I'm not well-versed enough on that. I'm getting there though. Matt and I are just learning about each other and it's wonderful."

On career: 'I think that happens sometimes. You get burnt out. I have to recharge. Artistically, I have zero competitive nature – to the point where I wish I had a little more sometimes.'

On her personal style: 'When it comes to clothes, my personal style has never changed. I'm very specific about the things I like – a lot of printed dresses, lots of different textures. I can't get away from flowing things. I don't like clothes that constrict me. It's, like, 'Would you like to put some clothes on?' 'No, I wouldn't!' I've got a lot of friends in the fashion industry and I have so much respect for them – they work so hard. Stella [McCartney] dresses me. What I love about her is that everything she designs is comfortable. She understands where women want to cover themselves, where they want things to be flattering. But when I see her we're just moms together. We're all about hanging out with the kids, and she's such an amazing mother.'

On her workout regimen: "I am, by nature, active and I have to work out. I usually do two hours each day when I'm at home. I dance, I like to spin, I've got into some of the Tracy Anderson stuff – I work with this girl Anna at her studio. And I've had a trainer called Nicole Stewart for 15 years – she's trained me when I've needed to get into work mode. I'm pretty disciplined. It's important to be conscious of your health and not indulge too much in the things that are bad for you. Do I mind having my appearance constantly scrutinized? I don't have enough time on this planet to worry about things like that. I'm more concerned with if I'm raising my son properly, with what makes my family happy, with what makes me happy."
[From Huffington Post & Metro]
I kind of buy that Kate doesn't want to get married again. I could see that. Of course, I could also see her pitching a fit because a dude doesn't want to marry her. So who is the real Kate? I think the real Kate is a girl stuck in permanent 14-year-girl mode, where she falls for a boy hard and fast and everything is so emotional and crazy and intense, and then everybody moves on. That would be eh, whatever, if she were just a single girl – but she's a single mom. I don't know, though, we don't really know what it's like for Ryder. Maybe he gets it by now, you know?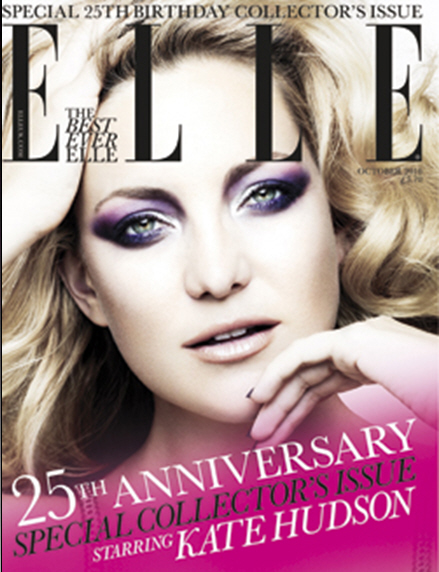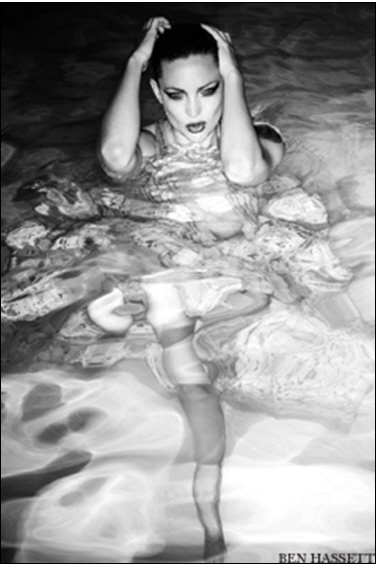 Photos courtesy of Elle UK and Metro.