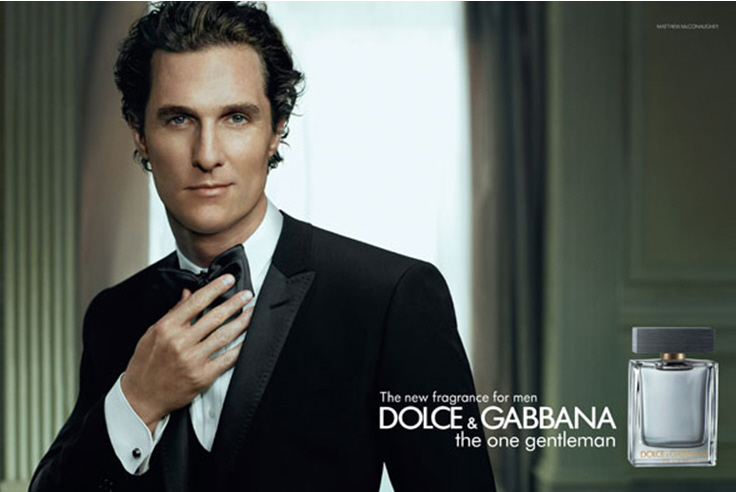 This is not Matthew McConaughey. This is some alien hybrid of McConaughey, a biscuit, a giraffe and… Tom Cruise, maybe? There's definitely some gene-splicing going on. And I'm almost positive they just stuck his alien head onto another dude's body, because something about the neck/face/shoulder ratio is messing with me. Anyway, this is a new image from Matthew's return engagement as the alien-face of Dolce & Gabbana's fragrance campaign. The perfume/cologne is called The One Gentleman, and it debuts in October magazines. This was shot by an actual word-famous photographer – Jean Baptiste Mondino. No word on what 14-year-old did the Photoshop for it.
I wonder why Matthew was chosen for this. I don't look at photos of him and think "I bet he smells nice." I look at photos of him and think "I bet he has cheese growing in places I have no interest in seeing. And his dinosaur arms suck." Of course, if they let me be in charge of advertising, dudes like Clive Owen, Vincent Cassel and Michael Fassbender would be the face of every ad campaign. Speaking of Fassbender, who do I have to blow to get him some press?
For their part, Stefano Gabbana and Domenico Dolce said they chose Matt because, "He is worldly, successful, impeccable but he also boasts something else such as an innate elegance that distinguishes him from the rest. Men would love to be him, women to be his…" Barf. They were the ones who greenlit the Madonna ad campaign, otherwise known as "Grandma Madge and her weird alien face wrestle some chickens and her weird-looking grandson." Dolce & Gabbana are in desperate need of glasses.
Here's how McConaughey really looks… he's an attractive man, but he's aging naturally, bless his heart, and let's not pretend that he's some alien-faced, wrinkle-less hybrid, alright?
Ad courtesy of Styleist.