This morning, Star Magazine released their "scoop" of the week – an eyewitness account of Ashton Kutcher cheating on wife Demi Moore. Allegedly, Ashton was all up on some "hot young blonde" at Medeo. I thought the story probably had some merit, just because I think Ashton is a douche and I think Demi is an a–hole, and I'll pretty much believe horrible sh-t about them. But of course, they had to respond to Star's story… on Twitter. First, a recap of the story, plus additional details, via Jezebel:
Back in July, Ashton was at the Italian restaurant Madeo in LA with friends and "a bevy of women who looked like fashion models." He "snuck off" with one "stunner" to a dark, secluded, hallway bathroom.

An eyewitness says: "Ashton had this gorgeous girl pinned against the wall and he was totally making out with her." He had his baseball cap turned around "for easier access to the thin and leggy girl's lips."

The source says: "His hands were on her hips and she was pushing up against the mirrored wall so she couldn't move, and he was grinding on her. He heard me walk by, and tried to bury his face in her neck so I wouldn't recognize him. But I could see him clearly, because he was reflected in the mirror. I also saw him earlier at the bar. I know what he was wearing. So there's no mistaking that it was Ashton Kutcher."

The source notes that Ashton was clearly aroused, information we did not need to know.
[From Star Magazine, via Jezebel]
Okay, so this is how Ashton responded on his Twitter: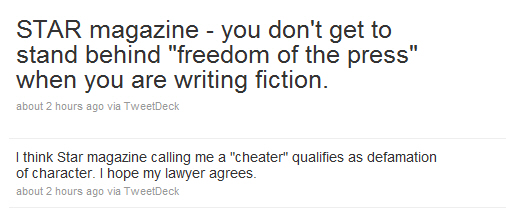 And this is what Demi wrote in response on her Twitter:

Okay… so… I'll buy Ashton's denial, and I'll even offer him an apology for believing Star's story (although I will still believe crap stories about Ashton and Demi in the future, just because I want to). But isn't this is a weird way to hit back at a "false" story? Granted, I would expect the self-proclaimed King of Twitter to release a de facto press release on his Twitter, but his statement, taken with Demi's, just seems very strange and hallow and oddly sterile to me. Like… Ashton isn't really pissed off, he's just trying to judge how big this story really is, like there might be something there? And Demi just sounds drugged. "Excellent point my love" – is she channeling Robot Katie Holmes? My thoughts: it will be interesting to see if Ashton does any follow-through on his threats to sue Star. Very interesting.