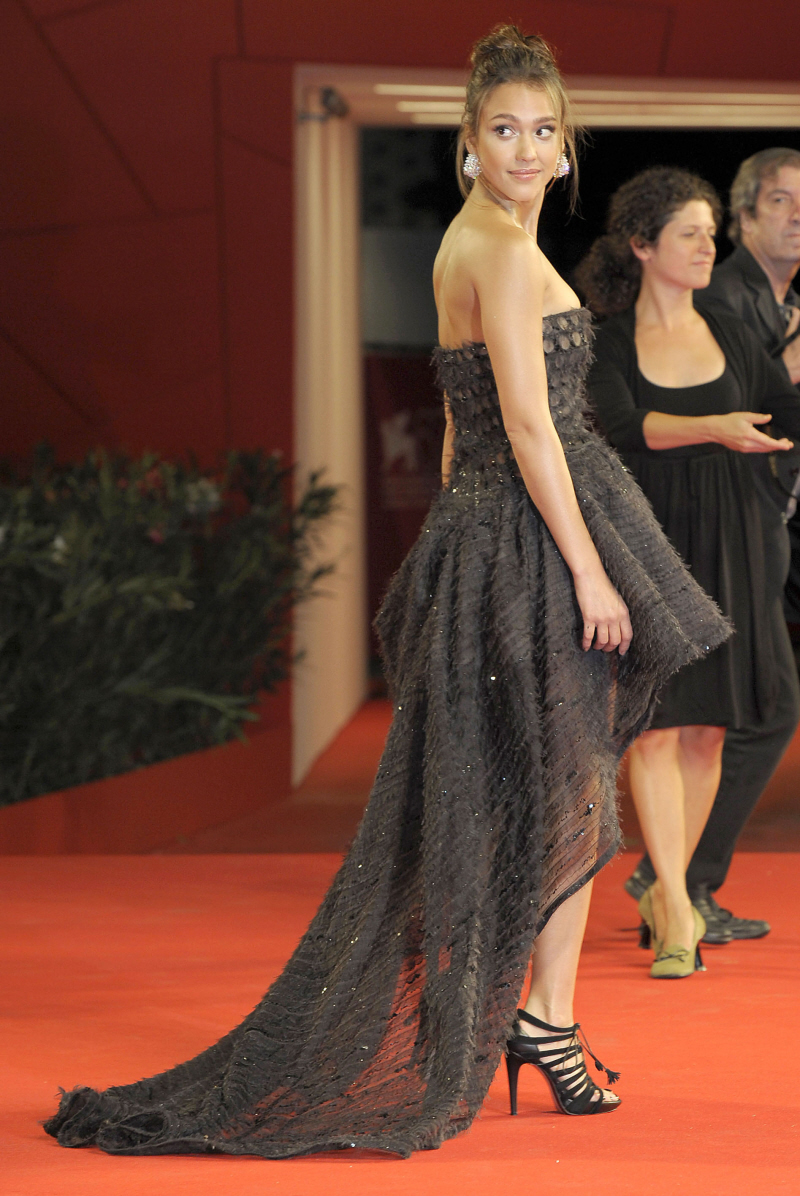 Last night was the premiere of Machete at the Venice Film Festival. Once again, not an occasion for Lindsay Lohan's triumphant, cracked-out return to the red carpet (more on her in a sec). Basically, the only people who came to Venice were the two "leads" – Danny Trejo and Jessica Alba, and the one of the co-directors, Robert Rodriguez. Oh, and Tarantino was there – I think he produced it, but he probably just showed up for his buddy. Anyway, all I really care about is Alba and this dress. I mean… I get it. Alba is a "fashion girl" now. She gets the most press from what she wears, as opposed to her acting or talent or even her personal life. But I'm getting the feeling that Alba is not up the challenge of being a "fashion girl." She's a lot like that other Jessica, Madame Biel, in that way. Although I will give Alba some credit – I think her style is generally better than Biel's, but not by much.
So… the mullet dress. Why is this style popular? I've never understood. Ladies want to show off their legs in a short skirt, but they also want the drama of a long train. But that's the fashion equivalent of a mullet – business up front, party in the back. And it's just a cheesy look that I don't care for, on any lady, really. January Jones can't pull it off (at the Emmys). Neither can The Style Icon Cate Blanchett – her memorable mullet dress is 2007 Golden Globes fell flat, and she's never gone mullet again. Learn from La Blanchett, Alba. LEARN IT.
Back to Lohan for a sec – according to Us Weekly's sources, Lindsay wasn't even invited to the LA premiere of Machete last week. She made a big deal about not going because she didn't want to fall into a cracked-out cycle, and it turns out no one wanted her. Us Weekly's source claims that director Robert Rodriguez was "frantically trying to track down her manager to make sure she didn't go." Meanwhile, a rep for the studio says that is "not true… She wasn't welcome there." Chuckle.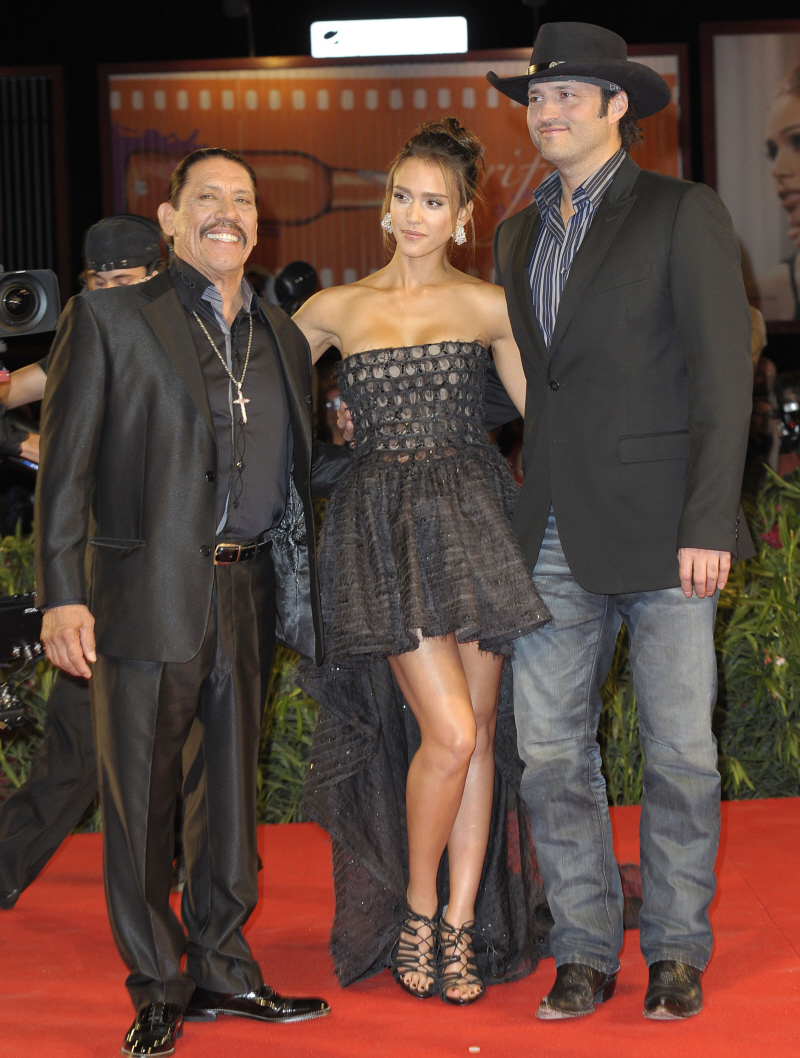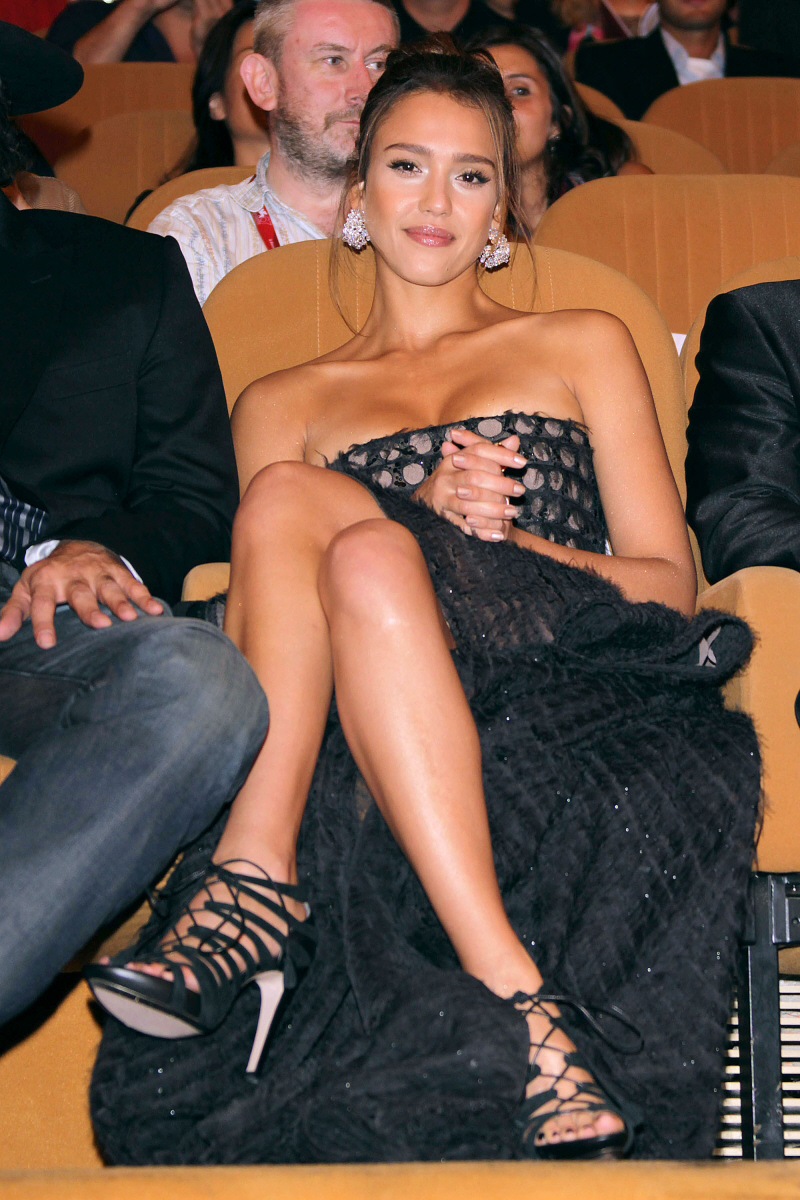 Machete premiere pics, September 1, 2010. Credit: WENN.