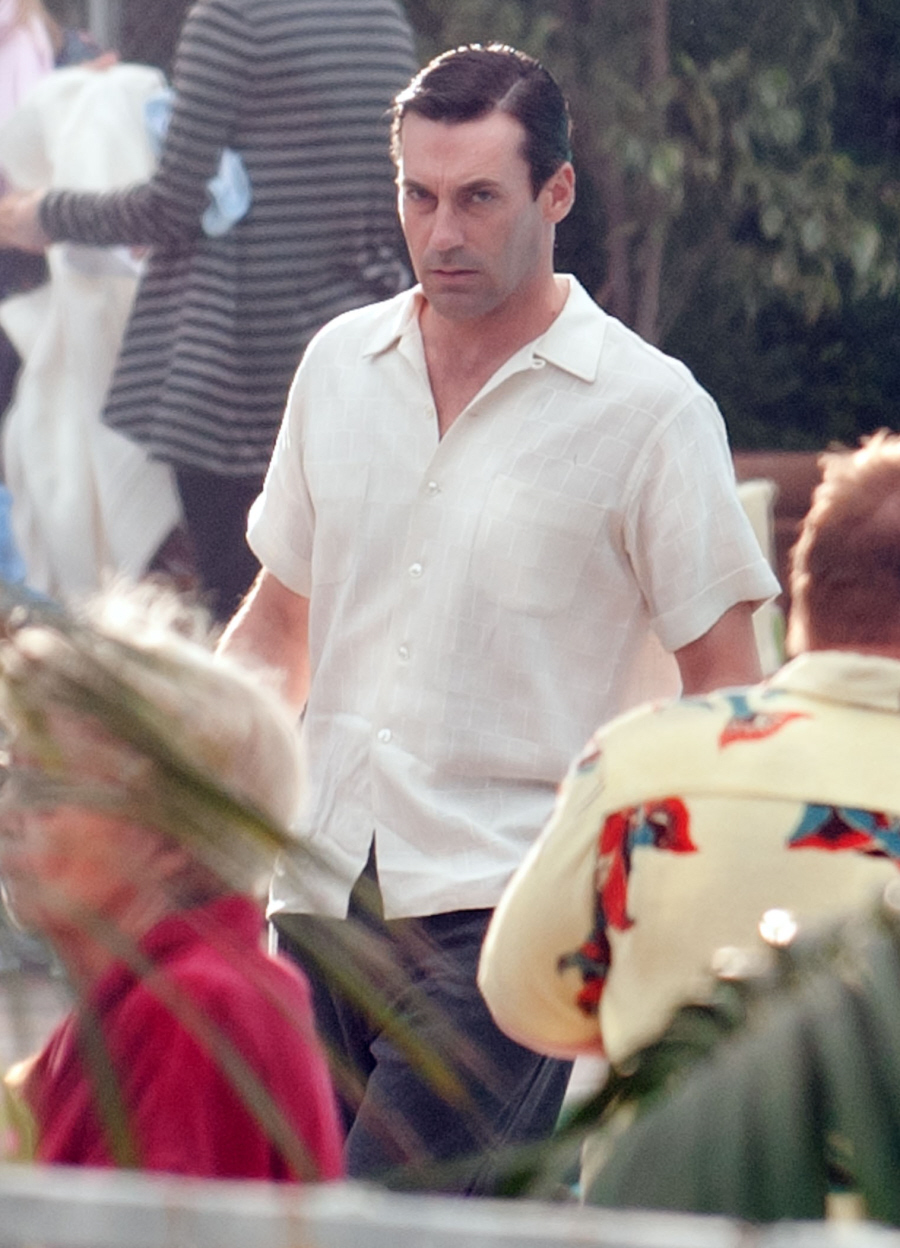 These photos aren't doing Jon Hamm justice. But to be fair, a bad photo of The Hamm is still one of the most awesome things you'll ever behold. Plus, I think The Hamm/Don Draper is supposed to look like hell in these photos – Draper is going through hell on the show, and he's supposed to be looking his age (and beyond) because of all of the hard living, drinking and whoring. But… when The Hamm puts on that suit and slicks back his hair and especially when he leans back in a chair and puts his arm back…like the iconic image from the posters, etc – well, there's really nothing better. Don is such an "American" character. That's what I always think. This is such a quintessentially American show, and the Draper character is our American darkness, while still being one of the best things about America. Sorry to go off on that tangent. My bad.
My mom and I were discussing Mad Men a few days ago, and talking about The Hamm and how good he looks in a suit, and she mentioned the infamous last episodes in Season 3, where we saw Draper in casual wear and he looked like a f-cking model. He was wearing chinos and a dark brown v-neck sweater, and it was pornographic in its sexiness. My mom said, "They should find a way to bring back that brown V-neck."
Anyway, just a few more excerpts from Mad Men's Rolling Stone cover story… The Hamm on Draper:
"I don't really have that much in comparison to the way Don holds himself," Jon Hamm, 39, tells the mag. "I'm not that guy. I don't really look like that."

He added, "Part of it is the suit, but another part is a choice. This is a person who takes himself very seriously at work, a guy who's going to walk in and command a room. I'm not that way in real life. I don't grab the mic."

Hamm said he had seven tests and zero jobs before landing the "Mad Men" part. He told Rolling Stone that finding work as an actor helps him relate to Don Draper. "My life at the time was trying to get a job. Talk about ruthless — being an actor in L.A. and not working is nothing but hustling. I just really responded to it on some visceral level, and that may have been what Matt [Weiner] picked up on. That may be why the character resonates coming from me."
[From Wonderwall]
At times, The Hamm has said that he brings lightness to a character which, on the page, could go very, very dark. I can see that – because Draper is a son of a bitch, honestly. It's only because The Hamm plays him so honestly, and because The Hamm is so gorgeous that we forgive Draper. Plus, we get to see every side of Don, which the other characters in the Mad Men universe don't get to see.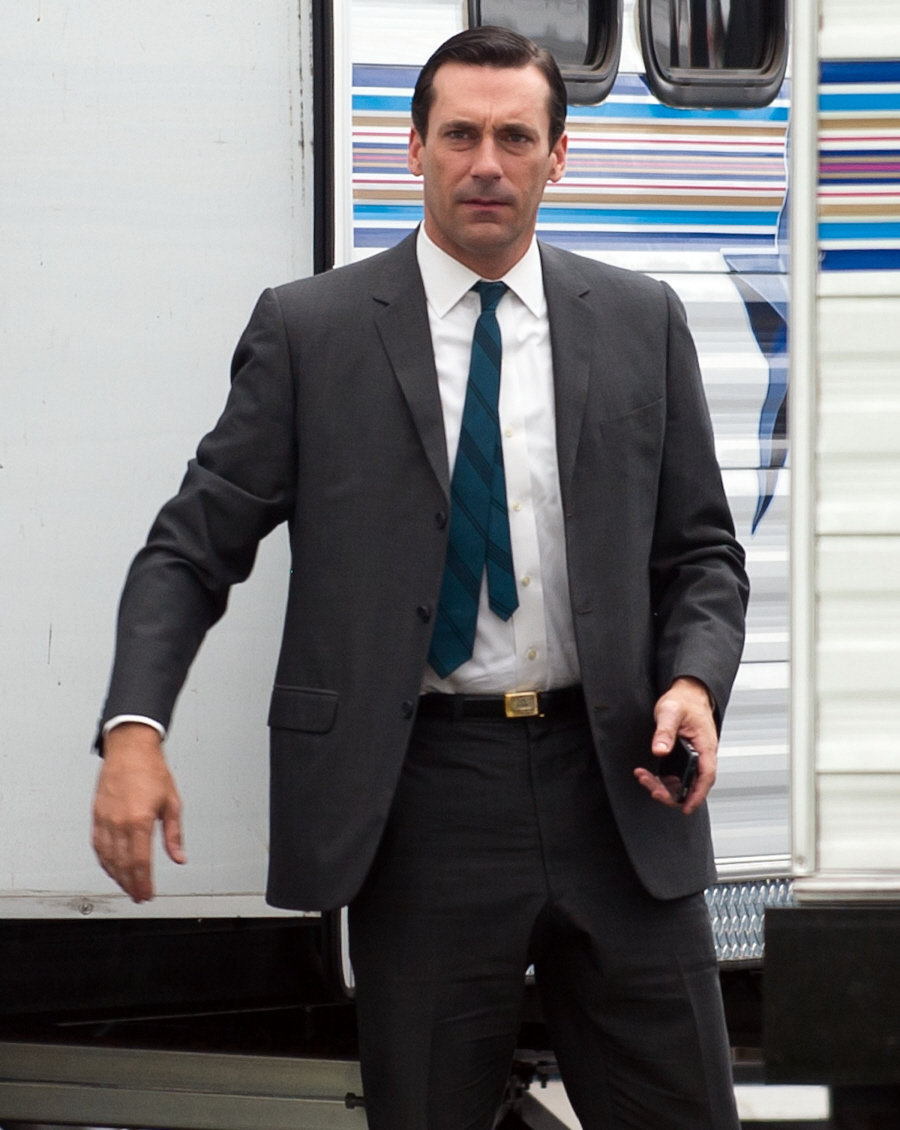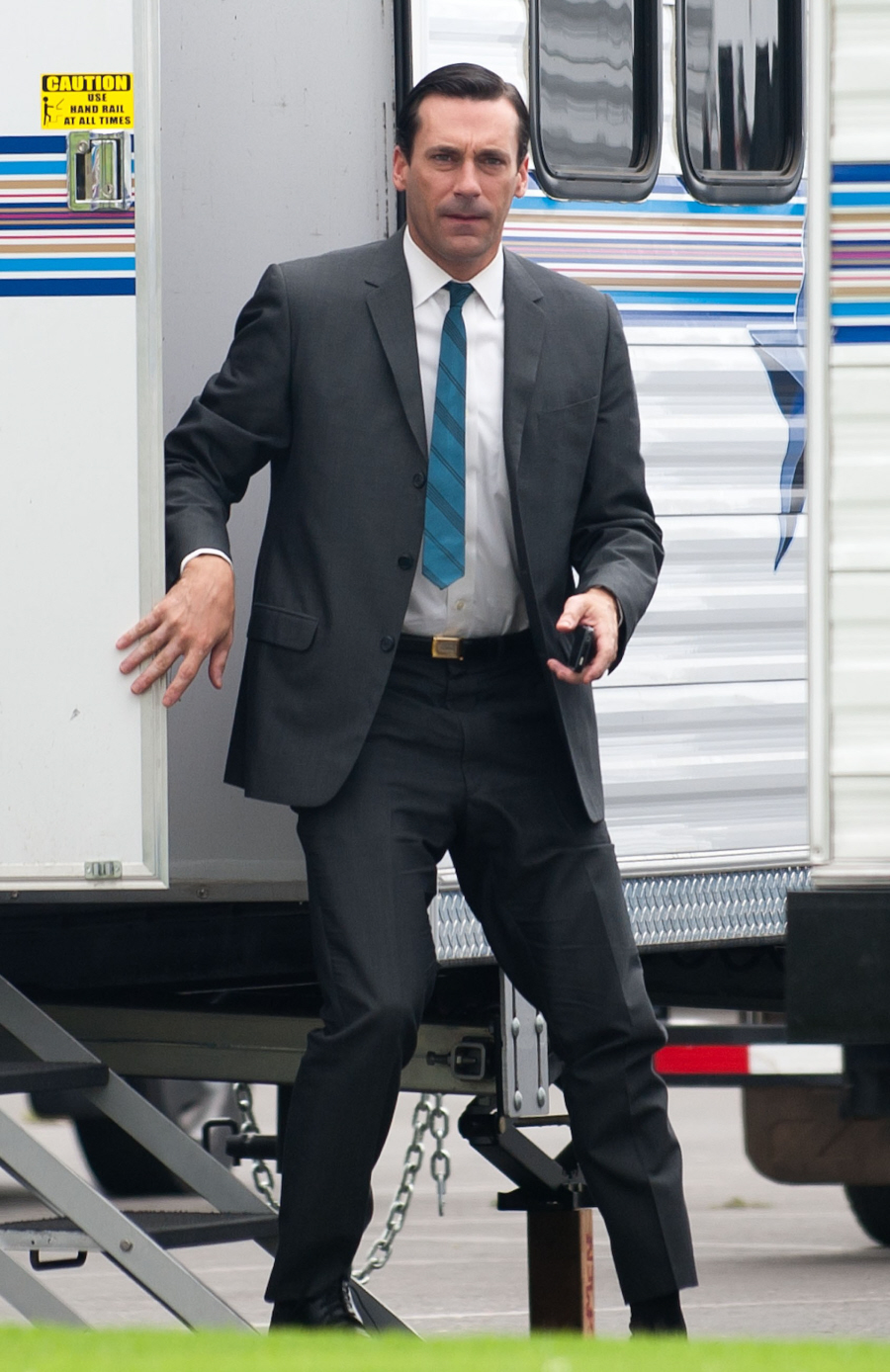 The Hamm on the set of Mad Men on September 1, 2010. Credit: Bauer-Griffin.