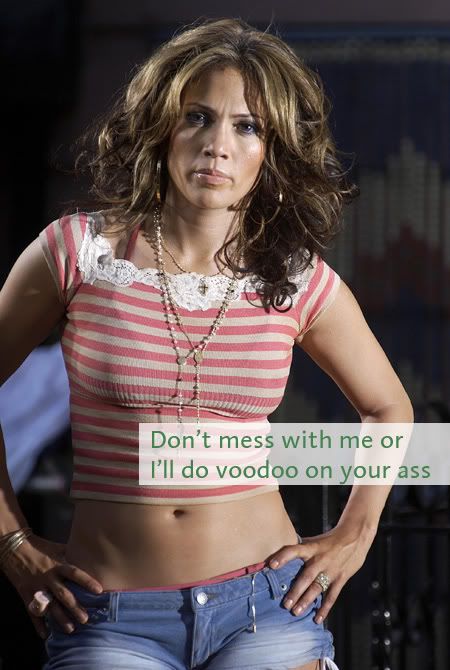 J.Lo's first ex husband, Ojani Noa, is unable to publish a tell-all book about their relationship now that Lopez won a case against him publishing the book. He signed a confidentiality agreement with Lopez in late 2005 as part of his settlement payout for a breach of contract lawsuit against her. Noa claimed that Lopez had him unfairly fired from his manager position at her Pasadena restaurant, Madre's.
In April Noa told Lopez's attorneys that he'd put the book out unless she paid him a cool $5 million. Of course the diva wasn't having that and sued him in an attempt to block the book, which is said to have juicy details like J.Lo cheating on P.Diddy in 1999 with Marc Anthony. Unfortunately J.Lo was successful and we won't be able to get our hands on the novel, but one detail did come out: Noa claims Lopez does Santeria on her enemies to get back at them:
During a June 5 deposition, Noa, who was married to Lopez for about 11 months, gave an indication of the kind of material Lopez does not want published. Responding to a question from the actress's attorney, Noa (who remained friendly with his ex following their split) testified that Lopez "was doing voodoo when we weren't married. She was doing bad things to a lot of people when we were friends. And I knew all this time, because we did personally, me and her, to this particular lady." Noa added that Lopez did voodoo and "all this religious bullshit" to former lovers, including Sean "Puffy" Combs. The purported voodoo practices apparently stem from Lopez's religious devotion and the influence over her by a "Madrina," which is often described as a spiritual mentor for Santeria practitioners. Asked in a June 1 deposition why he thought he could keep selling stories about Lopez despite signing the six-figure settlement agreement, Noa said, "I mean, I live a free country. No? I can express myself. I can talk and say whatever I want to. No?"
I believe this, because Lopez was said to have consulted a Santeria advisor at the time of her upcoming wedding to Ben Affleck. The voodoo guru told her to call it off:
Jennifer Lopez is said to seek spiritual advice from Santerian priestess Merle Gonzalez, who has admitted the two are friends. She reportedly told Lopez to call off her wedding to Ben Affleck.
Santeria fuses Roman Catholic beliefs with traditional West African religions. It's preserved by an oral tradition and rituals involve animal sacrifice, dancing, chanting and magic spells. Animals,usually chickens, are sacrificed to bring good luck and forgiveness of sins, and to please the saints.
That's pretty funny and we hope more dirt gets released on Lopez even though the book was blocked. If she's gullible enough to believe in voodoo, maybe Lea Remini will successfully convert her to Scientology.
Here she is in the videoshoot for "I'm gonna be alright," which was released in 2002. [via]