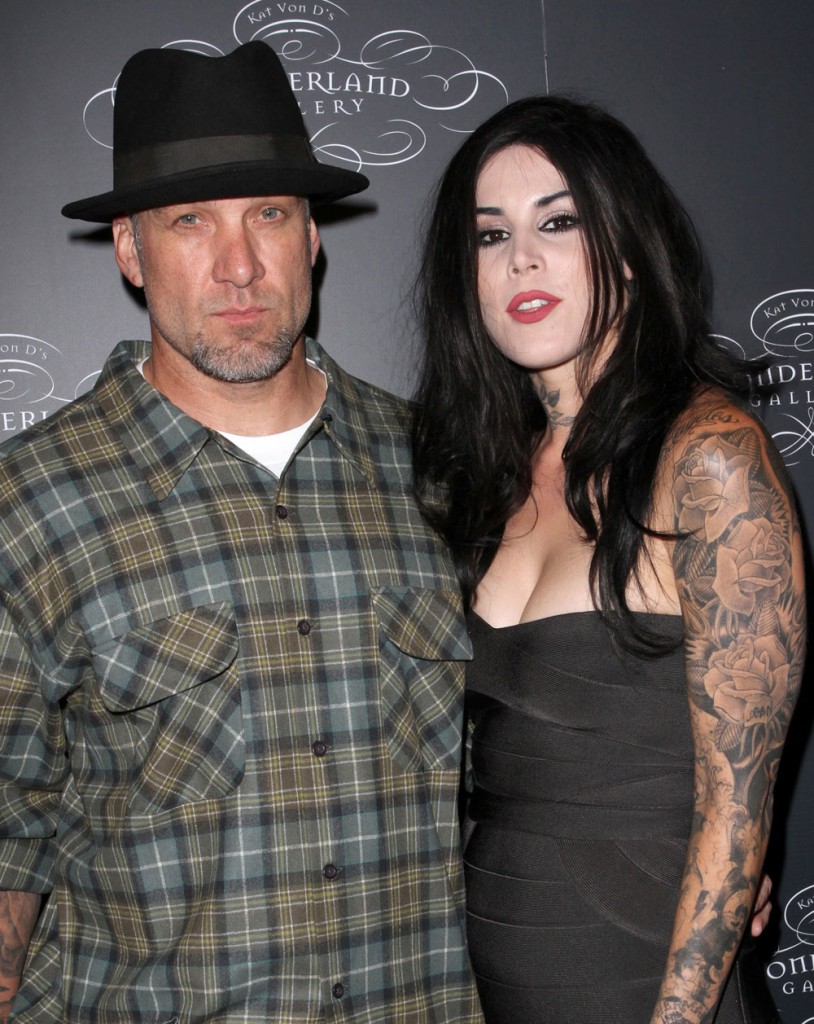 Two out of the four tabloids I turned my brain to happy mush reading this morning have a variation of the "Sandra betrayed!" story chronicling Jesse James and Kat Von D's well-documented outing to a town called Fredricksburg outside Austin last weekend. They had photos of the two kissing goodbye at the airport, walking hand in hand down the street, and even riding on Jesse's motorcycle together. It almost looked like they called the paps to tip them off. Here's a roundup:
In Touch: Jesse Humiliates Sandra Again! While Sandra Bullock does humanitarian work in New Orleans, her ex Jesse James parades his new girlfriend around Sandra's hometown… he's now pouring salt in the wound by gallivanting around Austin with his new girlfriend.

Star: Jesse Flaunts His New Love It's his cruelest cut yet. Jesse James brings his new girlfriend, Kat Von D, to Sandra Bullock's adopted home of Austin, Texas – and kisses her all over town. How low can he go?
[From print editions, September 13, 2010]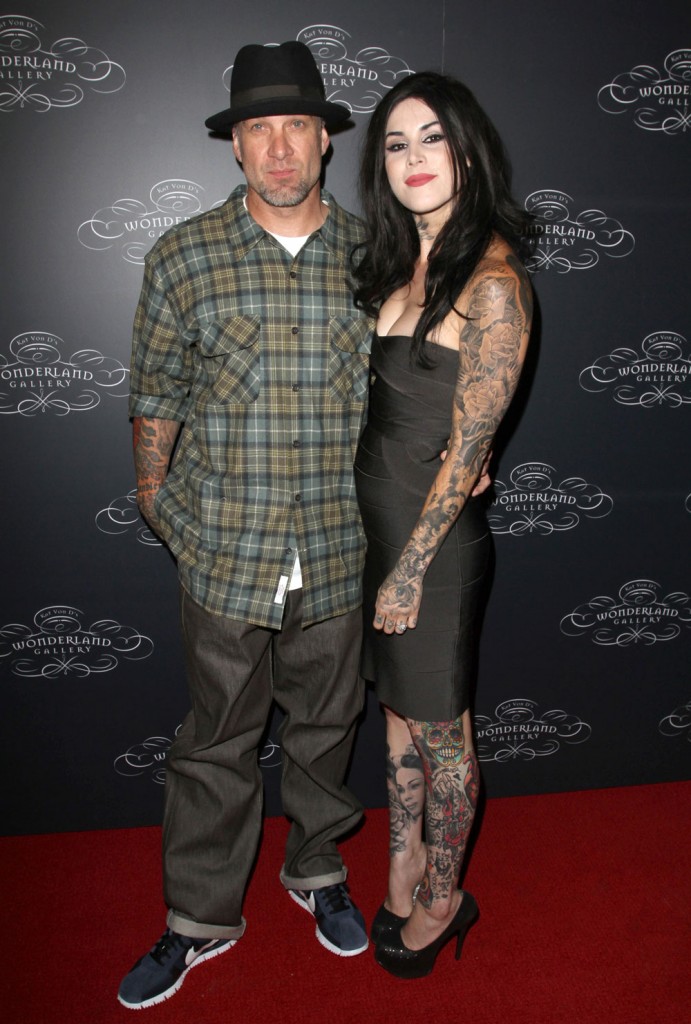 I also read US Weekly and The National Enquirer, so I can't speak for OK! or Life & Style, but I bet at least one of the other tabloids has a similar story about Jesse rubbing Kat in Sandra's face. It doesn't seem like Kat got the obvious memo that she should be discreet, though. These two went to to the opening of Kat's "Wonderland" gallery together yesterday and they even happily posed on the red carpet and gave statements to the press about their relationship. Kat gushed about how awesome Jesse was, called him "the one" and said in a roundabout way that she loved him. Stoo-pid. For his part Jesse grunted in the affirmative as confirmation that they're together.
"Jesse is only my ninth boyfriend. I don't hang out with anybody unless I am in love," Kat told PEOPLE at the opening of her Wonderland gallery in West Hollywood on Thursday.

Asked if she thinks the motorcycle mogul, who accompanied Von D to the gallery opening, is "The One" for her, she answered, "I believe he is, so yeah."

As for how and when she first knew her feelings for James were so strong, she said, "Was it when we were playing Scrabble? I don't remember. But it was something like that – when we both realized how nerdy we were."

And although James recently finalized his divorce from Sandra Bullock after he admitted to cheating on her, Von D says the drama of his personal life didn't cause her to hesitate.

"I stayed away from that as much as possible, and when we connected recently, it was such a positive thing," she says. "It was just like, 'Wow, I can't believe I haven't spent this much time with you the entire time I've known you.' Now I'm just embracing it and enjoying it."

James was a tad less verbose about the romance, but when asked if he's happy, he replied, "Yes."

So, what does he like best about Von D? "Everything," said James.
[From People]
How cute – they bonded over Scrabble. Good luck with that fixer-upper Kat. The floor is rotting through and it needs a new roof. You may as well gut the whole thing and start over. (I have no idea how that analogy would apply to dating a douche, other than switching him out for a different guy in the same neighborhood.) Kat will figure out soon enough that cheetahs can't cover their spots with tattoos. (Or whatever, that analogy/old adage also sucks. It's Friday at least.)
Meanwhile Sandra hopefully doesn't give a rat's ass that James worked his pitiful act on a much less worthy chick. She's at the top of her game and earned the cover of Entertainment Weekly in a triumphant pose with title "What's next for Sandra!" Underneath the headline, she's declared "the most powerful actress on the planet." Eat that, tattoo artist reality star! Inside the issue, Ben Affleck says that almost every director and producer wants Sandra for their film. He's quoted as saying "Every movie you hear about and every script I see, they say, 'We're going after Sandra Bullock for the woman.'" Good for her! I'm sure people will continue to have pity for her over her lovelife, but she's made it clear she's doing fine, thank you very much, and doesn't need it. We'll support you by going to see all your movies, Sandra!
Entertainment Weekly cover via CoverAwards Photo credit: Fayes Vision/WENN.com. Look at Kat trying to work a Herve Leger and failing miserably.