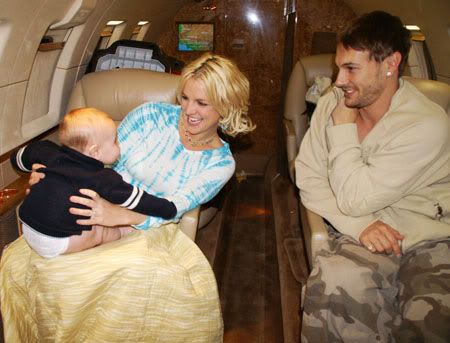 Britney Spears claims the glowing happy pictures that came out in US Weekly of her posing with Kevin were, like, totally stolen. She's said to be "evaluating legal options" against the magazine. You know that Britney released the photos herself after her "Dateline" debacle, and is just saying that to make it seem like they're really stolen:
Britney Spears has said she is "outraged and saddened" after holiday photos of her family were published in a US magazine.
Her record label Jive said the photos were stolen and that Spears and husband Kevin Federline were "evaluating all of their legal options".
The statement said the photos were stolen by "an unknown perpetrator" and printed by Us Weekly magazine without the couple's "knowledge or consent".
We seriously doubt this is true because the pictures are all cute and seem to come at a time when she needs good publicity and wants to make it seem as if everything is fine in her marriage. It's also seems like too much of a coincidence when compared with the recently leaked Brangelina baby shower pics.
Reader Missy notes that Britney and Kevin may look happy and privileged in these pictures taken on a private jet, but that Kevin is suspiciously hiding his ring finger. Someone must have "forgotten" to wear their wedding ring.