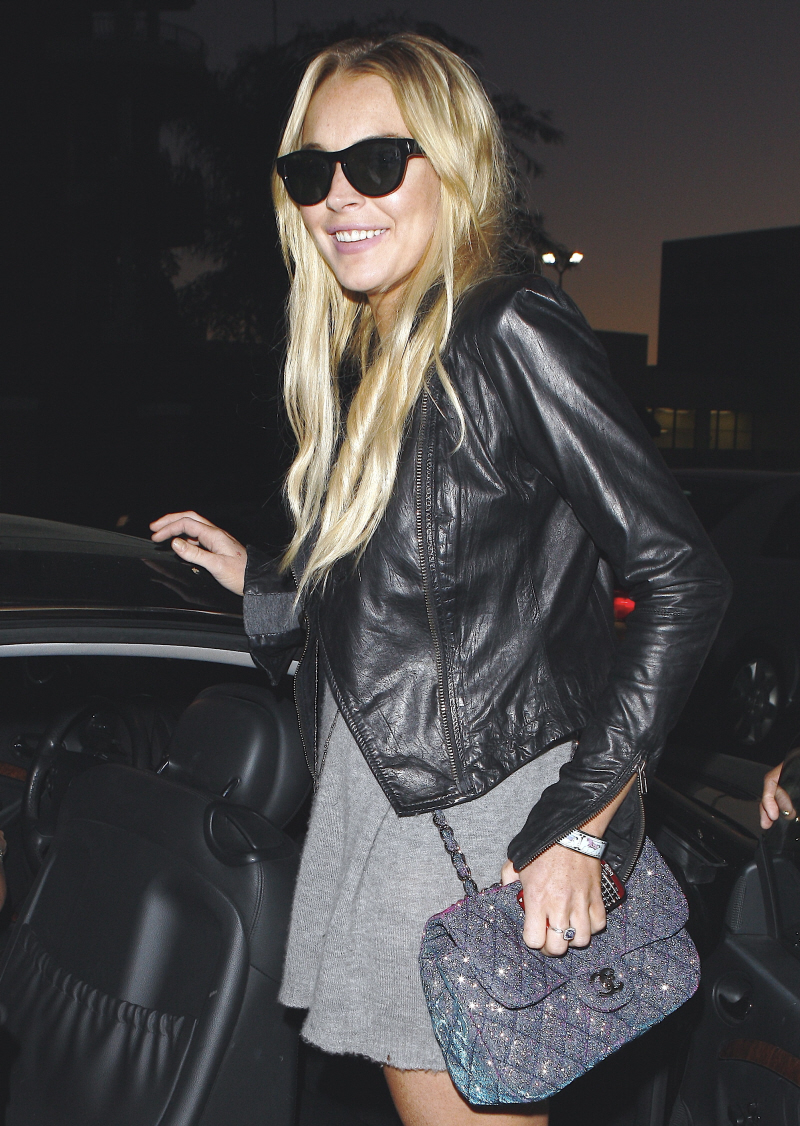 These are some new photos of Lindsay Lohan making a paparazzi-friendly visit to a movie theatre last night. Isn't this what everyone does? Wander around pantless, wearing sunglasses, and head to the movie theatre after calling the paparazzi? At night? Right? And maybe on the way to the theatre, you can hit a few babies. Speaking of, we have some addendums to the "Lindsay Lohan hit a baby while driving like a crackhead in her Maserati" story. Radar's initial story yesterday had Lindsay being too cracked-out to look both ways before turning on a red, then hitting a baby in a stroller before driving off without even getting out of her Maserati. Then, later Friday, TMZ put up their version of what happened:
An eyewitness to the alleged Lindsay Lohan "hit-and-run" tells TMZ … the photogs who sold the after-the-fact video are lying. The eyewitness — a photographer — says Lindsay was leaving her apartment building Wednesday (not yesterday) and was turning onto Holloway Drive with a green light. The photog says Lindsay "ever-so-slightly tapped the stroller — like 1 mile an hour."

The photog says Lindsay pulled over, asked the nanny pushing the stroller if everything was okay and was told everyone and everything was fine, so she drove off.

The story conflicts with the photogs who shot video after the incident. One of them — Brayan Jaime — told TMZ … Lindsay ran a red light and called the impact "a major hit" … causing 3 wheels on the stroller to leave the ground. Jaime says Lindsay fled the scene.

So far … no one has gone to the West Hollywood Sheriff's Department to file a report.
[From TMZ]
So when Lindsay told Radar "I have no idea what you're talking about" she was IN FACT LYING?!?!? You don't say. So Lindsay knew exactly what Radar was talking about and now she and Mother Crackhead Dina are sitting around, thinking up fun stories for TMZ to print. Notice that even with TMZ's flourishes, it doesn't change the fact that A) Lindsay hit a motherf-cking baby and B) She didn't even get out of her car to "check" on the baby or the nanny, and instead ended up driving off. Also: I love the inclusion in TMZ's story that the light was green. Like just because Lindsay might have had the technical right-of-way, that means it's totally okay that she clipped a baby.
Anyway, Radar one-upped TMZ's story with yet another one:
Lindsay Lohan 'saw' the woman and child crossing the road before she clipped the stroller with her car, according to another eyewitness. After RadarOnline.com first reported that the troubled star had hit the stroller with her high powered car, Lohan denied any knowledge, saying "I don't know what you are talking about."

But now, another onlooker has come forward to confirm the event and says Lohan saw the woman and child crossing the road, but did not bother to stop.

"I pulled up next to Lindsay after I saw her knock the stroller," said Austin Visschedyk, a photographer who was on the scene. "I said; Whoa, what the f*** are you doing?"

Lohan was momentarily speechless, according to Austin, before she replied: "Well, I saw them, but they didn't move out of the way."

RadarOnline.com had the exclusive interview with the first eyewitness, Brayan Jaime who described the chain of events.

"There was a woman pushing a kid in the stroller, maybe a two or three-year-old, crossing the street," he said. "Lindsay took the red light and hit the stroller. It wasn't super hard, but she made impact and hit them. Lindsay pulled to the right, stopped for two seconds, and then just kept going."

Despite conflicting reports that Lohan was going a mere one-mile-an-hour when the incident took place, Jaime says she was going substantially faster.

"She was going at least 10-15 miles per hour," said Jaime. "It wasn't one mile an hour, that's for sure."

In fact, Lohan – who caused the four-wheeled stroller to tip up onto one wheel – even scared a man standing 10 feet away.

"There was a guy standing on the corner who jumped back when it happened," recalled Austin. "He was clearly scared."

Lohan was driving the Maserati she picked up the day she was released from rehab. But according to sources, she has now returned the car following the accident which happened Wednesday afternoon.
Yep. I believe Radar's sources. Just for that one quote alone, attributed to Lindsay: "Well, I saw them, but they didn't move out of the way." That sounds exactly like her, doesn't it? Those sound like her crack thoughts and her crack words to me. Lindsay makes her own cracked-out right-of-way. Everyone must move to let the crackhead through. Seriously. People of Los Angeles: why are you still driving? You need to stay at home while this crackhead is on the streets. Although it is interesting that she returned the Maserati, isn't it?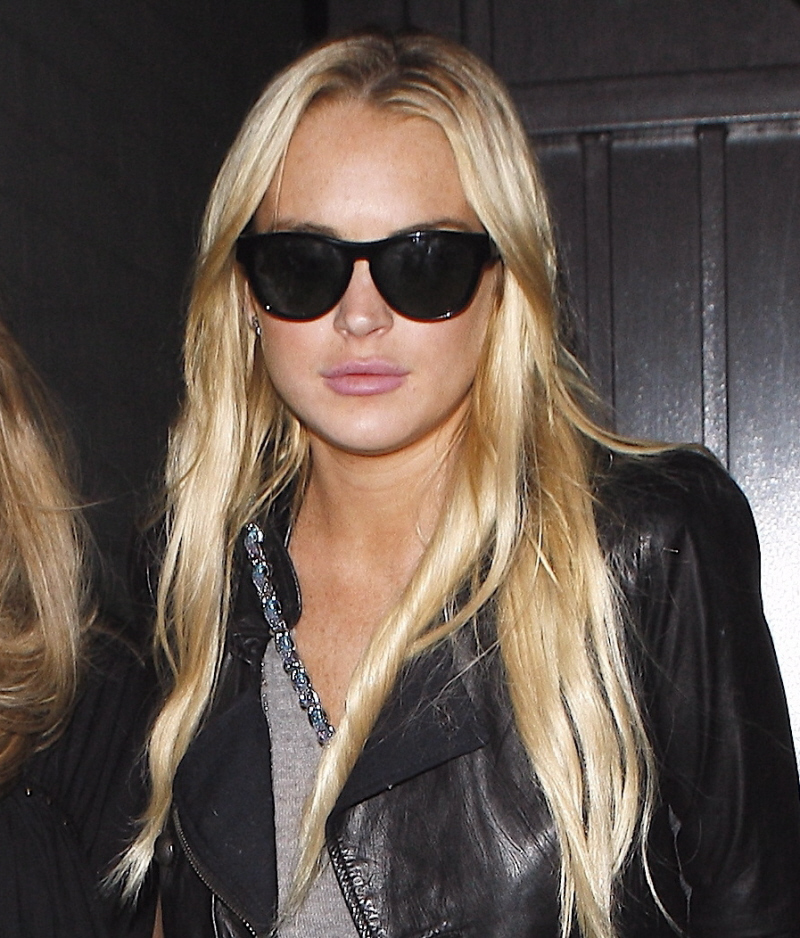 Lindsay Lohan on Sept. 3, 2010. Credit: WENN.