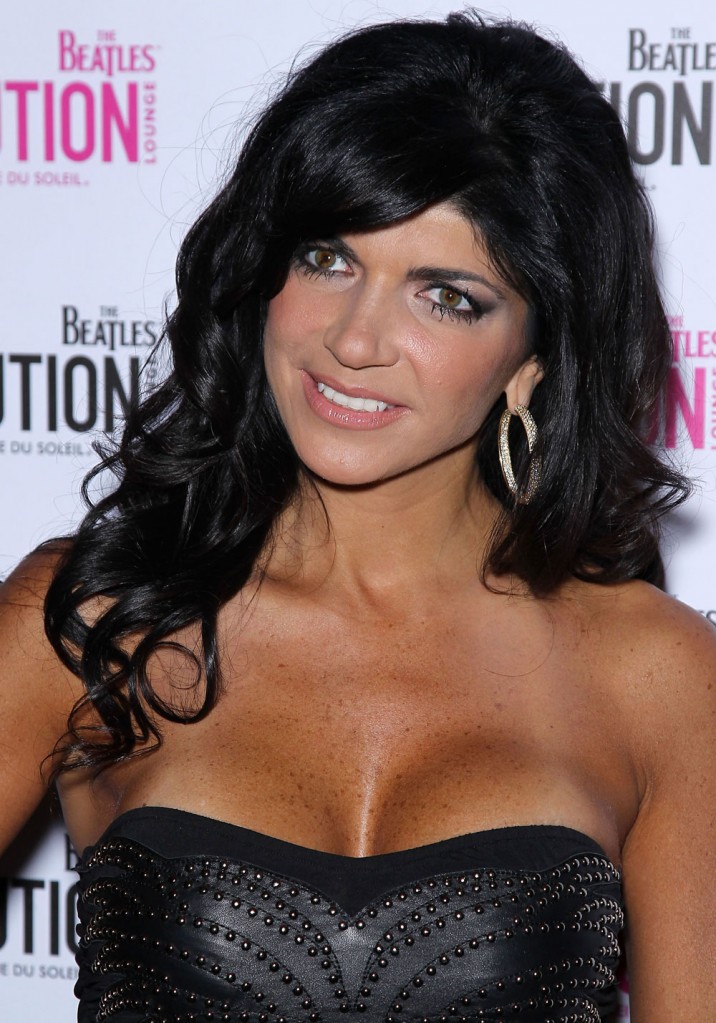 Real Housewife of New Jersey Teresa Giudice filed for bankruptcy a few months ago along with her husband, Joe. The couple is $11 million in debt despite earning less than six figures a year – officially. Teresa has refused to take any responsibility for her actions and insists that her lavish lifestyle didn't drive them into bankruptcy. In a recent interview in In Touch, she claims to be living within her means and limiting her spending. She doesn't mention or account for the $60,000 she's accused of spending in just two months after they filed for bankruptcy. Teresa and Joe's creditors claim in a recent court filing that the couple never reported $250,000 they earned as an advance for Teresa's book, Skinny Italian, along with failing to report earnings from her online boutique and another company that Joe owns.
A New Jersey lawyer for the Dept. of Justice handling the case of Teresa and Joe Giudice in federal bankruptcy court has filed a complaint on Thursday objecting to the couple's request for Chapter 7 protection, claiming they intentionally failed to reveal major assets in their original petition. The court documents that appear to have been filed by Roberta A. DeAngelis have surfaced on a 'Housewife' blog. Sources of income alleged to be missing from the bankruptcy filing? The court documents list a $250,000 book advance from Hyperion received by Teresa for her cookbook 'Skinny Italian,' her ownership of an online boutique called TGFabulicious and more.

The objection reads: "To date, the Defendants have not filed amended schedules that disclose the existence of the book 'Skinny Italian,' the publishing deal with Hyperion, Defendant wife's ownership of TG Fabulicious, LLC, or Defendant husband's ownership of 1601 Maple Avenue Associates, LLC."

The claim further alleges that the couple were untruthful in previous sworn testimony ("the Defendants have knowingly and fraudulently made false oaths in this case") as the contract with Hyperion was reportedly dated Oct. 22, 2009 — just prior to the Guidices' petition for bankruptcy protection — and signed within weeks of filing for Chapter 7. While Teresa has reportedly acknowledged in an April 2010 examination under oath that she received the book advance, her legal team has apparently done little to officially update court records about the newly disclosed assets.
[From Popeater]
Every move this woman makes shows what an entitled arrogant person she is. She has no shame and will stop at nothing to continue to buy whatever she wants so she can live however she wants. I just feel sorry for her kids.
As for those rumors that the "nephew" that Danielle Staub brought up on the reunion show last week was Teresa's husband's lovechild, several of you mentioned another possible reason why Teresa flew into a rage. (As if she needs a reason.) There's a story that she has a nephew that is of mixed race, which her low class family refuses to acknowledge. I was unable to verify that at all, though. I had the chance to read the full dumb interview with Teresa and Joe in In Touch, and they don't address the cheating rumors except to say that Teresa "laughed" at that story and that they're solid. Joe volunteers that they "still make love once, sometimes twice, a day." Thank you for sharing. That really puts me off my lunch and now I'm imagining fur flying and cats mating.
Here's Teresa looking lovely on 9/1 and 9/5/10. Credit: WENN.com