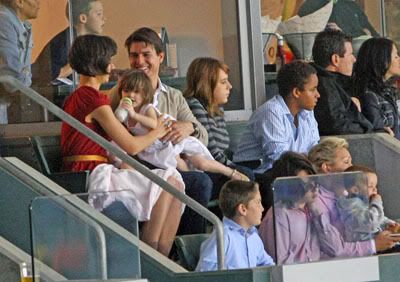 Things looked pretty tense for the Cruise family as they sat in a box at an LA Galaxy Game on Saturday. It was the first time Tom, Katie, Suri, Isabella and Connor have all been photographed together at an event or by the paparazzi since December, 2006. In the fall of 2006, Katie and Tom were pictured sitting on the sidelines and cuddling at Isabella and Connor's sports matches near constantly. After Suri was born Tom's older kids pretty much dropped out of site. Connor was seen out on his 13th birthday having dinner with his dad in January, but that was a rare sighting.
There may be a good reason for the palpable misery and tension among the Holmes-Cruises – The LA Galaxy soccer team featuring David Beckham lost that game on Saturday 2-1 to the New York Red Bulls.
Three of David Beckham's sons, Brooklyn, Romeo and Cruz, were in the box with them, but their mom was not at that game. Victoria Beckham caught a flight from LA to London earlier that day, which may have made it convenient for her to avoid being seen with the Cruises. Victoria and David recorded a tribute to Cruise that aired during the Oprah special, but it primarily focused on his films and they did not talk as much about their friendship with him.
Little Suri, two, held her ears when the crowd cheered. Her older sister, Isabella, 15, is shown handing her a doll to try and make her feel better.
Thanks to Splash for these photos.