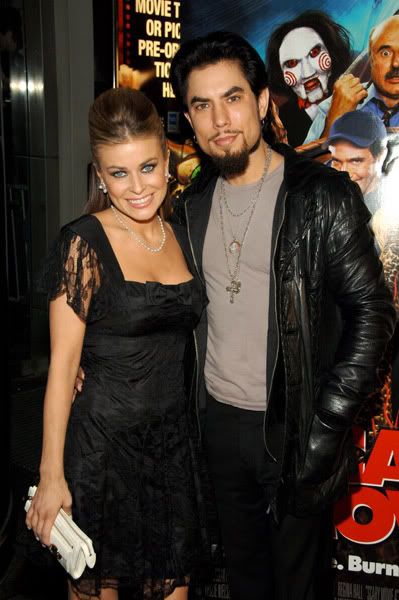 We weren't entirely convinced that Carmen Electra and Dave Navarro were having relationship trouble until we read an unsourced e-mail report on Egotastic. There's something about those "I was there" stories that make them more convincing despite the fact that they're quite easily fabricated.
Carmen teased her hair all up on Monday and attended two events with Dave. They were seen at the Scary Movie 4 premiere and at SAAB's new concept vehicle launch in New York.
She insists that everything's fine in their relationship, but we still remember how nervous she seemed on the Tonight Show when she deliberately avoided the question.
In this recent quote, she calls Dave her "friend," which usually doesn't bode well for a relationship:
Carmen Electra insists husband Dave Navarro is her best friend and that's why their marriage is so successful. The actress previously had a string of bad relationships, including a failed marriage to basketball player Dennis Rodman and a romance with Prince, but has found true love with the rocker.
She explains, "He's my best friend. He really lets me be who I am. It's the first time I've ever been able to travel and go to work and feel comfortable and be able to sleep at night knowing that my friend loves me and isn't hurting me. It's really nice."
Electra does plan on starting a family but, despite tabloid reports, the couple is taking their time. She adds, "I do look forward to being a mom, but I'm not rushing it. But that's what's crazy, there have been so many stories in the tabloids that Dave and I breaking up and now I'm getting pregnant. I'm going, 'Which is it?'"
She's not convincing us, but they'll probably work it out.
Here are pictures from the Scary Movie 4 premiere and one from the SAAB AERO X concept car launch. Other stars seen at the Scary Movie premiere include Simon Rex (who was booted from a party for trying to pee on the carpet according to Page Six), Regina Hall, and Anna Faris.
And here's the trailer for Scary Movie 4. This is the most we will ever see of this movie.