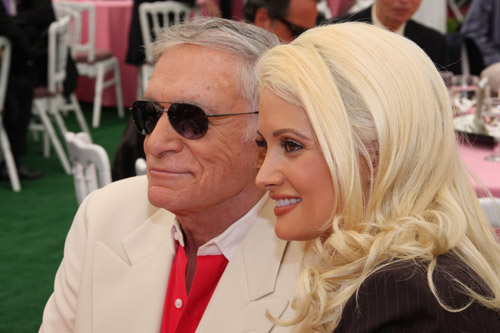 28 year-old Holly Madison is the leader of the pack of Playboy founder Hugh Hefner's girlfriends. She's been outspoken about her wish to marry to old codger and bear his children. Hefner has been less committal in the past, giving vague statements about how "we'll see," which is something you tell your child when you want him to quit begging for something. We use the "wait until Christmas" line often, but in Holly's case she may actually remember that type of promise.
Hugh closed that door in a recent interview with Fox, though. He said that it's not going to happen because he hasn't had much luck in that department. The flesh-peddler has been married twice. Hugh's other two girlfriends said that they both have plans to be married and have children, so it's probably safe to assume they'll be moving on at some point, while Holly stays and pouts:
"I love Holly very much and I think we're going to be together the rest of my life," Hef said. "But marriage isn't part of my puzzle It's not a personal thing; I just haven't had much luck with marriages."

Speaking of endings, could his other two "Girls Next Door," Bridget Marquardt and Kendra Wilkinson, also be getting ready to move on?

"My goal is to be hosting my own show and be happily married with children, so I've been thinking about that a lot lately," Bridget said.

Kendra added that her future plans also involve motherhood and marriage while at the same time she aspires to build up her brand name, so with her own label Kdub clothing ready to launch, it seems she's well on the way to independence.
Hefner also said that he's not going to retire and that "It's the perfect combination of work and play that keeps you young." Maybe he should get some more help, though, because his eyesight may be going. Did you get a load of the playmate of the year?
Madison probably doesn't want a husband and a baby as much as she wants a secure future, and Hefner may be old but he's no fool. He's seen a lot of ambitious women in his day and he knows that he's the one who gets paid the most.
Hugh Hefner and Holly Madison are shown at the 2008 Playmate of the Year luncheon at the Playboy Mansion on 5/8/08, thanks to WENN.