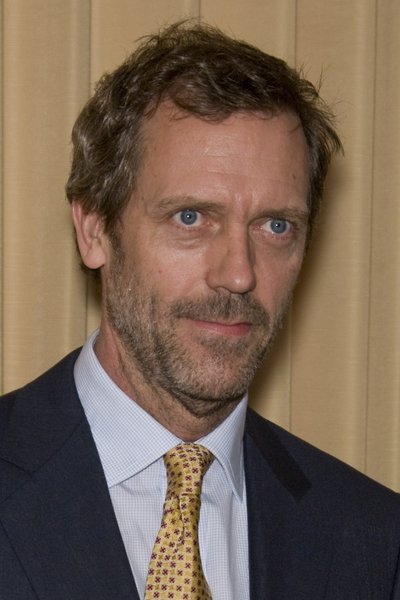 Hugh Laurie of fan favorite House was on Ellen yesterday. He said in his cute British accent that his family is visiting from England and that they're traveling back and forth more to see him. He claimed he's not quite ready to move them over and repeated the sentiment he's shared before that he doesn't trust his success and is waiting a little longer to be sure. Ellen said it's been four years, and he quipped that he would wait ten because he's such a pessimist. Laurie said his first year working on House he lived in a hotel and didn't even unpack his suitcase.
On finding his dad's Olympic gold medal in a sock drawer
Hugh: "My father was a phenomenally… modest man and he never told me. I found it by accident when I was a teenager… rummaging in a sock drawer. I can't imagine was I was looking for in a sock drawer beyond socks. His stash perhaps – his stash of socks. I found it and I thought what the hell was this… He won a gold medal… for rowing."
Ellen: "Had you seen him row before?"
Hugh: "I had seen him row… I remembered being in a boat going fishing with my father and mother and he was maneuvering the boat away from the jetty. I was a little bit doubtful, I was about 10 and I said to my mother 'does he know how to row?'
You would have thought that would be a pretty good moment to drop it into the conversation that he was a world champion, but no it didn't come up for another 10 years… it's a bit mad actually."
Ellen: "He probably just by himself looked at it all the time"
Hugh: "I like to think that he had a moment. He communed with it now and then. He put it on and [gets embarassed] yeah, that didn't make any sense."
Ellen [laughs]: "I'd like to know where you're going with that, but I'm frightened so I will not."
Hugh said he rowed as a sport until his early 20s, but he didn't like facing the wrong way and that he "wanted to face forwards in life." He joked that it was poetic of him to say that.
On a prop person freaking out about all the fake pills he's taking on House
Ellen asked him what he's taking on the show when his character has pills "because you're swallowing something constantly."
Lauried quipped "I honestly don't know. I think it's something to stop me from complaining. They told me at the beginning it's some sort of lactose or lactase… whatever the word is. Then one of the prop men said 'Oh my God, you're not just swallowing those are you?' and I said 'Yes I am. I've probably swallowed about 400 of them in the last 3 months.'"
Then Hugh said the prop guy backtracked and said "'Nothing! Oh you're fine.'
But I seem to be alright."
Ellen: "You're swallowing a lot of things…"
Hugh: "I am a swallower." [audience cheers]
I tried to figure out if you can OD on lactase, and there's not much about it online. I think the worst that could happen is you might lose your natural ability to make the enzyme yourself and have difficulty digesting milk products without it.
Hugh and Ellen challenge each other with slang
After the break they played a game where Hugh and Ellen challenged each other with slang from their respective countries. Ellen's didn't seem fair to me, because I'm an American and I had no clue what most of them meant. Her first term was "flossing" and Hugh guessed "something close fitting?"
She said it means showing off, which is news to me.
Hugh's first word was "Chin wag." Ellen said "a blundering idiot," but Hugh said it's a verb which means "literally, to chat."
Then Ellen's word was "ba-donka-donk," which again I've never heard of. She said "it's an extremely curvaceous female behind." Hugh said "We definitely don't have those in England… that's a fantastic word."
Hugh's last phrase was "Chuffed to bits," which Ellen thought mean "exhausted" but really means "pleased" and Hugh joked "I would be chuffed to bits by your ba-donka-donk."
Ellen's final word was "shawty," which she tried to explain by signing lines of songs. Hugh had no idea and she said it's a "young kid or a woman." I thought that was "shorty."
I love Hugh Laurie and it's great to see him interviewed and hear that he's able to see his family more. He was having a hard time for a while being apart from them and it sounds like things are going well for him now. He's a very down to earth charming guy and an incredible actor. He definitely deserves all his success and more.
Here are the links to the videos, but I'm sorry to say the sound is not syncing right for me. I tried to clip this myself but it was painfully slow and there may be problems with the service.
Hugh Laurie on Ellen, 5/12/08, Part 1
Hugh Laurie on Ellen, 5/12/08, Part 2
Hugh Laurie is shown at the PRISM Awards on 4/24/08, thanks to PRPhotos.