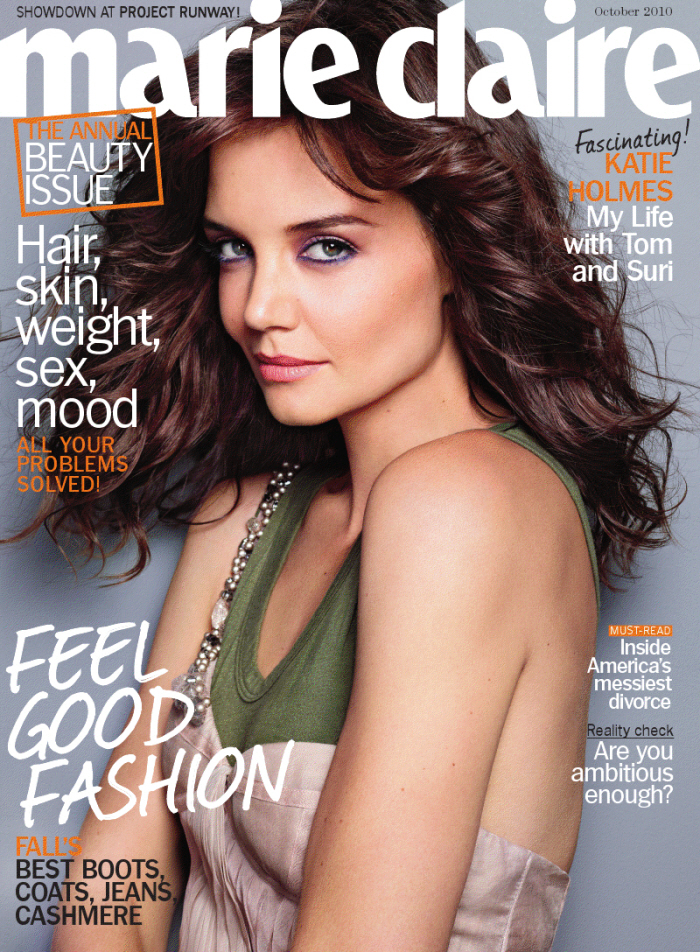 My GOD Katie Holmes is horrible model. I have just gone through Marie Claire's October pictorial, starring their cover girl Katie Holmes, and this might be one of the worst ever. It's not really Marie Claire's fault. It's Katie's. She doesn't know how to carry herself, she doesn't know how to pose, and she looks old and exhausted and slumpy and like a f-cking zombie in nearly every photo. And you know Marie Claire probably used the best shots too – that's how bad it is. Can you imagine the shots that were rejected? Go here for the full slideshow, but the best (worst?) shots are the bottom of this post.
Anyway, Katie was also interviewed for Marie Claire! Xenu lets her speak for herself and everything. It's predictably kiss-ass ("Katie Holmes doesn't really walk; she glides…. I find myself getting distracted by her cheekbones and her soft but determined voice.") but there are a few (butt?) nuggets of interest. The full online excerpt is here, and here are the highlights:
Producer Jennifer Todd, on Katie Holmes as producer/actress on The Romantics: "She really was a producer. It wasn't just a credit given to her. She's been relentless in trying to help get this film out. She has a real love of cinema and a real passion for seeing a project through from start to finish."

On The Romantics: "I just look for characters I can relate to. I loved this role because it felt like these are things that people go through," Holmes tells me. "It has friendship, it has heartbreak, it has the past coming back into your life. I also liked the friendship between Lila and Laura because it's tricky between women — you are either a friend to women or you are not." Holmes continues, "That stuff for me is very real. I have three sisters, I went to an all-girls academy. I feel like I know girls and know how we fight, and [author] Galt really nailed it. I just thought the movie felt very true."

Doing the film festival rounds: "The enthusiasm that existed around this project was just awesome," she says. "We all get together now and do dinners. We really did become great friends, and that's rare — to continue those friendships."

What's it like being (the third) Mrs. Tom Cruise? "It's really exciting. Tom's as big at home as he is on the movie screen. He's so passionate about everything, whatever he's doing. When he's being a dad, he's right there; he's giving it his all. It's inspiring and it's fun. It's an amazing life, but we always remind ourselves of how incredibly lucky we are."

On their date-nights: They visit each other on set when they can — Holmes is currently working in Toronto — and they do manage to have date nights, usually screening a current movie in their Beverly Hills home, followed by "probably a two-hour discussion about what we thought." They also play a lot of Scrabble. Holmes, always the straight-A student, is a formidable opponent. "But Tom's really good at it," she admits. "It's all strategy. I think when I'm back in Toronto, I'm going to bring my dictionary and study."

On being apart: Despite their hectic schedules, they've never spent more than a week-and-a-half without seeing each other.

More kids? "Maybe in a couple of years, but right now I want to make sure I'm really there for Suri. I'm the youngest in my family — my closest sister is five years older than me, and the next one is nine years ahead of me, so I was a bit of an only child, and I liked it! I liked having all of my mom's attention, and sometimes I think I still do."

On Suri, who Katie says is being home-schooled (by Xenu?): "We travel a lot, and so for me, it's keeping a daily schedule for Suri that never changes," Holmes tells me. "We wake up, and we do the same thing. She does her chores. I think it's very important. If she doesn't get her chores done, I notice she's not really herself. She has to make her bed, she has to take her dishes to the sink, she has to put her clothes in the laundry — you know, that basic stuff. I try to do what my mom did for me … just spending time with her, making doll clothes and planting in the garden … When Suri comes to the set, we have art projects, and I just try to keep her busy and inspired."
[From Marie Claire]
If her life is really this good – and honestly, she does make it sound very nice and low-key – then why has she aged so drastically, and why does she wander around like a drugged zombie so much of the time? I just think… damn, even with all of her money (Tom's money), I still wouldn't want her life.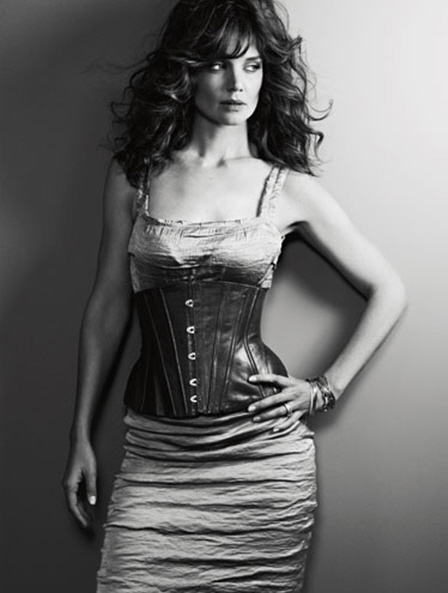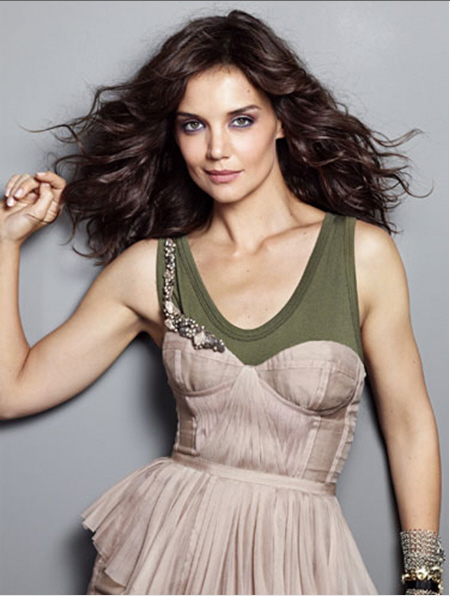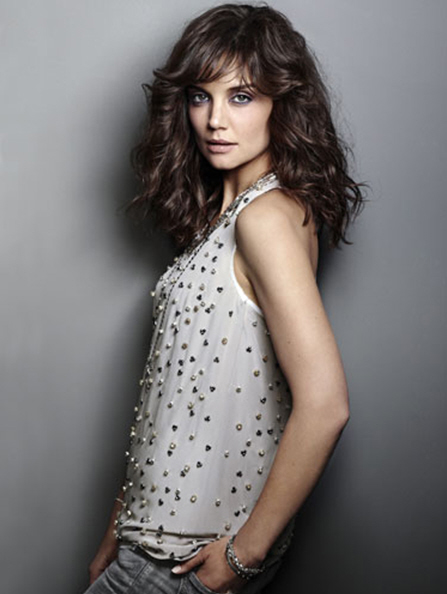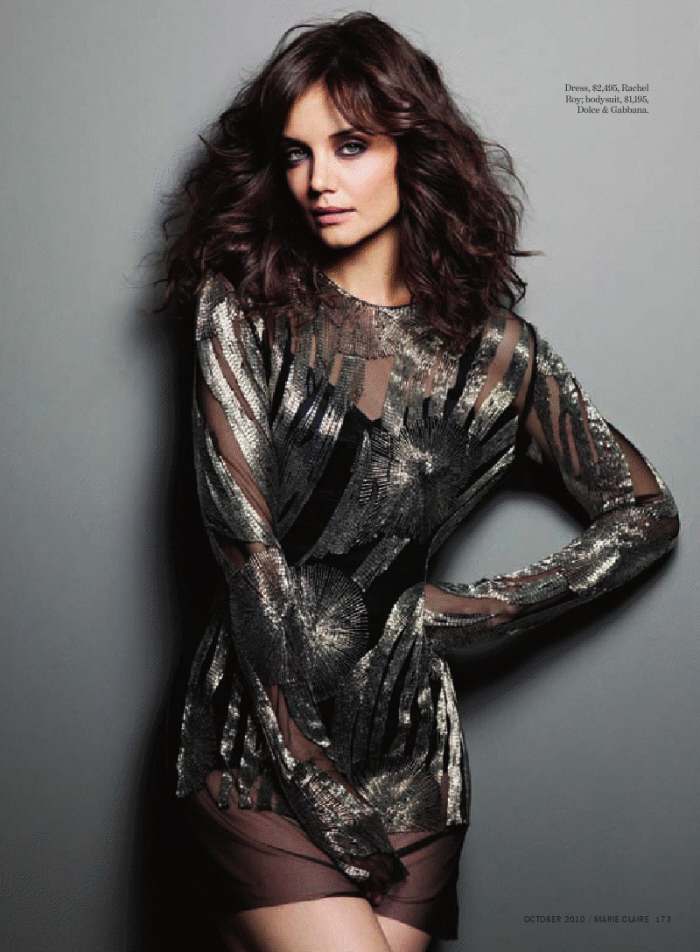 Photos courtesy of Marie Claire.