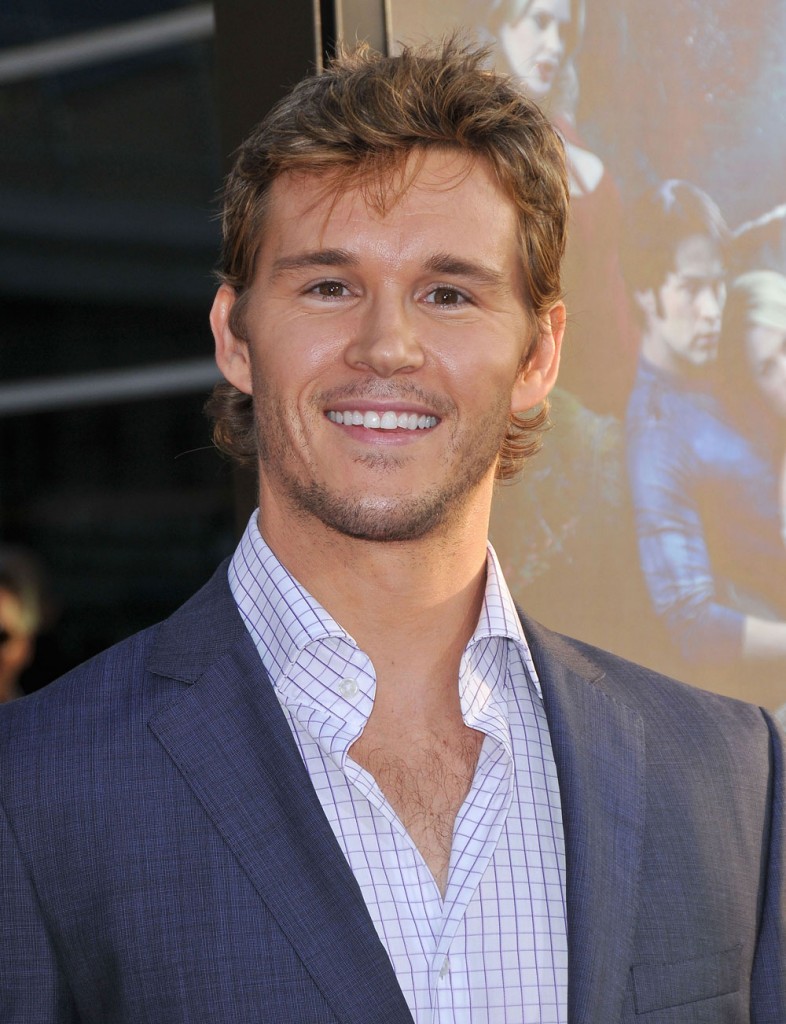 Ryan Kwanten is the Australian beefcake behind True Blood's hot but dumb single-natured assistant deputy, Jason Stackhouse. I haven't heard much from Kwanten, 33, apart from a very friendly open interview he did with a fansite. He seems like a really normal, down-to-earth guy and in this latest quick profile with US Magazine, part of their weekly "25 things you didn't know about" feature, he just confirmed my positive impression of him. I love his witty answers "5. Worst advice: 1) Turn here, I know a shortcut. 2) Just touch it," and "24. I love odd numbers. Ironic this is No. 24." are a couple that stand out. Here's more:
1. My mum beat breast cancer. Everyone, in some way, has been touched by cancer. Please help any way you can.

2. I find it hard to trust anyone who doesn't like animals.

3. My favorite yoga pose is Scorpion.

4. Best advice: a day at a time.

5. Worst advice: 1) Turn here, I know a shortcut. 2) Just touch it.

6. A woman's body is the most exquisite gift. A woman's mind is a mystery.

7. I've broken many a bone, including every knuckle on my right hand.

8. I believe what Muhammad Ali said: "Champions…have to have the skill and the will. But the will must be stronger than the skill."

9. I could only hope to be half the man my dad is.

10. I avoid pompous people and microwaves.

11. Whenever people agree with me, I always feel like I must be wrong.

12. I am yet to be defeated in Scrabble and beer pong.

13. You can find me at ryankwanten.com.

14. The harder I work, the luckier I get.

15. Nothing beats fresh air.

16. I call my brothers "Tenoskipoo" and "Goo."

17. Foster's is not Australian for beer. And the guy in the Outback Steakhouse ads is not Australian.

18. I have no formal acting training.

19. I wear a size-30 jean. Jason Stackhouse wears a size 28. Boy likes 'em tight.

20. I've never stayed awake for a musical.

21. Favorite movie characters: Butch Cassidy, Martin Riggs, Andrew Beckett.

22. I always misspell definitely.

23. I've been bitten by a shark.

24. I love odd numbers. Ironic this is No. 24.

25. I'm still growing into my shoes.
[From US Magazine]
Ryan is also on the cover of GQ Style's latest issue, and has has some pretty level-headed things to say about fame. He said "I'm not very newsworthy. I'm still a very private person. I want to leave all the drama in my life on the set. I'm not going to call my publicist from a restaurant and say, 'I'll be leaving at 7:57. Make sure there's a photographer outside.' Giving my life up like that would be taking a little bit of my soul."
When I went to google Ryan Kwanten, one of the suggested phrases was "Ryan Kwanten Workout," which points you to this page on Men's Health with his manly outdoor fitness tips. You know, I'm not particularly attracted to Jason Stackhouse because you can see the gears turning behind his eyes when he thinks and he looks like he drolls when he sleeps, but Ryan is definitely at the top of my list now. His accent really does it for me too. (You can hear it in the video below!)
Mild True Blood spoilers for past episodes
This week is the last episode of the whole damn third season on True Blood. I can't believe it's over so quickly and I'm kind of peeved about that. I'm anxious to see how Eric gets out of his particularly sticky situation and if Russell Edgington continues to be a problem. It's sad, in a way, that Franklin Mott is no longer on as I was pretty fond of the actor who played him, James Frain. He somehow made a terrible character likable and I found him sexy to be honest. If anyone was going to take care of Mott I'm glad that it was Stackhouse, though.
Here's a cute interview with Ryan interviewing Lindsay Pulsipher. She's the actress who plays Crystal, his on-screen love interest. His accent is so dreamy! These two are really flirty with each other, and you can tell how much Lindsay is into him. Who wouldn't be?

Here's Ryan at the True Blood season premiere on 6/8/10. I love how he brought his mom! He's also shown on 3/5, 3/4 and 1/28/10. Credit: WENN.com.