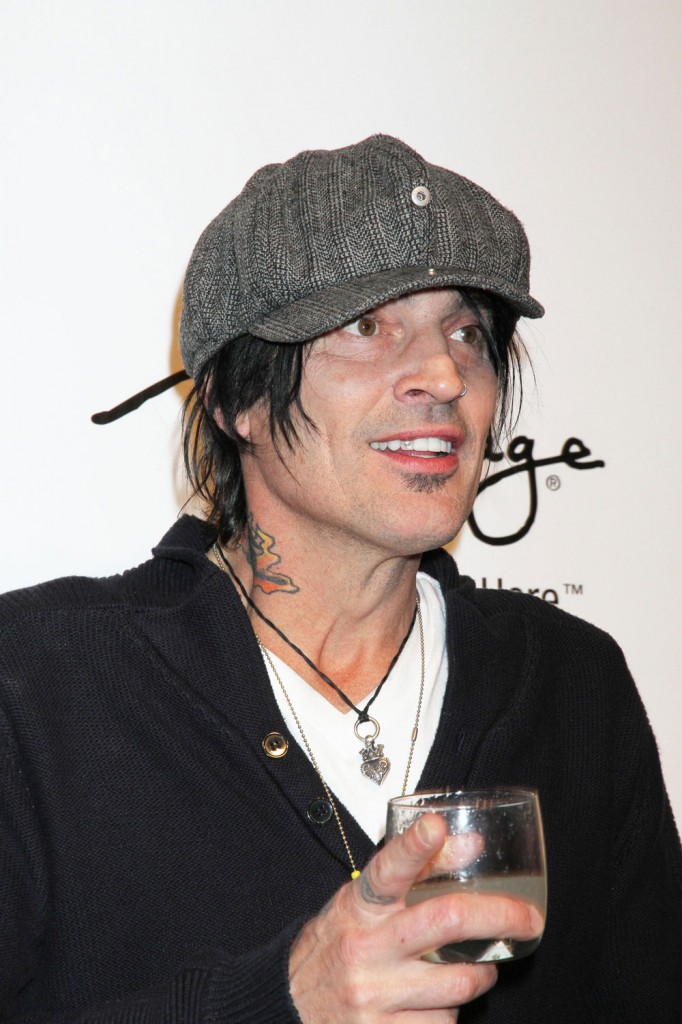 Tommy Lee is so very proud of the rave he threw for his son's 14 year-old birthday party. It was a raging success, according to Tommy, because the cops came three times and ultimately shut it down.
Rocker Tommy Lee's eldest son is becoming a hellraiser just like dad – his recent 14th birthday party was shut down by the police.

Lee and Pamela Anderson's teenager Brandon asked his dad to help him organize a rave for his birthday in June.

The Motley Crue star tells TV show Extra, "Brandon just turned 14 and he goes, 'Dad, for my birthday I wanna throw a rave.' He took over this place, I bought a huge sound system, lights, Glo-sticks…The cops came three times and he was so pumped. He was like, 'Dad, this is the coolest thing; my party got closed down by the cops."

The 14 year old is the only wild man in the family now that his dad has stopped drinking.

Lee explains, "I quit drinking 90 days (ago)… I'm a lot clearer, which is scarier; you don't wanna mess with this now."
[From Starpulse]
Now that his oldest son is fourteen Tommy thought it would be a great idea to throw him a party so loud that the cops needed to be called. Apparently he has no consideration for his neighbors or the fact that a rave is inappropriate for a 14 year-old. Incidentally, a four year-old kid drowned at a party that Tommy threw for this same son, Brandon's, fifth birthday. (Tommy was found not guilty of negligence in a suit against him by the boy's parents. Jurors found that it was not his responsibility to provide a lifeguard and the nanny who was supposed to be watching the kid had left.) I'm not saying that Tommy shouldn't have a party for Brandon due a tragedy he wasn't personally responsible for nine years ago, just that he should maybe be more cautious when it comes to parties for kids. He certainly shouldn't be bragging to the press about how loud and out of hand they got. I hope his sons have other adults around to supervise them rather than relying on Pamela Anderson and Tommy Lee, but it's doubtful. What an idiot he is, but at least he's been sober now for a whole three months.
On a lighter note, have you seen this video of a 16 year-old Australian teen defending the 500-strong party he had when his parents were away on vacation? Tommy Lee probably sounds pretty similar to that kid.
Tommy Lee is shown on 4/10/10 with his girlfriend, Sofia Toufa, in Vegas. He's also shown with a black eye at the consumer electronics show in Vegas on 1/9/10. He looks awful and like the hepatitis is really kicking his ass.