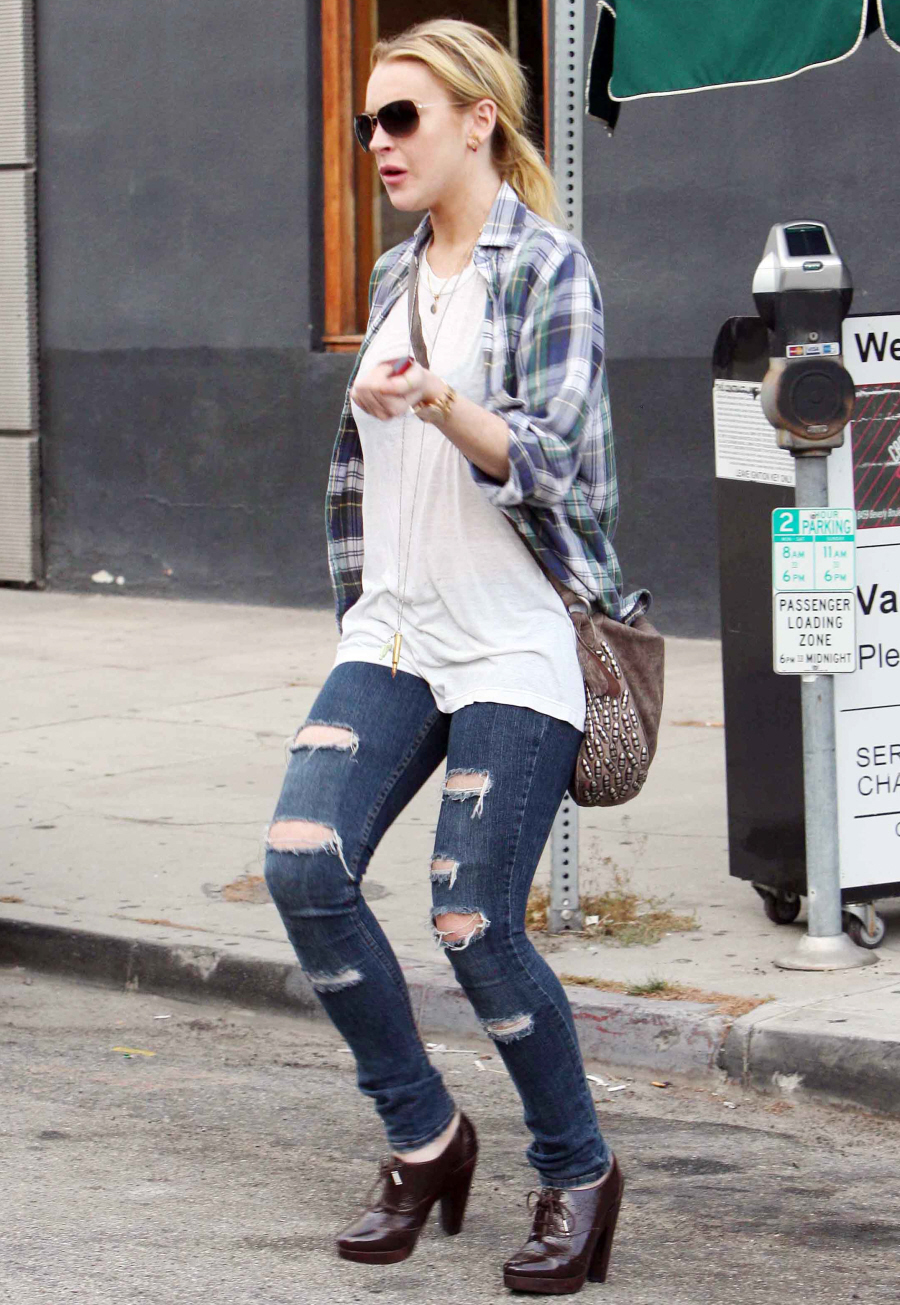 I hate to admit it, but I was wearing a variation on this outfit pretty much everyday back in the early and mid-1990s. Ripped jeans? Check. Blue flannel? Check. Thin white t-shirt over a black bra? Check. Black clogs? Check. In my defense, those were the days when flannel was the height of fashion – everything Seattle-related was cool, and personally, to this day I still appreciate the comfort of those looks. Also in my defense? I was a preteen and teen. Is Lindsay Lohan trying to bring break grunge? If she is, bless her heart. I would honestly welcome a grunge comeback – not so much the "not bathing" aspect – and I always bathed – but the comfort and ease of jeans and flannel. Of course, I never wore unflattering, cameltoe-enhancing skinny jeans with my flannel.
Anyway, you know how disappointed I've been that no tabloid has been publishing any of Lindsay Lohan's Crack Diaries or anything like that? What happened to the million-dollar pay-offs for her post-jail story? Well, it looks like Lindsay might have been holding out for the big one – and I'm not talking money. Radar reports that WHITE Oprah (copyright Michael K) and REAL Oprah are in talks for Lindsay's first television interview. Oh, White Oprah is loving this.
It looks like Lindsay Lohan is ready to tell her own story. RadarOnline.com has learned exclusively that the troubled Mean Girls star is currently in talks to appear on the Oprah Winfrey Show, which begins its final season on Monday, September 13.

While the deal has been finalized, a source says that talks between Lindsay and Oprah's team are going well. The outcome is "looking very good" the source said.

"Things are heating up in a good way," the source added. "Definitely some good conversations. We're crossing our fingers it works out for Oprah's last season."

A source close to Lohan confirmed that the actress is currently weighing her options: "Several entities are being considered, and no decision has been made and won't be for awhile."

The Lohan source also said that the show initiated the talks with the actress' team.

Since leaving treatment at the UCLA Medical Center at the end of August, Lohan has shied away from doing any press. Her last interview was with Vanity Fair, which was conducted shortly before she entered jail in July.

After 25 seasons, Winfrey's last episode will air on September 9, 2011.

When contacted by RadarOnline.com, a rep for The Oprah Winfrey Show said, "nothing has been planned"; the spokesperson did not deny that talks are underway.
[From Radar]
Hide your ice cream cakes, your menthol cigarettes and your crack, Chicago! The Lohans are coming to town! You know Dina is trying to make this happen, and honestly, it's not the worst thing. Oprah surprised me with a few of her interviews this past season – especially the Rielle Hunter one, in which Oprah did maybe her finest work as an interviewer. She was judgy but not too much – she just let Crazy talk for itself, and Oprah would occasionally call Crazy on its bullsh-t. My fear is that Oprah would not call Lindsay out on her crackhead bullsh-t, but let's hope that White Oprah gets denied, and Real Oprah is all over that crackhead.
Also – one of you bitches egged Dina's house last night, according to TMZ. Good work.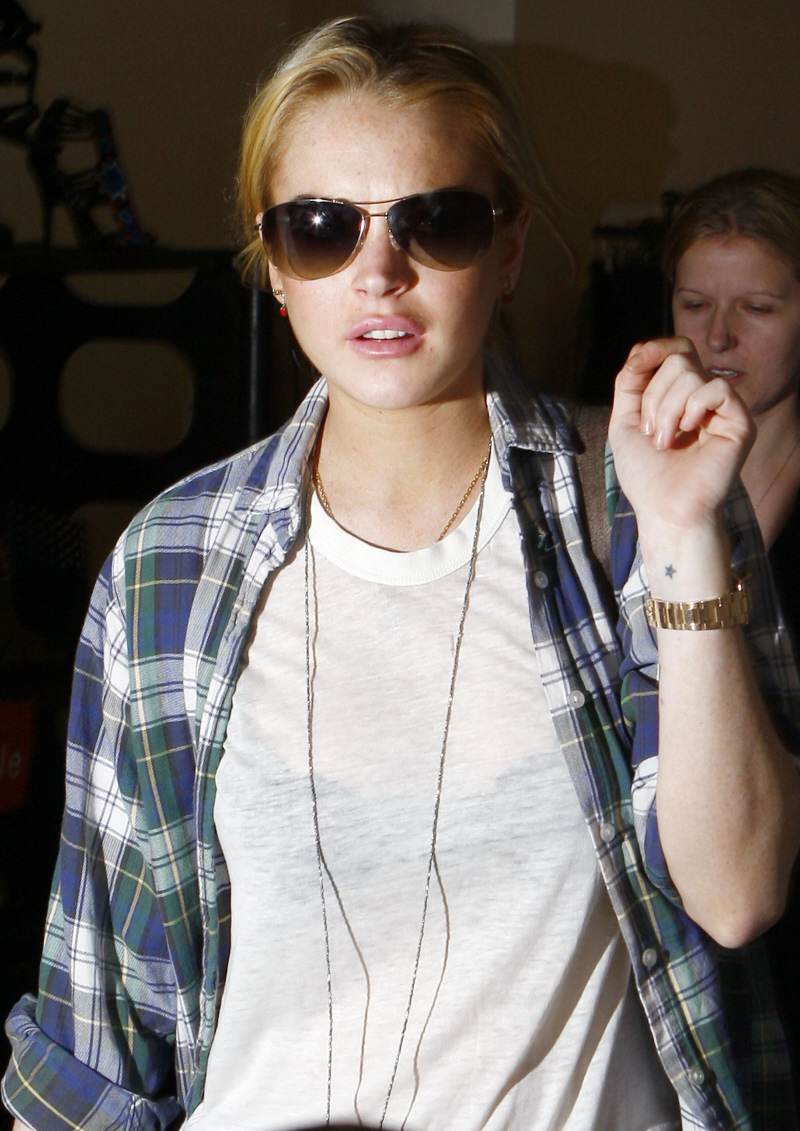 Lindsay Lohan on Sept. 8, 2010. Credit: Fame & WENN.