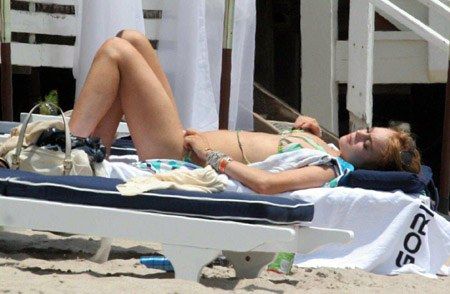 - Rachel Hunter shows off her breast implant scar while swimming (NSFW) [I'm not obsessed]
- Terry Hatcher in a bikini is not so ugly [yeeah]
- Lindsay Lohan bikini pictures [Egotastic]
- Pamela Anderson bikini pictures [Hollywood Tuna]
- Four year-old boy pageant winner flips off crowd, loses title of "Little Mr. Apricot" [Wizbang Pop]
- Are the British sore losers or just hooligans? [The Bastardly]
- Lindsay Lohan says she's "never tried cocaine." Didn't she hint to Vanity Fair that she did? [A Socialite's Life]
- Mischa Barton, Nicole Richie, and Rachel Bilson party with the Fonz's daughter [MollyGood]
- Toni Braxton manages to perform with her clothes on. [Juicy News]
- K-Fed stocks up on junk food for 4th of July [DListed]
- Ben Affleck, Jennifer Garner and Violet [Bricks and Stones]
- Jolie-Pitt-Stefani-Rossdale celebrity play date [Faded Youth]
- People scream for Bobbie Brown to get offstage at the Essence Music Festival [Concrete Loop]
- Holiday firework don'ts [CityRag]
- Pictures of 'Lil Kim's first day of freedom. Now she's on 30-day house arrest. [Crunk and Disorderly]
- Lesbian inmate claims to have been "close friends" with 'Lil Kim in prison [Media Take Out]
Here are recent high res photos of Lindsay Lohan and Pamela Anderson in bikinis. [via] Have a great 4th of July!