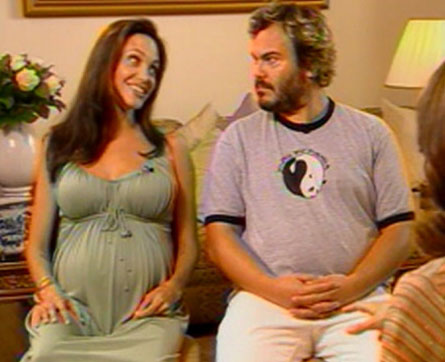 Today Angelina Jolie put all the speculation and rumors to rest and announced that she is indeed having twins. Twins seem to be the "it" baby right now. I'm not sure if it's possible to special order them, but it seems like a lot of celebs are popping them out lately. Though if Angie did indeed conceived through IVF as has been speculated, it would increase her chance of having multiples.
It's twins for Angelina Jolie and Brad Pitt! In an interview that took place in Cannes on Wednesday with the "Today" show's Natalie Morales, airing Wednesday night on Access Hollywood and in full on Thursday on "Today," Angelina confirmed the baby news that has been rumored for months.

The twins will be the couple's 5th & 6th children. Angelina confirmed the news in a side-by-side interview with Jack Black — they are promoting their new Dreamworks animated film, "Kung Fu Panda." Jack was the first to let the news slip, and then Angelina followed up with her own confirmation.

"You're gonna have as many as (the) 'Brady Bunch' when you have these," Jack joked.

"It's confirmed? Is it two?", Natalie asked.

"Yeah, yeah, we've confirmed that already," Angelina responded. "Well, Jack's just confirmed it actually."

"Is that true?", Jack said jokingly.

"Yeah, you did," Angelina replied.

"Sorry," Jack concluded.
[From Access Hollywood]
Angelina said that she and Brad know the sex of the babies, but that they're keeping that private. Natalie Morales asks if she's giving birth here or in France, Angelina replied, "Possibly." Which technically didn't answer the question – Morales asked if it was one or the other, and Jolie gave that response. So maybe here, maybe there, and maybe on the surface of the moon. Who knows. That's six kids, collected in a VERY short period of time. Congrats to Brad and Angelina.