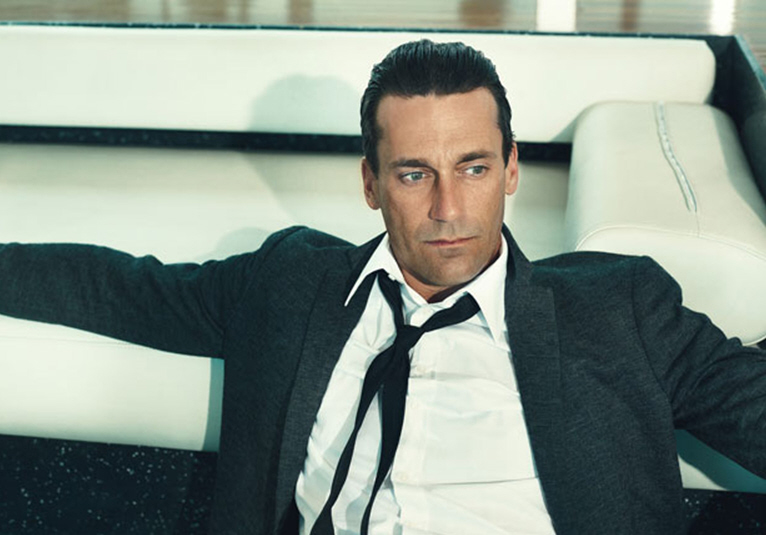 Let me take this opportunity to apologize for not including Jon Hamm in this week's Hot Guy Friday. I didn't do him (I wish) because we've had a lot of Hamm photos and stories this week, what with The Town coming out and everything. Even though I could look at photos of My Hamm all day, everyday, I'm wary of Hamm overkill. But never say never, because My Hamm is the cover boy for the October issue of Details Magazine. And these photos are FABULOUS – the online slideshow is here. God, I love Details. They try to front like they're a magazine for dudes, when really it's all aimed at gay men and women. Bless them.
Anyway, as for the actual article… well, you know that The Hamm is actually a great interview, right? That he's not just a pretty face and a great actor? He actually has a lot of personality, and he actually thinks about stuff other than Hollywood, and he has a lot to say. The piece opens up with The Hamm and the Details interviewer riding a Mercedes motorcycle – The Hamm does the voice work for Mercedes, if you didn't know, and they sent him a special motorcycle that hasn't even come on market yet. Sigh… I live him. Anyway, the full piece is here, and here are the highlights:
The Hamm in his downtime – it's like he lives in a commercial: As a kind of in-town vacation, he and his longtime girlfriend, actress and screenwriter Jennifer Westfeldt, are borrowing a cottage right on the beach in Malibu. When I showed up earlier in the day, their big dog, Cora, a shepherd mix, was happily lounging in the sand. Westfeldt was waiting on friends, and she and Hamm had plans to fire up the Big Green Egg. Sinatra was playing in the living room. Hamm and Westfeldt have an easygoing sweetness with each other that comes from being together a dozen years and getting off on the same stuff. They offered me a drink ("Budweiser—in a can, no less") and talked about a film they're producing this fall that Westfeldt wrote called Friends With Kids.

Choosing to live in California: "All the drifters eventually end up here in Southern California," Hamm says as we meander along the coastal highway. "I came out to visit with my mom when I was 9 years old and then again right after she died. I liked the cars, I liked the sun. I just thought, 'This is for me.'"

On deciding to become an actor: "I never minded standing up and looking like an idiot, which is tremendously helpful in this industry and not so much in others. At a certain point. I figured I was way too far down the line for a normal career. I was waiting tables with a friend who had been a business major, and he really wanted to get this job selling copiers. I just thought, 'Really? You really want that job?' My dad was a salesman. He could sell anything to anybody. I was like, 'Nah, not for me.'"

His early days as an actor: "If you didn't look 18 years old, you weren't working. And I didn't look 18 years old when I was 18. I always looked 10 years older than I was."

On LA: "L.A. represents opportunity," he says. "And, as has been proven over and over in the current media landscape, it doesn't take much for them to put you on TV. If that's all you want, you can be on The Bachelor or The Real Housewives or whatever show just wants oversized personalities, ridiculous behavior, and zero dignity. "When you try to learn how to act, you approach it with respect. But if you just want to be famous . . . that's not that much different than porn. 'I'm a movie star!' Well, no, you're not. You're a porn star, and that's completely different. And you know, hey, mazel tov—porn probably built half the houses out here, but you're selling your dignity in a way that I feel I'm not. And once you sell it, it's gone. You ain't getting it back."

On life/work beyond Mad Men: "I do this show for four months of the year. I can't live on it—I gotta keep hustling. I went right from the show into The Town, working with Ben Affleck for six weeks up in Boston," he says. "Then right from that up to Canada to shoot a little part in Sucker Punch with Zack Snyder, who did Watchmen and 300. This guy is a genius-level-weird artist. It was just amazing—a-mazing—how much energy he puts into it day to day, how excited he was about it. This guy is totally inspirational, in every way. It was like, 'I'm on board! Let's do it! F-ck it! F-ck, let's do it!'"

On The Town: "It's almost like an old Hollywood movie," he says. "It's got a love story, it's got a crime element, but it's very much for adults. There's not a lot of candy for the Twitter-obsessed. It just deals with adult shit—no werewolves, no vampires. Yet . . . they're retooling it for 3D."

What if Mad Men hadn't come along? "If [Mad Men] had been on any of the major networks," Hamm says, "I never would have been cast, ever, period, done, never, no way. They would want someone like Rob Lowe who's got a proven track record. I would've gotten all the way to the end . . . and then I wouldn't get cast… I would have been perfectly happy, I think, continuing my career the way it was. Just being that guy in shows. I probably could have had a very nice career doing that. And still may, honestly. The big book ain't written yet."

Elisabeth Moss on The Hamm: "[He is] the leader of our little gang. We do defer to him. If there's something that we need to fix, we go to Jon. It's funny. There definitely are a lot of similarities between how Jon and I get along and the relationship between Don and Peggy. But Jon doesn't yell at me as much—thank God. That would be a bit rough."

The Hamm on his later-in-life success: "You get to sit at the big table with the big boys and hang out," Hamm says. "Sean Penn and Meryl Streep are having a conversation, and you're standing next to them, and they stop and turn to you and say, 'Oh God, we love your show.' Yeah, that wasn't happening with my work in What About Brian."

Is he happy with his later-in-life success? "Absolutely, I don't know how the Twilight kids or Miley Cyrus or whoever handle it. You f-ck up, make one bad decision, and people in Thailand Twitter about it." Hamm's mostly left alone, he says: "I'm old, I'm boring. I usually just duck the paparazzi. It's literally someone waiting for you to pick your nose or scratch yourself. I'm sorry, I scratched my balls—who doesn't do that? You're really going to run that story? What the f-ck?! Everyone has picked their nose at one point in their life too."

I love this: "I don't know what the alternative is," he says. "I don't have this huge, overarching plan. I don't know what I'm gonna wake up and feel like doing tomorrow, let alone five years down the line. I think that's enabled me to get to where I am. I certainly go after what I want. But I just have detached amusement about a lot of it. Because it's silly. This job is ridiculous. There's a line from 30 Rock that Tracy Morgan says that makes me laugh out loud: 'I remember that movie—I got paid one million teacher salaries.' It is what it is."
[From Details]
It's amazing to me that The Hamm was knocking around Hollywood for more than a decade without ever breaking out – I mean, for God's sake, look at him. Somewhere, a casting director is pouring herself a stiff drink and thinking back to the day she made the biggest mistake of her life – not hiring him. But he seems happy that fame came to him in the way it did, in his mid and late 30s. And he is a MAN, not a boy, not some 20-something twit who can't hold a conversation without whining or masturbating.
By the way, does anyone else find this photo below slightly disturbing? The Hamm in shorts… and not just any shorts, crisp white shorts. He has great, athletic legs, for sure. But I'm disturbed.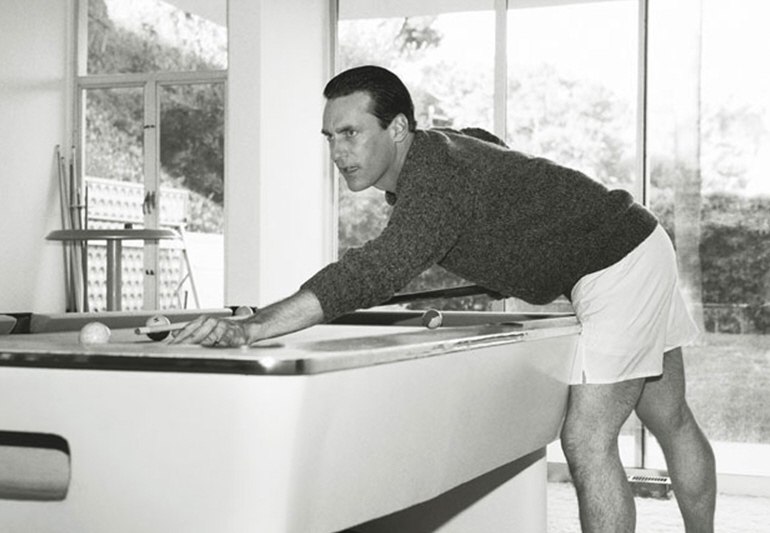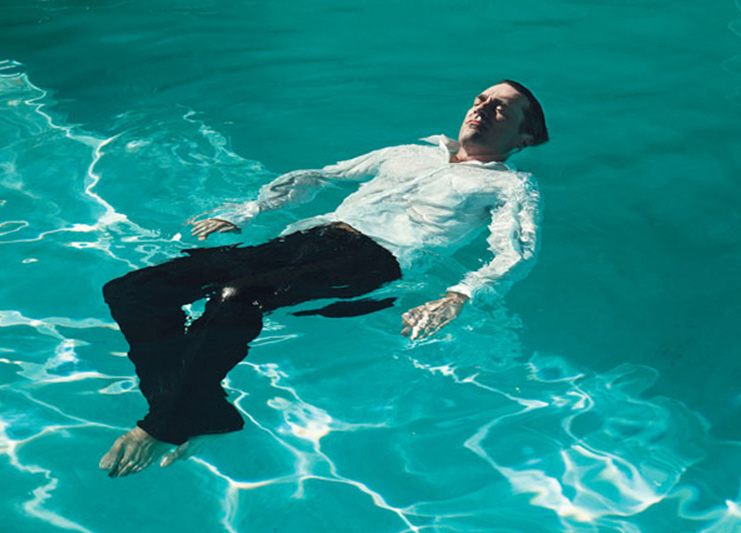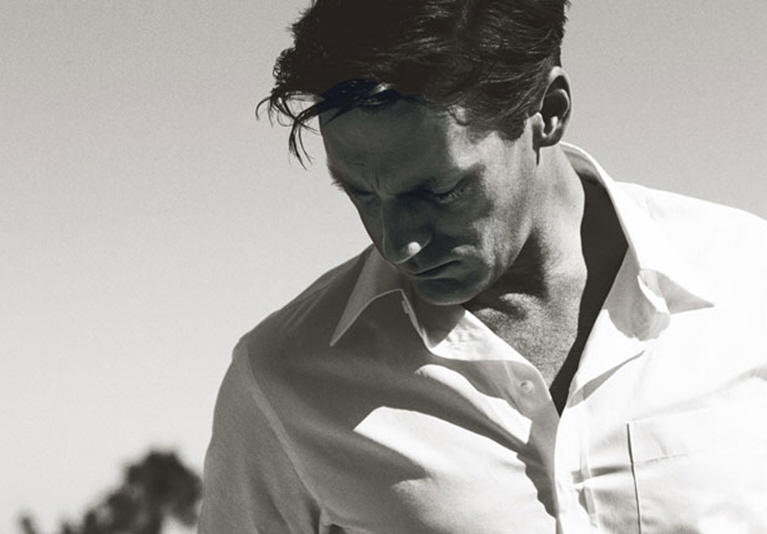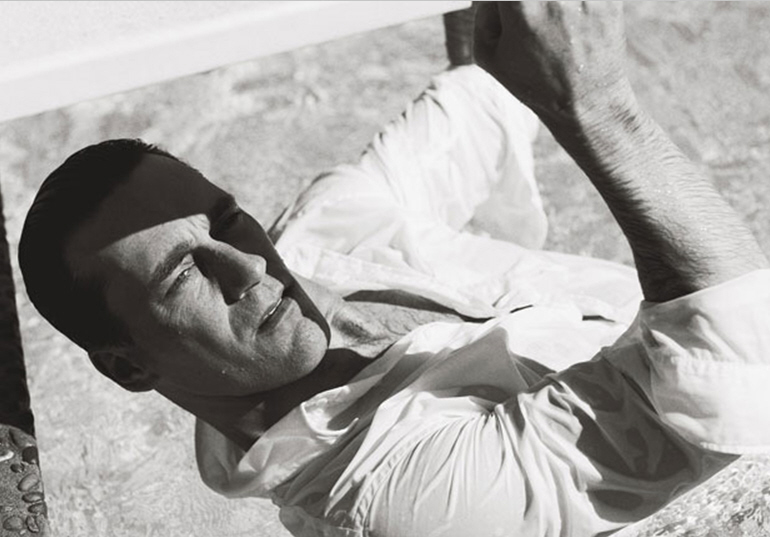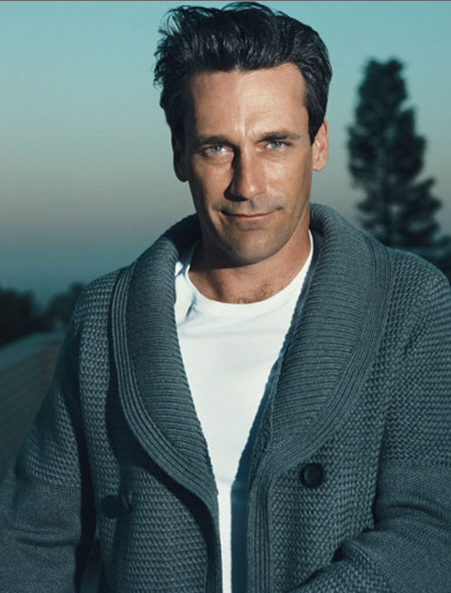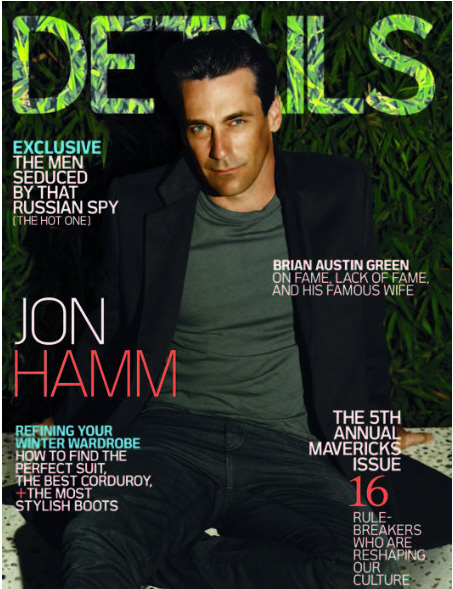 Photos courtesy of Details Magazine.