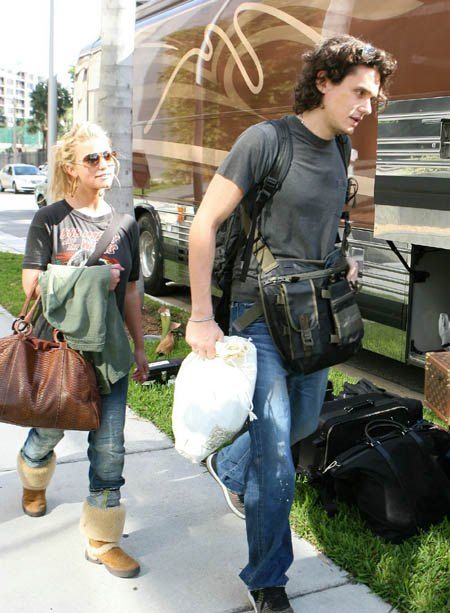 Jessica following John Mayer around like a puppy when he was on tour in January, 2007
More stories and theories are emerging regarding the recent and still unconfirmed Jessica Simpson/Tony Romo breakup. Us Weekly reports that even though Jessica has been blabbing about her love for Romo to anyone within earshot, the pop singer is still licking her wounds from being so publicly dumped by John Mayer. When Jessica saw pics of Mayer and Jennifer Aniston splashed all over the tabloids, she went into a full scale meltdown, complete with binge drinking and some vomit. That same night, Romo was seen partying solo in a club in Chicago.
Jessica Simpson got good and drunk as John Mayer, the guy who broke her heart, went public with his new relationship with Jennifer Aniston last week.

The 27-year-old singer was so out of it after a four-hour session of drinking at L.A.'s Mexicali Cocina Cantina on May 10 – which started at the pre-happy hour of 4 p.m. with BFF CaCee Cobb and her beau Donald Faison – that she was reduced to leaving her Range Rover in the parking lot and calling her mom Tina for a ride home, Us reports (for good measure, CaCee Cobb threw up under the table); that same night, Us Weekly also reports that beau Tony Romo partied solo in Chicago and was overheard telling friends he was single again.

Across the country, Mayer and Aniston went public with their relationship – holding hands and kissing affectionately at the Marley & Me cast party in Miami.
If the reports are true, Jessica took the breakup with Mayer very badly, and continued to call him and e-mail after he dumped her. It wouldn't surprise me if she is still hung up on the guy- though I can't understand what these women see in him, personally. It does make sense that seeing your ex, who was a commitment phobe while dating you, now lovey dovey with someone else would send you into a tailspin. Maybe Jessica should take a break from guys for a while, figure out who she is, and be a lot more careful about being so public with who she dates. Oh, and the binge drinking sessions probably aren't helping, either.