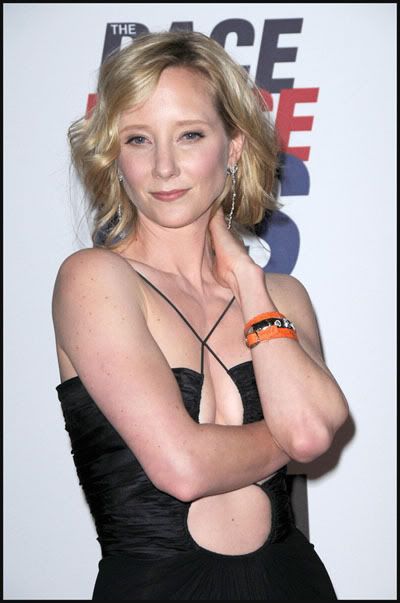 Anne Heche claims she can no longer afford to pay child support for her six-year-old son Homer, as she's unemployed.
"I am continuing to look for work, but I have no offers pending and the impending strike by the Screen Actors Guild reduces my prospects for work even further," Heche, 38, writes in court papers.

A judge Wednesday gave her a temporary break, saying she didn't have to pay her next support payment to her ex Coley Laffoon, 34, covering the month of July. But Superior Court Judge Gail Ruderman Feuer ordered the actress to provide updated income and expense information.

In a court declaration, Heche indicated her financial straits were dire and that she can no longer afford to pay the $14,798 in monthly support, along with private school tuition for her 6-year-old son Homer, the mortgage on her house in Canada where Men In Trees filmed, rent on her Los Angeles home and car expenses.

"Since January 18, 2008, I have been unemployed and had no income from employment except for one very short-term contract for a movie role for which I received a total of $65,00, approximately the amount I received for one episode of Men In Trees, she writes.
I'm not sure where I sit on this idea. Anne's ex-husband Coley Laffoon is getting a whole lot of child support for that kid, plus Anne is paying for his schooling. Coley must be damn pleased he married Anne, he claimed that his income was only $6,000 a year before he quit his job as a videographer to take care of Homer.
Anne, however, was making $65,000 an episode on Men in Trees, filming in Canada. Did she spend all of it? She lists her costs as being her mortgage, her rent, school tuition and child support for Homer, as well as her own car expenses. Why not get rid of one of your homes, or rent a smaller cheaper place? That money is going to take care of your kid, if you had custody of Homer you would still have to support him through the strike.
Reports are that the actor's strike will go ahead, and a 'defacto deadline' of June 30th is preventing many films from beginning their shoot. Obviously Anne Heche thinks it will happen, and Hugh Laurie wants it to proceed. I am really hoping it doesn't, in New Zealand we're still waiting for new episodes to appear on TV following the writer's strike.
Anne Heche and her boyfriend, James Tupper, are shown at the Race to Erase MS Gala on 5/2/08, thanks to WENN.