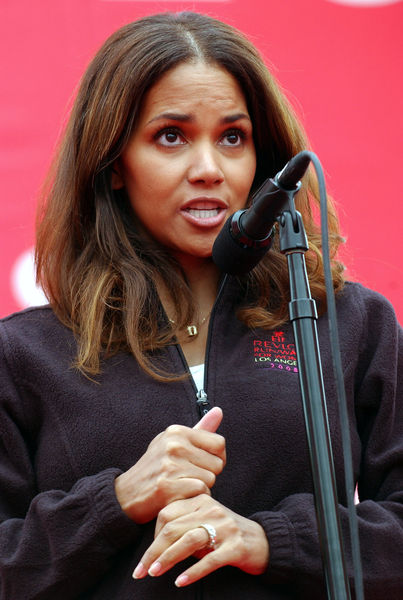 Even though Halle Berry once said that she would never get married again, it looks like her hunky boyfriend and father of her baby girl, Gabriel Aubry, might be the man who changes her mind. Twice married and twice divorced (hey! just like me! Call me, Halle- let's dish) Berry said, after her split from cheating jazz singer husband Eric Benet, that marriage was not for her- but she may have re-thought that statement recently. Reportedly, Aubriel proposed by offering her his grandmother's diamond ring, and the actress accepted.
New mom Halle Berry is engaged to her boyfriend Gabriel Aubry after he gave her his grandmother's ring.

"Gabriel felt the time was right to propose. He gave her the family heirloom because he wanted to show her how much she means to him, and how she will be accepted into the Aubry family," a source close to the couple said.

"The ring belonged to Gabriel's grandmother – it was her engagement ring."

The 'X Men' actress, 41, was snapped flashing the diamond ring in Hollywood this past weekend.

Berry gave birth to the couple's first daughter, Nahla Ariela, in March.

Halle and Gabriel, 32, started dating in November 2005.
Congrats to the happy couple. And much credit to Halle for giving love a try again after two failed marriages. I know how that feels- and what I've learned is, you cannot write off an entire gender or the concept of marriage just because two men weren't right for you. Figure out what went wrong, learn from your mistakes, and keep trying. It looks like Halle did that, and now she gets a gorgeous man and a beautiful baby. Hooray!
Note by Celebitchy: People claims she's not engaged
It doesn't sound like it's time to celebrate on Halle's behalf just yet. People Magazine cites a source who says "t's not an engagement ring. Halle just saw it and thought it was beautiful so she bought it for herself." They say the ring is designed by Amrapali, which has been manufacturing rings since 1978, according to their website. That would mean that it's not likely a heirloom ring from Gabriel's family, but it could still be some sort of engagement ring. As of now there is no official denial and we just have rumors suggesting it could go either way.
I think it's an engagement they're trying to downplay. Halle put her hands up to her face an awful lot at the Revlon run/walk for women over the weekend, so it really looked like she was trying to give us a hint. It wasn't an accident that she wore the ring on the her left hand and not her right.