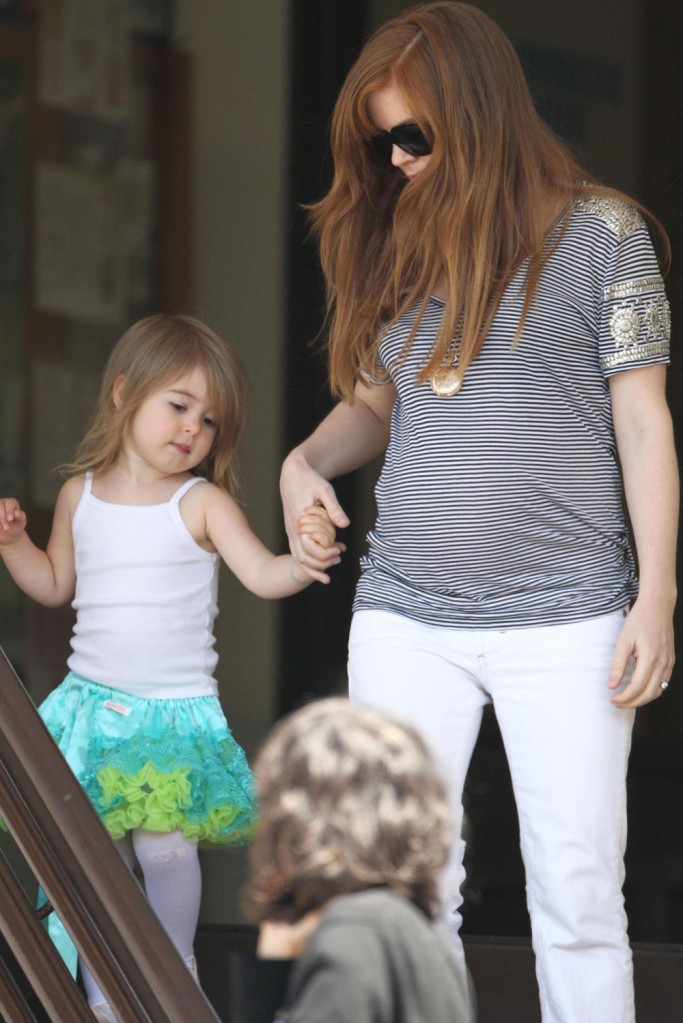 I remember reading that Isla Fisher, Sacha Baron Cohen's wife, was pregnant with the couple's second child, but it kind of slipped my mind because we don't hear much about the two of them. There was some minor drama a couple of years ago about whether they would ever get married, which they did in March after Isla reportedly converted to Judiasm. It took eight years and two kids together before they made it legal. Apart from that we rarely hear about them although there are the occasional paparazzi photos of Isla out with their daughter.
Now we have some candids of Sacha, Isla, their oldest child Olive, two and a half, and a baby carriage presumably carrying their new arrival. They looked pissed as hell to be photographed out together in the photos we've seen. (Which we don't have access to, you can see a photo on Celebrity Baby Scoop and another one on E! Online and People has a third.) They seem to be very protective of their family, and I guess I don't blame them. They didn't confirm Isla's pregnancy and they've refused to confirm the new baby or even the gender. Is this a bitchy move or something they should be respected for?
Who's that strolling in London Friday with Sacha Baron Cohen, Isla Fisher and 2½-year-old daughter Olive?

It seems as though the trio has welcomed the latest addition to their family, although a rep for the actress says they likely won't be commenting on the birth of the new baby.

The intensely private pair prefer it that way, having kept quiet about the impending arrival of their second child as well as their March nuptials.

We last spotted Fisher, 34, and Olive out and about in Los Angeles at the end of May, but the actress and husband Baron Cohen, 38, have managed to stay undercover since!
[From People]
It's my feeling that since they're famous, they each make a ton of money in movies and are public figures, the least they can do is confirm the birth and sex of the baby. They don't have to tell us his or her name if they want to keep it private. I like how Naomi Watts and Liev Schreiber handle the press. They're low key and try not to draw attention to themselves but they acknowledge their kids and will talk about them occasionally. Maybe the paparazzo is screaming rude stuff to the Cohens, though, which would explain their bad moods along with their unwillingness to open themselves and their family up to scrutiny. I'm not in that position so it's hard to tell.
Despite the fact that Sacha can probably no longer work his character-driven shtick on the public due to how famous and recognizable he is, he's still earning a ton of money. We heard this spring that his agency struck a huge deal for him with Paramount for an upcoming comedy in which he'll play two roles "a goat herder and a deposed foreign dictator who gets lost in the United States." According to Deadline Hollywood, Cohen stands to make $30 – $80 million on the deal, which offers him a significant piece of the film's gross. He didn't sell out his family to get there though, that's for sure.
Isla is shown pregnant on 5/10/10 and 4/22/10. Sacha Baron Cohen is shown at LAX on 7/30/09. Credit: WENN.com