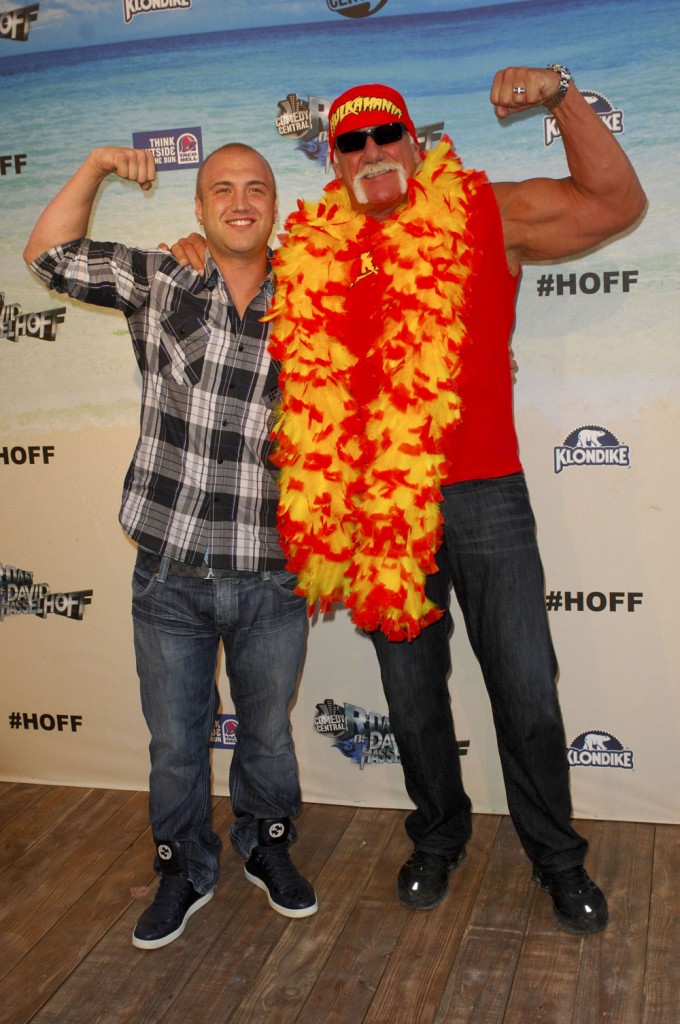 Words cannot express what a self important hurtful douche Nick Hogan is – so I'll let his actions speak for themselves. The guy put his friend, who was the passenger in hiscar, in a permanent vegetative state when he caused a near fatal accident while drag racing drunk on a public street. Nick and his family later all but blamed his friend, then 22 year-old former Marine and Iraq war veteran John Graziano, by pointing out that Graziano wasn't wearing his seat belt and later stating that the accident was God's will to make him a better person.
Nick spent five months out of an eight month sentence in jail for his part in in the accident, but by most of his family's accounts it wasn't as horrific an experience as it should have been as he was housed in a juvenile unit. He got out and went back to racing cars and being an asshole again while the Graziano family struggled to care for their permanently disabled son.
Now Nick wants us to know that he's doing better after all that he went through. Are you f'ing kidding me?
"After everything I've been through, I am finally getting my life together," he told RadarOnline.com, in an exclusive interview.

"I am able to move forward and start over."

Nick — real name Nick Bollea — was released from jail after serving 166 days for the car crash that left his best friend John Graziano in a vegetative state for life.

After training to become a pro wrestler and follow in his father's footsteps, Nick has now settled on a career in music, as a DJ.

He said, "I didn't know what to do with myself, I did a couple of movies and then one day I ended up in front of a set of turn tables and I loved it.

"I was in Florida at the time hanging with DJ IRIE and he asked me to come and play the new DJ Hero video game that had just come out.

"I loved it so much that my sister bought me a real turn table and I didn't look back. I just fell in love with it."

He is currently touring the United States with his performance partner, DJ PM; the pair has upcoming shows in New York, Pennsylvania, San Jose, Stockton, Modesto and Chicago.

"I am on tour across the US now with DJ PM and it is amazing," he told RadarOnline.com.

"We have really good chemistry, we pick up on each other's energy and that makes things a lot easier when we spin," DJ PM said.

Hogan said his divorced parents, Hulk and Linda, were supportive his new career path and his new-found desire to turn over a new leaf.

"They are thrilled I can earn a living and take care of myself outside corporate America," Nick said.

"That said, my father has his own worries: he just came out of the hospital because he has had some very serious back problems.

"He has endured six back surgeries and he still has a lot of pain and the pain killers don't help a great deal."
[From Radar Online]
Nick may have "been able to move forward and start over" but his friend will require 24 hour care for the rest of his life while this douche walked away unscathed. I'm sorry that Hulk has back problems, but that's pretty much the result of his career choice. It's not like he's had any understanding words for the Graziano family after what his son did. I don't wish pain on anyone but sometimes you don't feel a lot of sympathy for certain people.
Nick is shown on 8/1/10 with his dad, Hulk, at the roast of David Hasselhof on Comedy Central. The blonde woman with them is Hulk's girlfriend, NOT his daughter, Brooke. They're also shown with a woman named Bre Tiesi, who is a "model" and lists her occupation on Twitter as "Building an empire with my boyfriend, Nick hogan." Credit: WENN.com