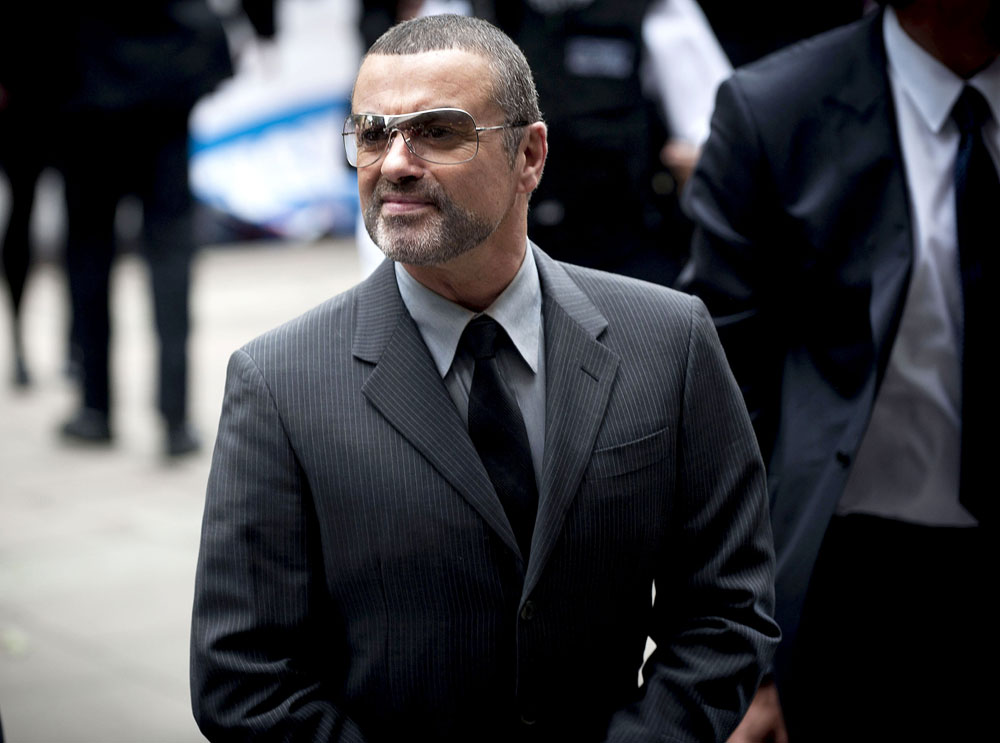 George Michael is the latest celebrity addict to mess up multiple chances, screw up numerous times, and ultimately be sentenced to jail. Michael was sentenced to eight weeks in jail yesterday for a July incident in which he rammed his car into a photo store in London in the wee hours of the morning. He'll only serve a month of that sentence and will spend the second half on parole. It was his seventh driving offense, and there's a recap of some of the crazy sh*t he's done in this earlier story if you'd like a refresher. Given all the times he's driven under the influence, it was just a matter of time before he faced some harsher consequences, although it certainly took long enough. At least he's serving time jail before he seriously harms himself or someone else. He'll also have his license revoked for five years.
George Michael was sentenced to eight weeks in jail and lost his license for five years Tuesday for driving under the influence of drugs when he crashed his car into a London photo shop.

A British judge told the wayward star his addiction to marijuana put him and the public at risk.

The former Wham! singer pleaded guilty last month to driving under the influence and possession of cannabis following a July 4 collision between his Range Rover and a Snappy Snaps store in north London.

District Judge John Perkins told the singer he had taken a "dangerous and unpredictable mix" of prescription drugs and marijuana.

"It does not appear that you took proper steps to deal with what is clearly an addiction to cannabis," the judge said. "That's a mistake which puts you and, on this occasion, the public at risk."

Perkins sentenced Michael to the prison time and a 1,250 pound ($1,930) fine during a hearing at Highbury Corner Magistrates' Court.

The judge said Michael would have to serve four weeks of the sentence in prison and the rest on parole.

Michael arrived at court in a chauffeur-driven car, surrounded by four security guards and greeted by a large crowd of fans and photographers. He left with court guards who led him from the courtroom toward the cells, as one person in the public gallery sobbed.

According to police, Michael appeared "spaced out" when they found him sitting in the car, whose engine was still running, in the wee hours of July 4. He acknowledged smoking marijuana and taking a prescription sedative, prosecutors said.

It was the latest in a string of automotive and drug-related mishaps for the 47-year-old star, who has often spoken of his fondness for marijuana.
[From AP via Huffington Post]
Is Michael going to change? I doubt it, but at least he's not going to be allowed drive anymore. In an interview published in the The Guardian in December of last year, Michael smoked joints in front of the reporter, laughed while recounting stories of Elton John and Bono trying to get him to go to rehab, and admitted that he trolls public parks for anonymous sex when the weather permits. Maybe he won't hate it in jail.
George Michael and Kenny Goss are shown outside court yesterday. Credit: WENN.com