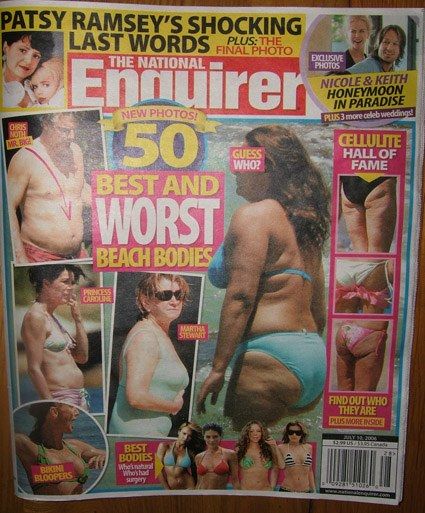 I really enjoy reading these gossip rags now that I'm in the states for my vacation.
Here's one of my guilty pleasures, The National Enquirer. Reader Millie says it's one of the trashier rags, but maybe that's why I like it so much! I also totally believe a lot of what they write, and my guillibitiy is undoubtedly a big factor in my willingness to reprint most of the crap I read about celebrities.
Here's a recap of the pictures, below. They're spot on with most of them, except for Mimi. They use an old fat picture of Mariah Carey and say she's got one of the best beach bodies. Maybe she's better looking now, but they didn't even bother to photoshop it to make her look thinner. Also, Pierce Brosnan's wife might be heavy, but she's an attractive woman otherwise and it seems kind of cruel to use a picture from the back. Kudos to Brosnan for defending his wife and not trading her in for a younger model.
Best Beach Bodies, Women:
Beyonce Knowles, 24
Elizabeth Hurley. 41
Jessica Alba, 25
Mariah Carey, 36
Jennifer Aniston, 37
Lisa Rinna, 43
Carmen Electra, 34
Eva Longoria, 31
Cameron Diaz, 33
Scarlet Johansson, 21
Pam Anderson, 39
Michelle Rodriguez, 27
Worst Women:
Keely Shaye Smith (Pierce Brosnan's wife), 42
Princess Caroline, 49
Kristen Johnston (from "Third Rock"), 38
Aida Turturro (from "The Sopranos"), 43
Martha Stewart, 64
Chelsea Clinton, 26
Queen Latifah, 36
Star Jones, 44
Goldie Hawn, 60
Best Beach Bodies, Men:
LL Cool J, 38
Brad Pitt, 42
Matthew McConaughey, 36 (not so much anymore)
Ty Pennington, 41
Jude Law, 33
Worst Men:
Gerard Depardieu, 57
David Spade, 41
Sean Penn, 45
Ric Ocasek, 57
Ted Kennedy, 74
Michael Douglas, 61
Chris Noth, 51
Cellulite Hall of Fame:
Demi Moore, 43
Jerry Hall, 60
Donatella Versace, 51
Britney Spears, 24
Iman, 50
Best Baby Bellies:
Madonna, 47
Gwyneth Paltrow, 38
Helen Hunt, 43
Kelly Ripa, 35
Britney Spears, 24
Bikini Bloopers and Strange:
Jessica Alba scratching her ass
Paris Hilton scratching her crotch
Kirsten Dunst loosing her top
Goldie Hawn with a face mask and topless suit
Nicolette Sheridan's top goes to the side
Charlotte Church tries to hold onto her top
I'll be leaving the US next Tuesday and will be away from the computer for nearly a week I'm sorry to say. I'll make an official announcement and will do my best to fill in the gaps while I'm gone but things may be quiet around here if I don't find a guest writer. (If you'd like to write for the blog – please e-mail me at info [at] celebitchy.com. You don't need a lot of technical knowledge. It would help if you're familiar with Movable Type, although it's easy and I can teach you.) I'm going to the French countryside, but since I already live in Europe I can't get all pretentious about it.
Here are the pictures. I just photographed the magazine and realize they're not the best quality.