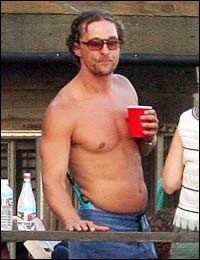 Matthew McConaughey has been letting himself go since his split with Penelope Cruz. He was photographed with a bit of a beer belly at a party he threw on the 4th of July:
MOVIE hunk MATTHEW McCONAUGHEY has got a bit chunky – it looks like he has been getting over his split from PENELOPE CRUZ by sinking a few lagers.
The normally ripped star showed off his expanding beer belly during an Independence Day party with his pals.
He held the bash at his Malibu mansion.
NATALIE PORTMAN and JAKE GYLLENHAAL – who are rumoured to be more than just friends – were among the guests to see Matt's new look. But I have to say he carries the Homer Simpson look well . . .
Yeah, Matt still looks hot with a few extra pounds. He looks like he needs to suck his stomach in. He can whip himself back into stinky shape if he needs to. A few laps around the trailer park should do it.

Update: Matt doesn't look quite as fat when he's taking a jog on the beach. (inset picture via People Magazine)
Here's his ex, Penelope Cruz, out with a friend in Beverly Hills on 6/28. You don't see a lot of paparrazi pictures of her and she doesn't look like she minds being photographed. [via]