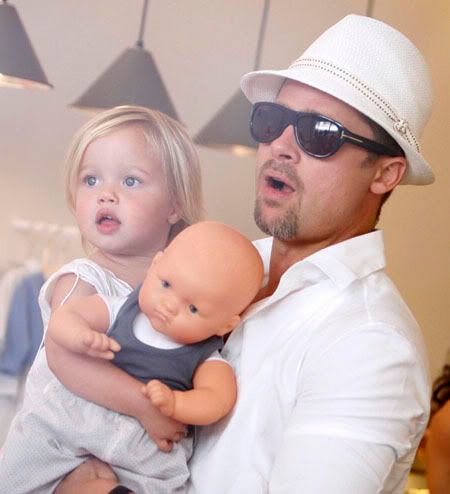 Brad Pitt, his pregnant partner Angelina Jolie and two of their four children were seen shopping at a posh children's boutique in Cannes, France today. Brad held Shiloh, who turns two later this month, as she clutched a baby doll. Six year-old Maddox was seen looking annoyed as a saleswoman ruffled his hair.
Last week the news came out that Angelina is indeed pregnant with twins and is due August 19th. She didn't need to tell the press anything about her pregnancy since her the costars in the animated film Kung Fu Panda were all too willing to spill the beans for her. Jack Black leaked the news that she's pregnant with twins while Dustin Hoffman revealed her due date to a reporter.
Fox News' Roger Friedman reported on Friday that Angelina's is expecting girl twins and they're probably fraternal, not identical. She is said to have told Friedman at a party that doctors showed her sonogram results with "a line" that suggests her twins are fraternal. Friedman says Jolie and Pitt will be staying at the French villa owned by Microsoft co-founder Paul Allen until the twins are born. He also reports that Angelina said "Oh, my God… we haven't even hired a baby nurse yet!" when he explained how much work his twin nieces were when they came home from the hospital. Friedman told her eight adults weren't enough to care for his nieces and Pitt quipped "We're doing it in reverse: have two adults and six kids!"
Thanks to WENN for these photos.