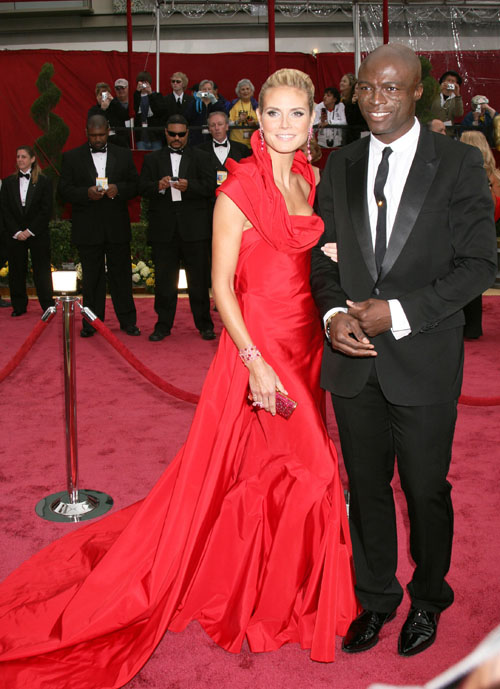 Heidi Klum, 34, and Seal, 45, return to Costa Careyes, Mexico every year to renew their vows at the same resort where they married in 2005. On May 10th they held an Indian-themed renewal ceremony and party attended by 50 guests. Heidi wore a red wedding sari for the day, according to this week's edition of In Touch.
Last year the romantic couple held their commitment ceremony on May 13. Heidi and Seal's first wedding on Costa Careyes was attended by just Heidi, Seal and her daughter Leni. They have since expanded their family to include boys Henry, two years and eight months, and Johan, 18 months.
Heidi revealed about two weeks ago that Seal proposed to her in a custom-made igloo he had built and outfitted in the Canadian Rockies in December, 2004. He arranged for both of them to be flown by helicopter up to the secluded igloo, which featured a bed, candles, and rose petals strewn around.
Can you imagine getting married every year? It seems like it might dilute the experience a little if you're renewing your vows every year instead of every few years or at specific milestones in the relationship. At least it's something incredible to look forward to. These two set the romantic bar incredibly high. If you had all that money at your disposal would you get married to your spouse every year? I think I might just go on vacation with my husband as much as possible. The honeymoon is the best part.
Photos are of Heidi and Seal at the Academy Awards on 2/24/08, thanks to WENN.