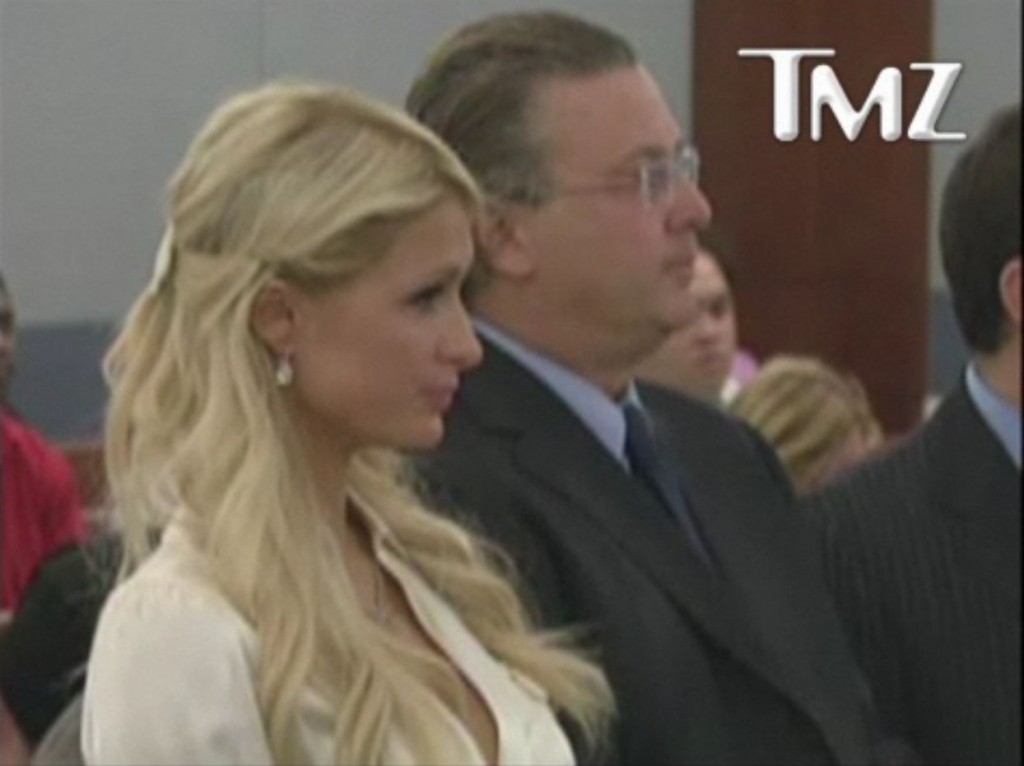 I watched Paris Hilton's live guilty plea on TMZ, (highlights video is here) and while the details that were reported over the weekend about the deal she struck were accurate and there were essentially no surprises, it was still fun watching her squirm. There were moments when I thought the hammer was going to come down on her, as the judge did announce that she would get six months in the Clark County Detention Center for each of her two misdemeanor pleas, but alas those moments were short-lived and the sentence was suspended as long as she stays out of trouble. So she's not going to jail unless she really messes up.
Paris was wearing a low cut white blouse that showed off her new boobs or overworked pushup bra. (I'm voting new boobs.) She also had on huge false eyelashes and kept blinking and kind of swaying back and forth nervously while her sentence was read. She was respectful and calm and said "yes, your honor" often. She plead guilty to two misdemeanor counts, drug possession and lying to a police officer. As part of her guilty plea she had to admit that she lied and that it was her purse after all and that she was in possession of cocaine.
Paris: "I was in possession as well as telling an officer the bag wasn't mine, the purse"
Judge: "As to the possession, what did you possess?"
Paris (said lower): "cocaine"
Judge: "As to part two, charging you with obstructing a public officer, a misdemeanor… what did you do… that causes you to plead guilty to that offense?"
Paris: "I said that the purse wasn't mine to the officer, your honor."
Paris will also have to pay a thousand dollar fine for each offense, or $2,000, and do 200 hours community service as well as enter a substance abuse program. It's not like Paris is going to do hard labor or even go to a chi chi rehab, though, her attorney said she will be in an "outpatient program" for which they'll have to show proof to the court and that Paris will "continue to do the kind of charity works she's been doing." I guess that means she'll show up to charity events and count four hours of drinking and partying as community service. I shouldn't be so bitchy – she's visited sick kids in the hospital a couple of times I think. She also went to Africa when her then-boyfriend Benji Madden was on tour and handed out bikini photos of herself to kids who had no idea who she was.
The best part was the judge's admonishment of Paris, and while he wasn't as harsh as Lindsay's judge he did make a wisecrack at her expense:
"When you break the law here [in Nevada] there are consequences.
"I'm going to warn you Miss Hilton you're now sentenced to one year…
"The Clark County Dention center is not the Waldorf Astoria.
"If you do violate your probation you're going to serve time."
Unlike Lindsay, I think Paris has better odds of avoiding jail this time around. It's not like she really learned her lesson from the last time though.