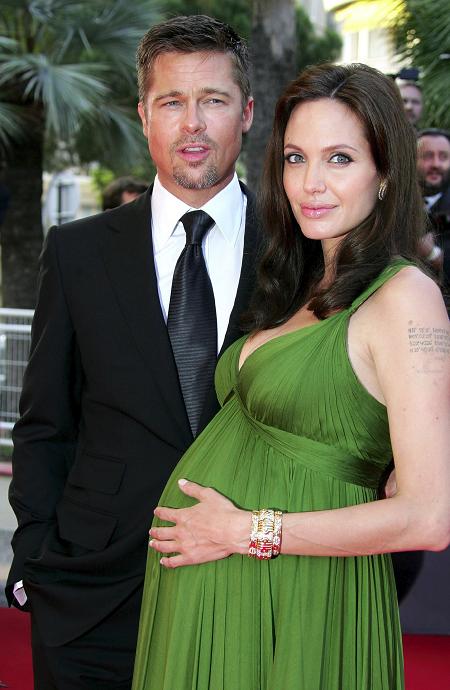 I didn't learn this until recently, but it is legally possible for one adult to adopt another adult. There are all sorts of reasons people do this: to will rent-controlled apartments, to circumvent laws, etc. But it happens. As such, I will be petitioning Brad Pitt and Angelina Jolie to adopt me. We already know they're into adoption. We know they like to adopt in unconventional ways – no common American babies for them. What would cause more of a stir than adopting an adult? Nothing. And I am now damn sure they've got the money. And compared to what they're spending on their other kids, I am a relative bargain.
Brad and Angie have set aside $20 million for the birthing expenses of their twins, according to Life & Style.
Angelina Jolie had been keeping a low profile in recent weeks. But on May 15, after the premiere of her new animated movie, Kung Fu Panda, at the Cannes Film Festival in France, she looked thrilled to be out in public — and showing off her pregnancy. "She seemed so happy," says an onlooker. "She let Jack Black and Dustin Hoffman [her co-stars] hug her belly." And as Angie schmoozed with other celebrities, Brad Pitt was by her side. "She looked so comforted by his affection," says the onlooker. "She was always smiling."

As her due date nears, Angelina, 32, finally seems eager to talk about her babies. And she and Brad, 44, are clearly willing to do — and spend — anything to bring them into the world secure and healthy. In fact, insiders estimate Brad and Angie will spend at least $20 million in France on security, medical costs and shelter for their growing brood.

"Brad and Angelina love all their children and will do everything to protect them and keep them healthy," says an insider. "Money is no object when it comes to the kids." That's true when it comes to the twins as well. "They can drop thousands of dollars on them in a day," says the insider. "They'd do anything for them."
[From Life & Style]
The sample breakdown is pretty damn impressive too. I know they're worth an insane amount of money, but it still boggles my mind that anyone can go through this kind of cash.
* $332,000 is going toward a helicopter, which remains on call for when Jolie goes into labor
* $3.3 million is the cost for the Florentine-style villa in the French Riviera that the couple reportedly rents
* Nearly $100,000 goes to the nine cars the couple is renting.
[From the Scoop]
I'm sure a large amount of their money goes to security – and one would think the nine cars are a part of that. Can you imagine having a helicopter on call for your birth? At this point, why not just have a hospital built next to your house? I mean they're spending so much as it is. That's the only thing more dramatic than a helicopter.
Life & Style points out how happy Angelina has seemed in the last few weeks, and that's very true. It's easy to forget she used to be such a dark character. She's been beaming from ear to ear, despite carrying around 2 fetuses that look bigger than she does. At $10 million a kid, those are two lucky babies.
Here's Brad and Angelina at the 'Kung Fu Panda' premiere in Cannes on May 15th. Images thanks to WENN.