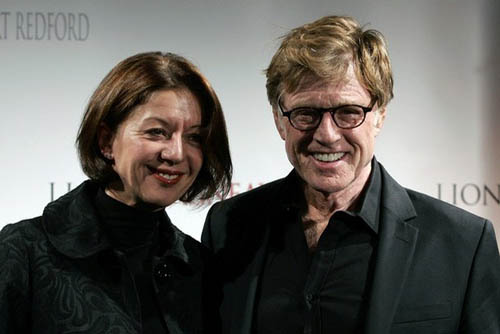 Robert Redford is planning to marry his partner of 12 years, German artist Sibylle Szaggars. Sibylle is 19 years younger than 71 year old Robert, who was previously married to Lola Van Wagenen. They had four children together, but because he guards his private life so much his divorce was not revealed to the public until ten years after they divorced in 1985 after 27 years of marriage.
In the same pattern of not wanting to give too much away about his private life, here's what Robert had to say about his engagement.
The Oscar-winning actor told German magazine Bunte: "We are engaged and very happy with that. She (Sibylle) is my fiancée and that says everything, doesn't it?"
This makes a nice contrast to modern Hollywood, who seem to get engaged, then immediately broker a deal with a magazine for the exclusive.
Congratulations to the happy couple – we'd love to see some wedding pictures soon, but I suspect they're going to keep them private.
Robert Redford and Sibylle Szaggars are shown at the premiere of Lions for Lambs in Paris on 10/25/07. He is also shown promoting the Sundance Channel at the World Mobile Congress in Barcelona on 2/13/08. Thanks to WENN.