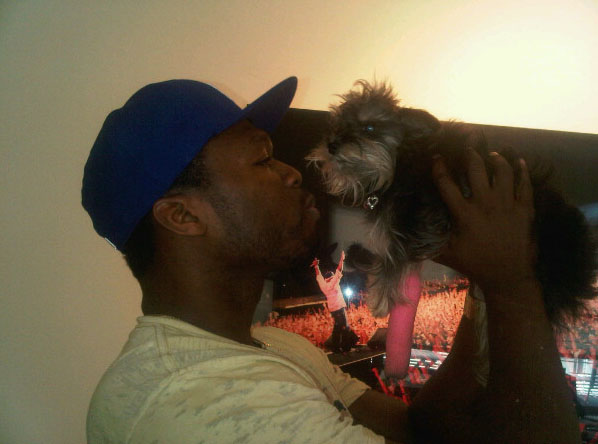 So 50 cent has a lot of time on his hands and must be bored of talking smack about his rivals and tweeting hateful homophobic remarks. He's started a Twitter account for his dog, and while I was prepared mock him my first impression was that it was sweet and funny and shows how much the guy loves his pooch. Then I saw these disturbing photos, which show it's still the same old 50 with the same issues. The dog looks terrified! 50's dog is called "Oprah Winfrey" (whom 50 blasted in 2006) and the Twitter account he's set up is OprahTheDog.
This news comes via E! Online, which has a full recap of 50s tweets as the dog he alternately torments and loves. MTV has a quick overview of 50s tweets as Oprah the dog, which should suffice:
Yes, today we introduce you to one of Twitter's newest users and the lady who has stolen our attention one update at a time this afternoon: 50 Cent's dog, Oprah.

First of all, how incredibly awesome is it that 50 Cent even has a dog named Oprah? But perhaps more importantly, it's extra amazing that 50 would go out of his way to give his pet a virtual voice. And she's pretty active, too: In just 24 hours on Twitter, 50's foul-mouthed pup has already revealed quite a lot to her more than 7,000 followers. To wit:

» She may have a broken leg and her owner is possibly responsible.

» She'd prefer a new owner.

» She's not keen on doing tricks in exchange for treats.

» She doesn't enjoy listening to 50's music at full blast and doubts he'll make another hit.

» She has been to the vet this morning (documented by two Twitpics).

» She relieved herself both before and after her vet visit.

Everything about these developments is entertaining. The fact that 50 has a dog named Oprah is magical, and the fact that not only does she tweet but she also doesn't particularly like her owner is a truly amazing meta gag. The possibilities for future updates are endless, but we know 50, err, Oprah, will keep us entertained.
[From MTV]
50 tweets often on his main account and a quick scan shows that he's usually bragging about how awesome and hardworking he is when he isn't in a flamewar with someone. I guess one Twitter account wasn't enough self expression and ego stroking for him.
Oprah is really cute and seems to be loved and well cared for when 50 isn't using her as a prop to threaten with a knife. It's clear that 50 needs some new hobbies other than tweeting. Maybe he should kill time in other ways, like gambling or playing violent video games.