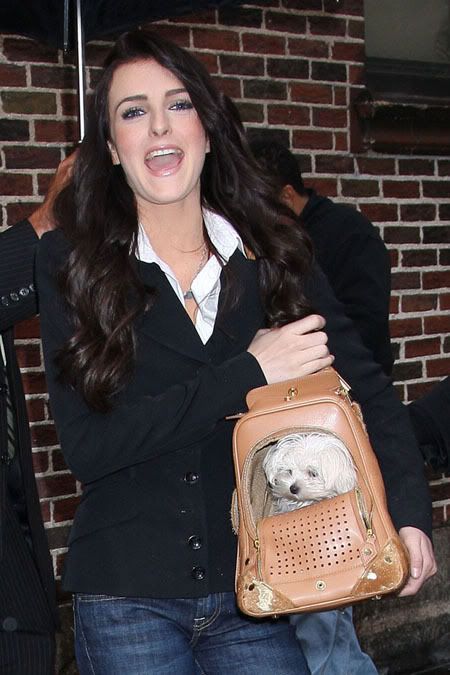 14 year-old Ali Lohan was on David Letterman last night to promote her new reality show "Living Lohan." She was cute, well spoken and comfortable on stage although she did wear a lot of makeup for a 14 year-old. She said they're doing the show "to set the record straight and we're not just this crazy family, crazy people like to tabloids make us out to be." She said "we're just a normal family like any other family in America."
Dave asked Ali if she was close with Lindsay, and she said "she's like my best friend." She refused to say whether Lindsay would make an appearance on the show and said "you'll have to watch."
Ali called herself a "singer and actress" and said she's working on her latest album this summer.
Dave asked Ali if she visits her sister on set, and she said she's always done that, and "that's what inspired me to do what she does." She said when she was three she used to run up to her sister on set when she was filming "Parent Trap" and they had to do a lot of takes because she was always interrupting.
Ali talked about her five dogs, including a puppy that's a "micro mini Maltese." They showed what they said was the dog in the green room, but it was just a computer-generated image to make her dog look tiny. Ali said her little Maltese, Buddy, has low blood sugar.
Dave said "getting back to the show will there be a lot of drama, a lot of tension, a lot of fighting, a lto of intrigue?" and Ali said "Yeah, we're just like a normal family so whatever."
At the end of the interview, Dave closed by saying "Lindsay Lohan" everyone, and then corrected himself. It seemed to me like it was a mistake and not a planned joke. It's a telling slip, considering how much Ali says she wants to be like her sister. Maybe Ali can pick up Lindsay's career where she dropped it on the floor when she got distracted by vodka and overpriced purses.
The videos are below and there's also one of an Access Hollywood interview with Dina and Ali. Dina Lohan is a piece of work and it's surprising how normal Ali seems.
Here's the part where Dave calls Ali "Lindsay"

And here's the full interview:

And an interview on "Showbiz Tonight" with Ali and Dina Lohan. Dina sure seems defensive and snotty.