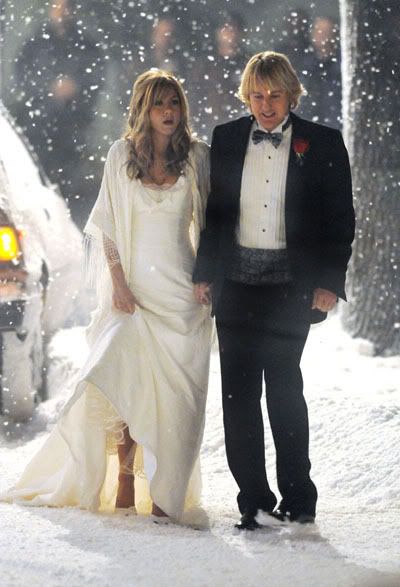 Jennifer Aniston and Owen Wilson filmed a scene for their upcoming movie "Marley and Me" in West Chester, Pennsylvania complete with fake snow and a car stuck in a snow drift yesterday. The movie is based on a memoir by John Grogan, and according to IMDB it's about a "family learn[ing] important life lessons from their adorable, but naughty and neurotic dog." It's due out in the US on December 25, 2008, which would explain all the snow since it's going to be a Christmas release.
OK! Magazine has supposed insider details about how Aniston is playing it cool with her new boyfriend, John Mayer. They probably made this up, but they claim that she's keeping busy and that keeps him interested:
While John,30, was performing at the opening of MGM Grand at Foxwoods casino in Conneticut on May 17, Jen was filming scenes for her movie Marley & Me in Philadelphia. Friends of the actress say never again will Jen drop everything for the man she dates. It's important to her that she keep her newfound sense of independence.

"This is a whole new Jen," a pal of the actress tells OK!. "She's trying new things, taking a risk, and is game for getting out of her shell, living her life and trying to be happy."

A friend of John's agrees, telling OK, "She doesn't rush off and go on vacation with John, and she's made it clear she will not be a groupie at his shows."

Apparantly, her hard-to-get attitude is working on the heartthrob crooner. "He was smitten with Jen and came to visit her on set," John's pal says. "They're actually working around her schedule more than anything!"

The friend adds, "Jessica Simpsontexted John all the time, but Jen waits a few days to text him back. She hasn't stopped her life for him. She's fun and flirty, but hasn't outright said, 'I want you,' which is something John isn't used to."
[From OK! Magazine]
It's true that it's a good strategy to keep busy and hang out with your friends and not smother the other person, especially at the beginning when a relationship is just starting to grow. Who knows if that's exactly what Aniston is doing, or if she's just doing her job and managing a new relationship at the same time.