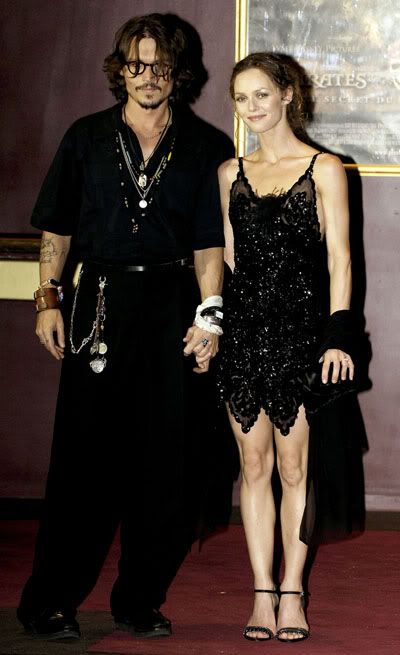 Fan favorite Johnny Depp leads a quiet, low-key life in the south of France with his girlfriend of eight years, French singer and actress Vanessa Paradis, and their two children. Star Magazine reports that the gorgeous star of "Pirates of the Caribbean" is a devoted dad who walks his kids, Lilly Rose, 7 and Jack, 4, to school and back again every day:
The former Hollywood bay-boy walks his kids to school before spending a few hours working via e-mail. When he's done, he picks his little ones up and spends the afternoon just hanging out with his family. It's a quiet, low-key life – and, sources tell
Star
, that's just the way Johnny… likes things these days. In fact, despite having no plans to marry Vanessa, sources say the Kentucky-born actor and his girlfriend… are incredibly happy…
A source close to Johnny says the pair are so madly in love, they worry that marriage might jinx their happy life. "Vanessa tells Johnny she doesn't need to be married," says the source. "But Johnny has always told Vanessa that the minute she feels like she needs to married, then he'd do it," says the insider.
(From Star Magazine print edition, July 17, 2006.)
The article goes on to say that Johnny got paid $35 million plus a percentage of the box office for the two "Pirates" sequels, while Vanessa, his girlfriend of 8 years, has focused on her role as a mother and has only been in two films since she met Johnny in 1998.
In an interview in Britain's The Independent, Depp credits his family with turning his life around, and says he had a "rebirth" after his first child arrived:
He talks about a "rebirth", which he says stems from his relationship with the French musician and singer Vanessa Paradis, and their two children, Lily Rose, seven, and Jack, four.
"It took meeting the right girl," he says. "When Vanessa found out she was pregnant with our first child – you start thinking about the future and everything. Then, boom, there's your baby." He swirls his arms around then taps his fist on the table. "The same moment that your child is born, you're born again, you're brand-new. Vanessa and the kids have revealed me to me," says Depp thoughtfully, stroking his goatee, tipping his battered grey fedora over one eye, then taking a swig of coffee from a flask. "It's been liberating having a family, miraculous," says the actor, who is 43. "Everything changed once I held my daughter in my arms. Until that moment, I had been possessed with me; suddenly, there was someone who depended on me. It was like some veil had been lifted, or a layer of fog had been removed and I suddenly had clarity."
Interestingly enough, Depp said in 1993 "Ideally, I'd have land somewhere, maybe in France, with a wife and kids."
It looks like his dreams have come true. Johnny says he would like more children with his French girlfriend and says he doesn't need to get married to prove his devotion to her.
He sounds like a wonderful father and partner and a changed man. He's also a talented actor who deserves his massive success.
Depp was presented with the "Freedom of Paris" award last Thursday before the French premiere of "Pirates 2." He was honored for "devotion to Paris," even though he lives in the French countryside.
Here is Depp receiving the "Freedom of Paris" award with Vanessa by his side. [via] Depp is still wearing the gold caps from his Captain Jack role, and will continue filming the next "Pirates" sequel next month.