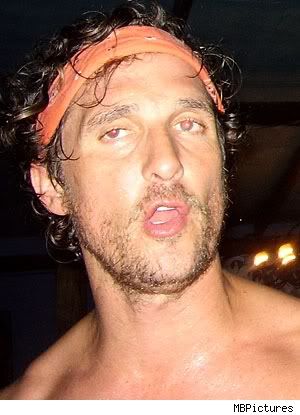 Matthew McConaughey was photographed drunk, high, or a bit of both on the fourth of July weekend in Costa Rica. This sort of contradicts a British report that showed Matt with a fat stomach and said he held an Independence Day party at his Malibu mansion. Both might be true and Matt may have been in Costa Rica on the weekend and back in time to throw the party on Tuesday. He doesn't look fat, though:
Matthew McConaughey celebrated his independence from former girlfriend Penelope Cruz with a three-day bender in Costa Rica over the Fourth of July weekend…
A barefoot, shirtless, and sweaty Matthew got his groove on by drinking, dancing, writhing on the floor and even shushing one of his fellow vacationers.
We all know he loves to party and as long as he's not pulling down Christmas trees or assaulting anyone it seems quite harmless.
Matt's hangover must not have lasted long. He was biking in the Malibu hills with Lance Armstrong and Jake Gyllenhaal on Wednesday, July 5th.
Here is Matt on the weekend in question and riding his bike a few days later with Lance and Jake. [via]