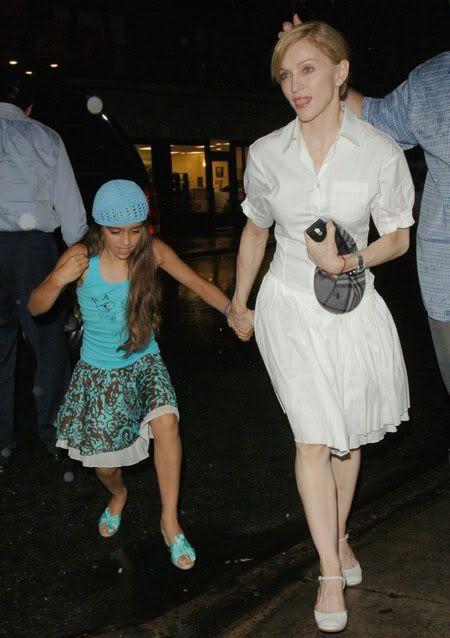 If someone told me Madonna was going to pull the tired hanging on the cross routine for her latest tour, I wouldn't have believed them. So while it may seem really stupid of Madonna to try to tie her fading star to two hot young singers at the MTV music awards again, it sounds like something she would do. She's persistent in her blind/blonde ambition, and she tends to beat dead horses and expect people to pay to watch, which they do.
She's said to now want to "pass her energy" onto Lindsay Lohan and Jessica Simpson in an S&M number that probably borrows from her stupid "Confessions" tour. I bet it will have an equestrian theme, too:
Three years ago at the MTV Video Music Awards she made front page news around the world when she kissed BRITNEY SPEARS and CHRISTINA AGUILERA.
Now the Queen Of Pop is planning to do a bondage scene with the two rising stars at this year's awards in New York next month.
A source told me: "Madonna's people contacted Jessica's representatives a few weeks ago and the talks are progressing well.
"With both Jessica and Lindsay's stock rocketing Madonna thinks they would be perfect to perform with.
"She's planning something even more sexy than a lesbian kiss. The whispers are all about a bondage- inspired show.
"Madonna will keep the details hushed up until the night."
The source is The Sun, which makes it seem like fake news, but you never know with Madonna. It could be true now that Madonna is converting Lohan to Kabbalah.
Please, Madonna, retire already. You look more like a cartoon character than a pop star, and you were right at home on stage at the Grammys with Gorillaz. You should devote your life to converting people to your sham cult and quit performing. Maybe you'll hook gullible Jessica Simpson into Kabbalah too. She's surely in need of some spiritual guidance.
Here is Madonna with her daughter Lourdes outside of the NY Kabbalah center on 6/30. Lindsay Lohan is shown shopping at Tower Records on 7/7 and in Malibu on 7/6. [via]. There are also some low-res candids of Jessica Simpson arriving at LA airport with her bodyguard. [via]